VDR – VMware Data Recovery – Verbose Logs where to find that?
I was just reading the VDR Admin guide once more. In details and I found some information that I have overlooked the last time I was reading the pdf guide.
Usually when you want to see VDR logs you go and connect to the VDR and then go and click the Configuration TAB an Log link at the same time. You'll see appear other buttons.
But there is another view, where you can view the Verbose Data Recovery Logs. Sometimes this might be useful, when you need to look at any additional issues you might encounter.
Where to find it? Or how? For seeing that you must click SHIFT + Click on the Log link to see 3 new buttons to appear… 👿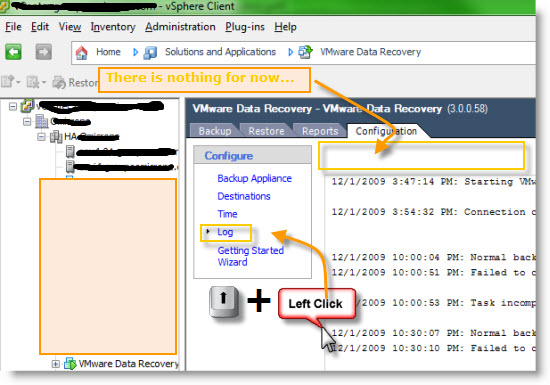 When done, you'll see appear 3 different buttons. Client log, Appliance Operations Log and Appliance Asert Log.
Source: VDR Admin Guide PDF from VMware Site.
More on VMware Data Recovery:
Do you want to see a little magic? – this post