VMware Data Recovery – divers troubleshooging
For those of you who uses VMware VDR you might run into difficulties with that appliance. Even if in the version 2.0 the appliance is more mature, and more resiliant, the network connection troubleshooting sometimes might be necessary to figure out where the problem is coming from.
Where those problems might come from?
The missconfiguration of the appliance itself.
The missconfiguration (or uncomplete configuration) of the DNS server with Forward/reverse zones.
Firewalling isues and others.
The VMware VDR 2.0 is part of the VMware vSphere Essentials Plus Kit and present in any other version of VMware vSphere (standard, entreprise, entreprise plus).
So here are some steps which you might consider when troubleshooting issues with VDR:
–  Verify if the vCenter VDR Plugin and the VDR appliance are latest versions  – VMware Data Recovery Documentation.
–  Verify your firewall –  The Data Recovery plug-in connects to the backup appliance using port 22024. If there is a firewall between the client and the backup appliance, port 22024 must be open.
–   DNS Verifications – Resolve the IP, FQDN, and shortname for the vCenter Server and all necessary ESX hosts from the VDR appliance. ( Resolve the IP, FQDN, and shortname of the VDR appliance from the vCenter Server, from the vSphere Client computer (if the Client is running elsewhere). See Testing network connectivity with the ping command (1003486).
–   You can also verify if ports required by VDR are opened – via Telnet –  see Using Telnet to test VMware Data Recovery Appliance connectivity (1018799).
The ports used by VDR: TCP/443 (VDR to vCenter Server communications), TCP/902 (VDR to ESX communications), TCP/22024 (Data Recovery vSphere Client Plug-in to Data Recovery Appliance)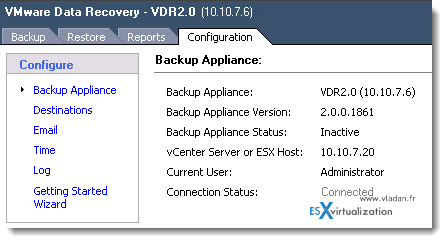 –  Your vCenter server has more than one NIC? – if the vCenter Server has two network interfaces and if the VDR appliance is unable to access the IP address used by the first network card in vCenter Server. For more information, see Logging in to a VDR appliance for the first time fails with the error: Could not log onto the server. The connect attempt timed out (1012551).
–  How to restart the datarecovery service inside the VDR appliance?  –  see Restarting the datarecovery service on the VMware Data Recovery appliance (1036768).
– Admin permisson problem? –  see VMware Data Recovery fails to connect to vCenter Server with the error: Connect::BeginSession: failed to authenticate (1010578)
–  Annotation Section on the VDR appliance Modified – Check if the Annotations section on the Summary tab of the VMware Data Recovery Appliance is not modified. See The VMware Data Recovery plugin cannot find the VDR appliance virtual machine (1019957).
–  Collect the logs – VMware Support Script Data. See Collecting diagnostic information for VMware products (1008524).
You might be interested in the other articles which are related to VDR.
More on VMware Data Recovery:
VDR connectivity and divers troubleshooting – this post
Enjoy..