Error when trying to use CIFS share as a destination for backup.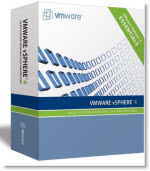 If you're trying to setup Windows CIFS as a destination deduplication store for your VMware VDR (VMware Data Recovery) appliance, you might run into an error. It's an error which you can see at the console of the VDR appliance:
Status code returned 0xc000006d NT_STATUS_LOGON_FAILURE
CIFS VFS: Send error in SessSetup = -13
CIFS VFS: cifs_mount failed w/return code = -13
What's the solution? It's simple. Instead using DNS and FQDN try to use only IP address followed by the path to the share. It's because the VDR appliance is not doing resolution correctly.
To resolve this issue, follow those steps:
01. Try using the IP address rather than the DNS name of the Windows CIFS server.
02. Provide the Windows credentials in UPN format. For example, provide the credentials in the [email protected] format and not the NT_DOMAIN\user format.
More on VMware Data Recovery:
If you're trying to use Windows CIFS with VDR – this post