VeeamON 2023 Community Event for DataRecovery Experts is around the corner. For in-person event be ready for sunny Miami (22-25 May). We do have a special coupon code for our readers, if you're interested. Use: "COMMUNITY" which is the magic word that gives you an additional 10% discount on tickets. Register Here.
VeeamON event is a major event for Veeam, as a company. I've attended some of the past events as Veeam Vanguard (New Orleans and Las Vegas) which were always a fantastic experience. This year, the event is held in Miami, Florida, and for those that aren't able to attend, there will be a possibility to watch online.
The agenda is alredy online. You can chose from many technical or tech-marketing sessions, as well as from many partner's sessions. In fact, you'll be able to choose from 50+ Breakout Sessions. (Over 100 sessions in total!!)
Featured Speakers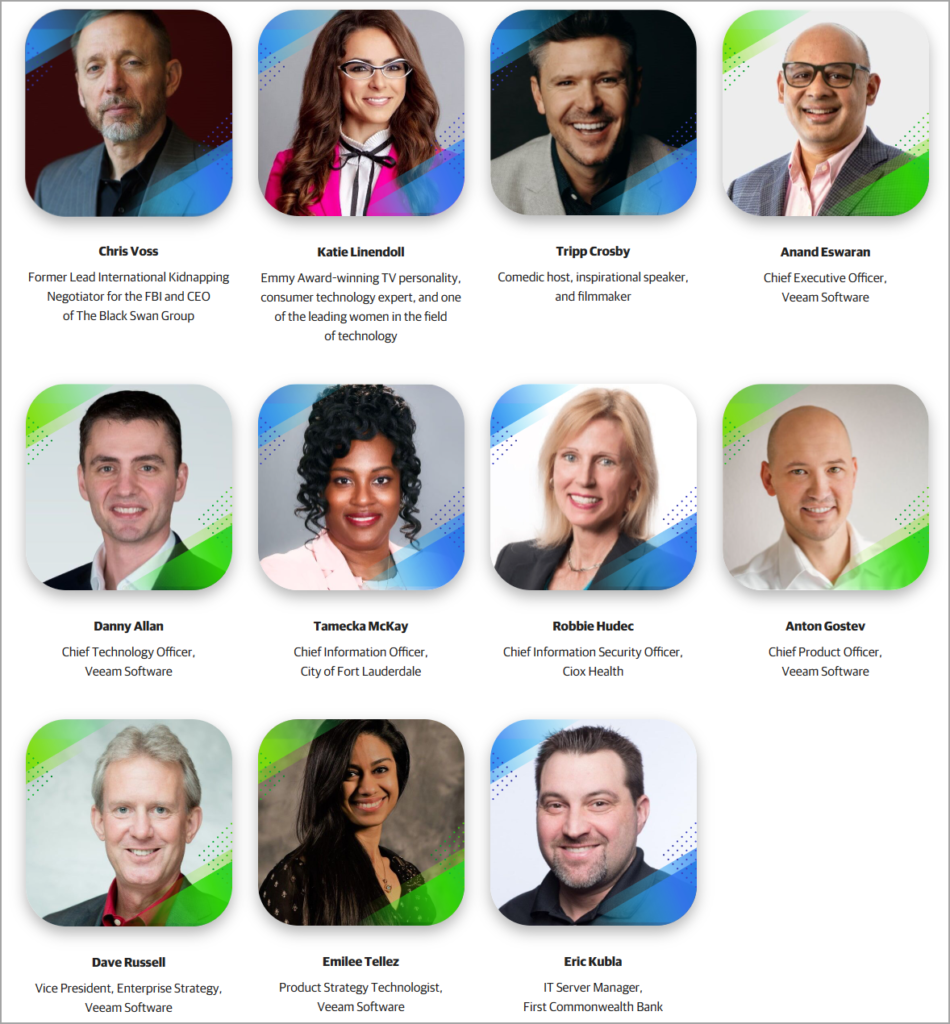 Event like VeeamON will give you an opportunity to directly talks to experts and interact with them.
Check out the rapidly evolving storage strategies and relentless security threats
Expert‑led discussions
World‑class training
Designs and demos for security threat management and cloud‑powered data protection.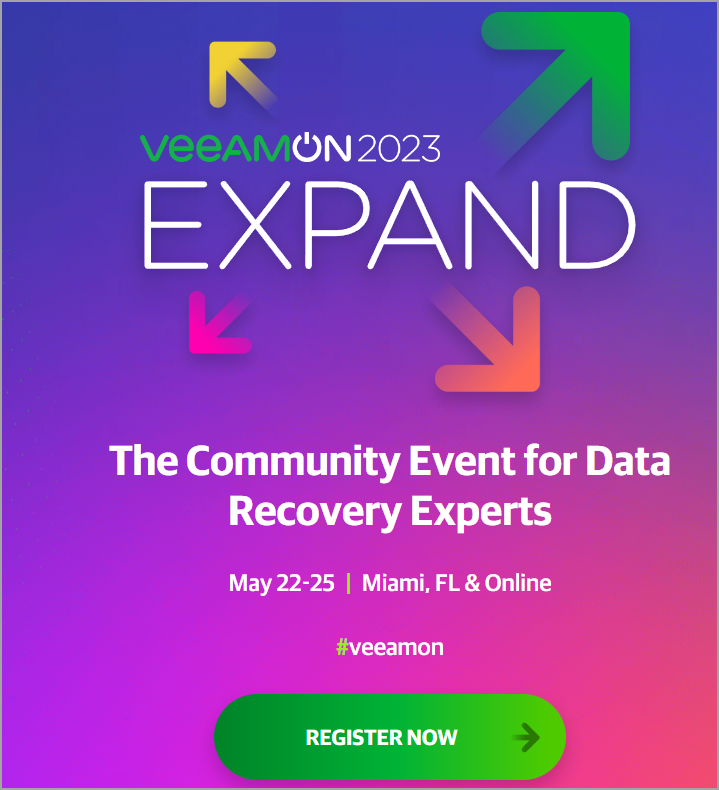 Check this cool video:
From the Agenda:
The topics that stands out, for me, are some tips sessions. I always want to learn things about how to get the best out my software, my deployments, and protect my enterprise or my company. Those sessions are gold.
Here is a quick view which sessions might be your interest:
10 Tips On Getting The Most Out Of Your Veeam ONE Deployment – Jorge de la Cruz and Kirsten Stoner will show you some cool tips to customize Veeam ONE to monitor your data the way you want, create reports to help with decision making and ensuring you have the proper remediation actions set.
7 Common Misconfigurations For Veeam Backup For Microsoft 365 – Tim Smith will show how you can avoid common misconfigurations in both Microsoft 365 and Veeam Backup for Microsoft 365. These technical tips will ensure you get the most performant backup and recovery experiences while avoiding unpleasant surprises when you least expect them.
A Quick Start Guide To AWS, Azure & Google Cloud Backup – If you're new to cloud backup, this is something for you. Veeam makes it easy to get started with backing up AWS, Microsoft Azure, or Google Cloud. With native protection for each unique IaaS and PaaS offering, Veeam makes it simple to configure and deploy backups via the cloud marketplaces or the Veeam Backup & Replication console. Plus, the Veeam Universal License offers entitlement for cloud workloads alongside the data center and edge devices you may already backup today.
Configuration & Sizing Best Practices For Veeam Backup For Microsoft 365 – Check out this session with Benedikt Daeumling, Business Solutions Architect, and David Tosoff, Sr. Solution Architect, will walk you through the key components of the solution, and how to ensure your backups are effectively configured and optimized. They will also dive into the important aspects for determining sizing requirements, and what Veeam's recommendations are when sizing your environment for the most efficient Microsoft 365 backup deployment.
How To Build A Highly Secure And Resilient Veeam Infrastructure – Edwin Weijdema, Field CTO for EMEA, and Falko Banaszak, Solution Architect, Veeam Vanguard and Legend, as they showcase macro-level industry survey data alongside best practices and tough lessons from the field. You'll walk away from the session with a 10 step plan to help you create a highly secure and resilient Veeam infrastructure that will safeguard your business not just now, but in the future.
Veeam Repository Sizing & Best Practices – This one you won't like to miss. With two of Veeam's Field Solutions Architects, sharing their experience working with Veeam customers on storage considerations and topologies. They'll cover end-to-end sizing best practices for repository constructs, including Scale-out Backup Repositories, Hardened Repositories and more
Those are just a fraction of what you can attend and learn from. The 3 days in-person event will obviously bring you more than just a sessions. You can catch up with the presenters after the session or ask questions. Don't wait and register your seat now.
More posts from ESX Virtualization:
Stay tuned through RSS, and social media channels (Twitter, FB, YouTube)