A new upcoming webinar which took my attention and I think it's useful for our readers. It's tomorrow, 2nd of April, you can register here at this page at StarWind. ZFS is present in many OpenSource storage solutions and it is known for its resilience and reliability. It might be fun to learn some more with Orest Lesyu from StarWind.
ZFS is a logical volume manager and a file system that simplifies storage administration by combining disks into resilient pools. It offers solid data integrity, easy storage operation, and it's infinitely scalable. Its features include Snapshots, "Copy on Write," End-to-End Data Integrity, Inline Block-Level Dedup, and more. Learn from this webinar about RAIDZ, ZFS, its features, and when best to use it.
Have a look and register on this page at StarWind website.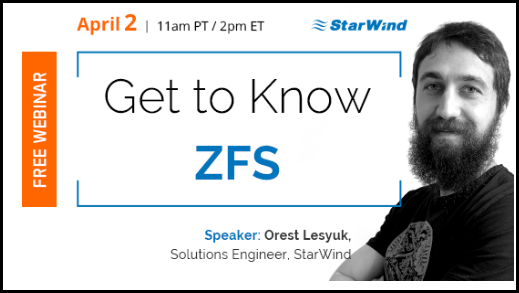 Note: If you not going to make it, just register and you'll be able to watch the recording afterwards….
In case you don't know StarWind VSAN, have a look on some of our articles about their solution. Basically, it's a very low cost hyper-converged solution allowing you to create a shared storage with only two nodes and at the same time you'll be able to run your VMs on this 2-node system which at the same time, provides you with High Availability.
Starwind solution allows you to go via 3 different ways:
Free Solution and community support – StarWind VSAN Free
By using your hardware where you install/configure StarWind VSAN
Hardware appliance
StarWind has recently announced that they go only All-Flash from now on. Read the details here.
StarWind can run only on Two Nodes.
Why only 2 nodes when other competitors need 3-nodes or more?
StarWind HA needs redundant network links (multiple NICs) between the StarWind hosts to maintain storage resilience. Those links are used for monitoring and failures. If any of the nodes fail or stop processing requests properly, the failover is instantly initiated from the client OS/Hypervisor side. StarWind has also an internal heartbeat mechanism, which ensures proper storage path isolation in the event of synchronization network failures and prevents so-called storage "split-brain".
Register for the Webinar here Get to know ZFS With StarWind.
Links:
More posts about StarWind on ESX Virtualization:
More posts from ESX Virtualization: