The image bellow shows the possible scenarios when it comes to application layers. There can be multiple applications installed into single layer. Those can be considered as the base enterprise application layer – common to all users. And you can then have separate applications distributed in individual layers, which are distributed to different groups of users, to fit the needs.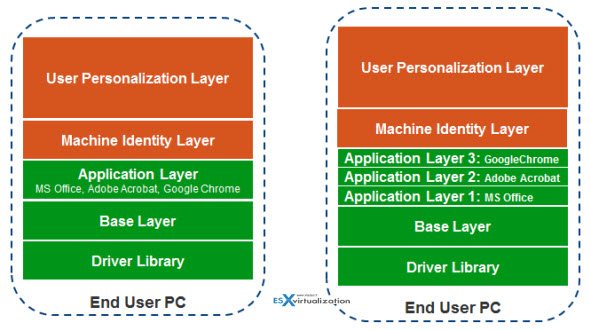 The layers can be combined and use different scenarios, where you have different applications running on different hardware. Layers can be combined (ex finance app layer with Dell drivers etc….)

Mirage 4.0 Components:
Mirage Installation
Mirage Management Server

Mirage Server
Mirage MMC
File Portal
Optional feature – must be installed on server member of domain.

Can be part of Mirage server
Mirage Client
Small MSI package, (can be pushed via GPO) – 4Mb only.
Branch Reflector
Offloads the layer deployment from Mirage servers
It lays in one of the endpoints at the remote office (it's kind of "role")
manages the peer-to-peer downloads for updates to remote office
Scallability:
It's recommended to have maximum 1500 endpoints per mirage server (if physical) or 300 endpoints (if virtual), where is more advantageous to have several smaller servers rather than one big single server (more storage connections). Two Gb network connections are recommended ( one for Mirage server and one for Storage connectivity)
As a client, XP and higher compatible hardware, with no special HCL. Small, 10Gb free disk space, as a requirement.
Additional Resources:
The product is available for free trial downloads and testing.
The VMware Horizon Workspace should come out in March 2013.
Horizon Mirage 4.0 released – New application layer, W8 and Server 2012 support – this post