VMware Mirage Guide page is getting more and more finished. Today, we'll add another post which will teach us How to Apply a VMware Mirage App Layer? You can create several App layers and those App layers can be applied to an endpoint or a group of endpoints (collection). We can imagine several scenarios, such as accounting apps, developer apps, admin apps etc. It really depends on the size of an organization and its internal structure.
App layer can also have versions where you can maintain the endpoint's application by upgrading/downgrading apps via app layers. It's good practice that after capturing an App Layer you deploy this layer to a just single machine to check possible errors (if any) before distributing this layer to everybody.
When you assign app layers to an endpoint, their contents are applied to the endpoint, so that all the changes or modifications to the applications reside on the endpoint device. If a user on his/her endpoints uninstalls an application or does an update to an application, Mirage will re-deploy the missing bits to match the app layer stored within Mirage cluster.
If the users have had his own applications installed before, those applications will not be managed by VMware Mirage. The process of applying App layer is called Assigning an App Layer to CVD.
How to Apply a VMware Mirage App Layer?
Let's Connect to VMware Mirage Admin Web console and go to CVD Inventory > Select your endpoint > Assign App Layer.
We have two options. First option downloads and apply the App Layer. The second option will only download the layer to the endpoint. You can initiate the deployment of the App layer at later time.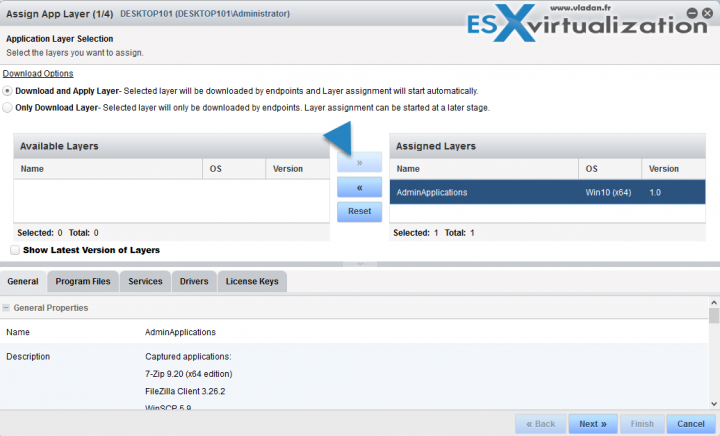 We only have one CVD, but you can have a collection of CVDs and mass-apply this app layer.


You can see which applications are already installed on the endpoint and see eventual conflicts of versions. Also you can see if there are any changes to the managed applications.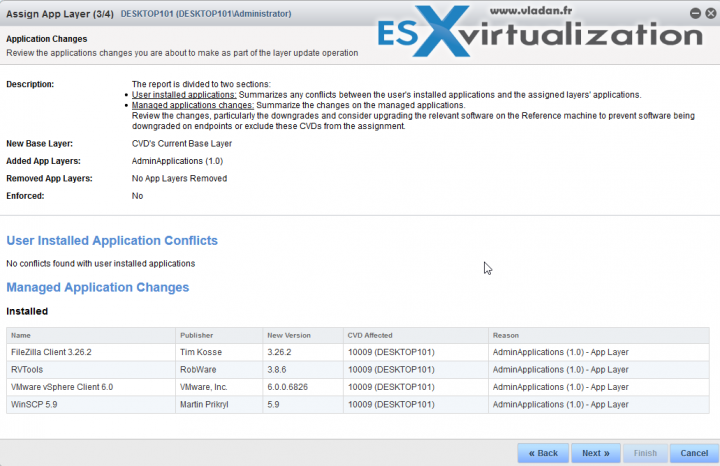 Check the summary page.

You can monitor the progress through the Mirage Admin dashboard. But also, you can go to the endpoint where by double-clicking the taskbar icon, General TAB shows us the progress details as well.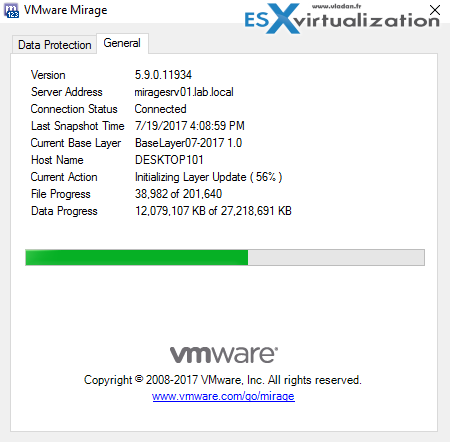 When finished, as we can see, we have our Admin Apps group deployed ("pushed") to our endpoint. The process happens behind the screens so the users aren't bothered with some pop-ups or messages informing them that something is going on.
Quick and easy process. As being said, you can leverage versioning on each app layer and also apply several different App layers to the same endpoint if you want to group applications like this.
VMware Mirage Guide
Server Installation and Configuration
Image Management (through Mirage console)
VMware Endpoint Management
How to Apply a VMware Mirage App Layer? – [This post]
VMware Mirage Licensing and pricing
VMware Mirage has a simple licensing system. You can buy it either as:
Standalone VMware Mirage product
Horizon View Advanced or Horizon Enterprise. (ex. 100 licenses of Horizon Advanced entitles you for 100 Mirage Users).
VMware Mirage standalone sells in a package of 10 licenses. (or 100 licenses). So if you purchase 1 copy and it allows you to manage 10 endpoints. There is also an option only to license the Windows migration feature. In this case, you're buying a 6-month term license, cheaper than a retail one.
More from ESX Virtualization
Stay tuned through RSS, and social media channels (Twitter, FB, YouTube)