StarWind is hosting a new webinar which is certainly not to miss – Build Your StarWind Infrastructure from Scratch and Ensure That It's Running on Maximum Speed! You'll learn from StarWind engineers how to make sure that what you build is operating at high, see maximum, speed.
Virtual infrastructure has often a bottleneck. It is about one part of the chain which is operating slowly so the other parts, even if they're fast, the whole system seems slow. It can be storage, network, or another config….. where you have a bottleneck. It is usually the part of the chain that it slows down the whole system and that it needs to be chosen and configured properly to take advantage of maximum speed.
If let's say, there is certain hardware to avoid, that might be it. You never know until you build many infrastructures and you get some experience out of it. That's the case of StarWind which builds those for their clients on a daily basis so they basically know what to configure and how…
Register for the webinar here – How to Build Your StarWind Infrastructure from Scratch and ensure that it runs at Maximum Speed
Image from StarWind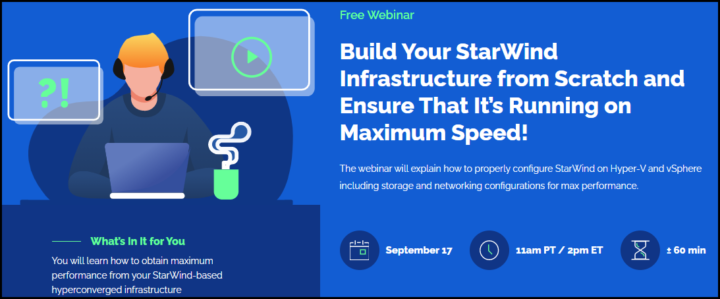 StarWind has redundancy and resiliency built-in
The main reason why software-based solutions with high-available storage are better over hardware-only shared storage is resiliency and redundancy. StarWind vSAN is an HA solution so there's local redundancy with usually 2 disks in a pool that can fail with RAID 6.
And there is also Inter-node redundancy where one node can go down when you have 2-way replication or 2 nodes with 3-way replication in your environment. So you can have disk failures or node failures and your VMs can still be restarted on the remaining node. Not in the case when you lose your shared storage provided via your hardware device which if fails, the whole cluster has a blackout.
StarWind for VMware vSphere is Linux based OVF.
StarWind Linux Based VSAN features
Management – Web-based or Thick client management (on Windows management workstation). Also via Powershell
Caching – RAM and Flash cache
Virtual devices – ImageFile, VTL
Replication – 2-way or 3-way replication, VTL replication to the cloud
Hybrid Cloud – Yes
Stretched Clustering – Yes
Licensing – StarWind only (no need Windows license to install to).
Please do note that there is also a StarWind Hyper-V version. You can download it at this page here where you can choose either VMware or Hyper-V from a drop-down menu.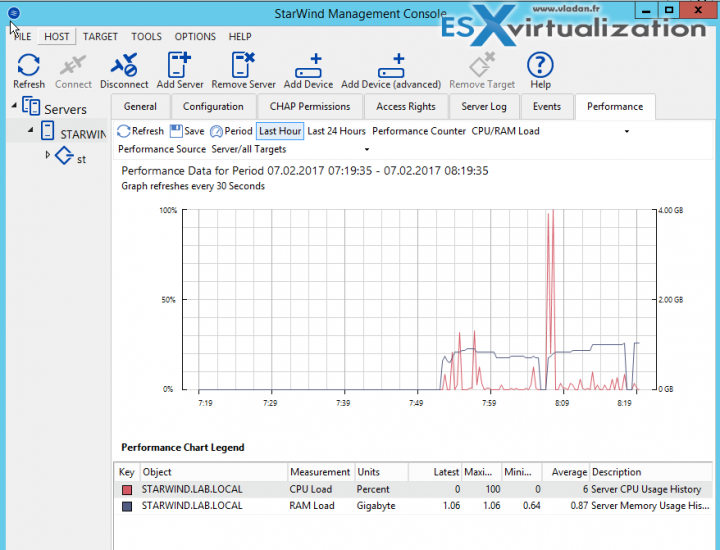 StarWind has a Split-brain protection
Hyper-Converged storage solution that can function only with 2-Nodes (without witness) and without a 10Gb Switch. (direct connect NICs). StarWind has its own internal heartbeat mechanism which prevents "split-brain" situations. As you know, a split-brain situation can occur after one node went suddenly down or there was a network failure. So the system needs to determine which data are the most recent, and sync them across the nodes.
Register for the webinar here – How to Build Your StarWind Infrastructure from Scratch and ensure that it runs at Maximum Speed
StarWind Trial Download here.
More posts about StarWind on ESX Virtualization:
More from ESX Virtualization
Stay tuned through RSS, and social media channels (Twitter, FB, YouTube)