There is new paper called VMware Virtual SAN 6.0 Performance: Scalability and Best Practices, which discuses How-To Get the Best Performance On VSAN Cluster. The Authors are   Amitabha Banerjee (staff engineer), Lenin Singaravelu ( senior staff engineer) and Julie Brodeur who works as senior technical writer in the Performance Engineering group at VMware.
Paper which has 23 pages. Follows the best practices for configuring VSAN clusters. Very detailed concerning the configurations (hardware configs are in the Appendix for VSAN hybrid and for All Flash VSAN) and also concerning the tests. Good explications on how to obtain the best performance. Other performance PDFs are referenced at the bottom of the paper as well.
Quote:
This white paper investigates how VMware Virtual SAN performs and scales for well understood synthetic workloads, Virtual SAN caching tier designs, and Virtual SAN configuration parameters. The goal is to provide guidelines on how to get the best performance for applications deployed on a Virtual SAN cluster.

Tests show that the Hybrid Virtual SAN Cluster performs extremely well when the working set is fully cached for random access workloads, and also for all sequential access workloads. The All-Flash Virtual SAN cluster, which performs well for random access workloads with large working sets, may be deployed in cases where the working set is too large to fit in a cache. All workloads scale linearly in both types of Virtual SAN clusters—as more hosts are added and more disk groups per host, Virtual SAN sees a corresponding increase in its ability to handle larger workloads. Virtual SAN offers an excellent way to scale up the cluster as performance requirements increase.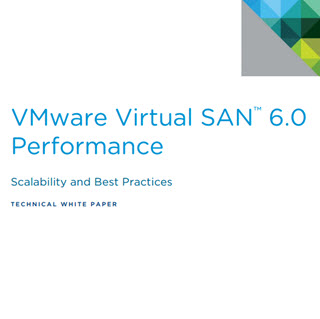 VMware VSAN is hyper-converged solution by VMware. The latest release of VSAN 6.0 has been detailed in my post here and shows all the improvements that has been done over the previous release as well as it details the All-Flash version of VSAN which allows use SSDs for capacity.
VSAN scales linear way and can handle more workloads when more hosts are added and more disk groups per host.
Both versions, hybrid and all-flash:
Faster (up to 5x faster than previous release), if Full-flash mode. In hybrid mode 2times faster.
Scales up to 64 nodes (hosts) which also is due to the vSphere 6 scalability improvements.
Can execute up to 200 VMs per host (previously 100VMs)
Virtual Disk size up to 62Tb
VSAN snapshots and clones with high performance now and larger supported capacity of snapshots and clones per VMs (32 per VM).
Rack awareness to tolerate rack failures with Fault domains
JBOD support (direct attached storage)
HW based checksum and encryption
VSAN with those functions is now ready for business critical applications. VSAN runs on standard servers, it's a software-defined storage built into vSphere. It allows to deliver 2x more IOPs with VSAN Hybrid (up to 40 000 IOPS/host)
VSAN All-Flash Version
Cache Tier – highly performand and endurant flash devices present on the HCL
Capacity tier – low endurance flash devices present on the HCL
Get the paper from this blog post at VMware Communities.
Source: VMware Blog