In this post, we will install and configure Veeam Backup and Replication 10 Community Edition, which is free and allow you to protect up to 10 VMs or up to 10 Workstations/laptops. This can be a good option for your home/small business. You'll need a physical computer or server running Windows OS for the installation. It can also be a desktop Windows computer enough local disk space where you install a Veeam Backup and Replication if it's just a backup for your family or so. You'll be able to backup Laptops/Desktops to a central location within a single console.
Note: This tutorial is not meant for IT pros knowing the insight out of Veeam and VMware, but rather inexperienced admins or home users willing to protect their their home network with home computers or a couple of computers running their small business.
Believe me, while just a couple of years ago, ransomware wasn't so dangerous and not so widely used, today it becomes very very important. There is not a day or week that we're hearing in the news that some company got hit by ransomware and to not lose everything (encrypted files) they must pay a ransom so hackers decrypt their files.
Know that today you have tools that protect you for Free. You just need to know how to install and configure them!
So let's get started. In this post we will not only Install and Configure Veeam Backup and Replication 10 Community Edition, but we also show you (in two detailed videos) how to centralize your backups to store them in a central location and how to configure a recovery media which will allow you to boot a computer and proceed with a bare-metal recovery?
Veeam 10 Community Edition – What you'll be able to achieve?
You'll be able to protect up to 10 computers for free
Create a schedule for your backups on a daily basis
Create a backup copy to high capacity USB hard drive (removable and useful for ransomware attacks)
Detailed video Veeam 10 Community Edition Install, configure.
Step-by-step installation of Veeam v10 Community edition FREE
Connection to VMware vSphere
Connection and remote installation of Veeam Agent for Windows on a laptop
Recovery of a single file from the backup of this remote system
In order to add a remote computer to the Veeam backup console, you'll need to know the NetBIOS name of the computer (or its IP address if it has a fixed IP). You can quickly open a command prompt and type "ipconfig /all" to see the NetBIOS name there.
when adding the account for the remote system, unless you have Microsoft Active Directory (AD) running at home, you need to keep certain syntax for the remote connection:
"sytem_name/account"
In my case, the system's Netbios name is "Windows7" so I specified those like this… Note that the "student" is a local account of the remote system which has administrator's privileges on that machine.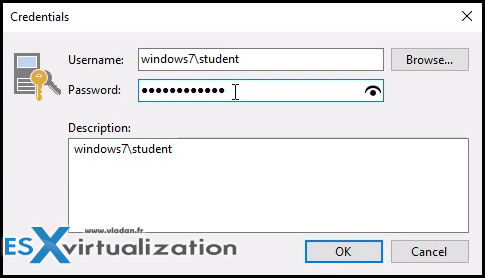 Note: The remote system you're adding must have a password. And this password (most likely) must be complex password (not just "1111" or something like this). If not you will not be able to connect remotely. (in the video I show how to test those credentials so you can be actually 100% sure that you are able to connect to the remote system).
Here is the video. Watch in full screen and HD. Don't forget to subscribe to the channel and the bell to stay tuned for new videos and also hit the thumb up button if you liked.

Part 2 – Create a Veeam Recovery Media
Once you have a full backup of a remote computer, you'll need to create a bootable USB stick with Veeam Recovery environment and drivers which are also copied as a part of the creation. To launch bare metal recovery (recovery of C: drive) you need to boot your system via this USB and on most systems, you must go to the BIOS and change the boot sequence so the first device is your USB and not the hard disk (or SSD) drive.
Sorry being so detailed but as I said, this post is not an advanced post but rather for people who are not IT admins and want still be protected for Free.
Detailed video of creating recovery USB stick and how to boot and recover your whole computer from backup.
Part 3 – Creation of Backup Copy Job for high capacity USB Drive attached to Veeam Backup server
Creating a second copy of a backup is always useful. While Veeam does not allow directly to unmount USB drive via Veeam backup console (a PowerShell scripts exists), you can always remove the disk from time to time, or after each backup copy job and take it with you or store it elsewhere.
In our case, we have a 2TB USB disk, which we first need to connect to our Veeam Backup server. Once done, open Veeam backup console and select Backup Infrastructure > Backup Repositories > Right Click > Add > Add New Repository > Direct Attached Storage > Microsoft Windows.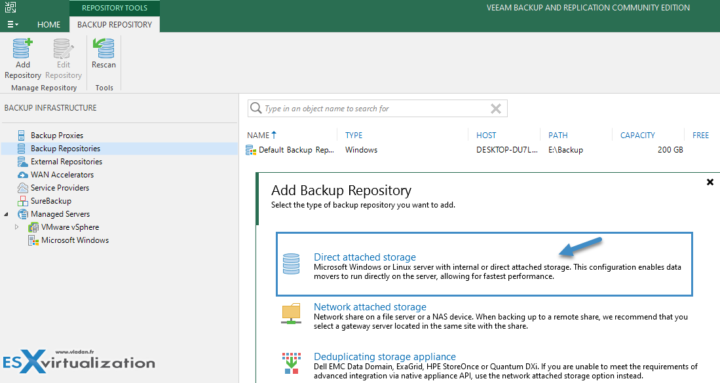 Chose some meaningful name and click next. On this screen, you'll see two buttons and you'll need to click the Populate button to show the drives currently present on the Veeam backup server.
Pick the USB drive you just connected and click next.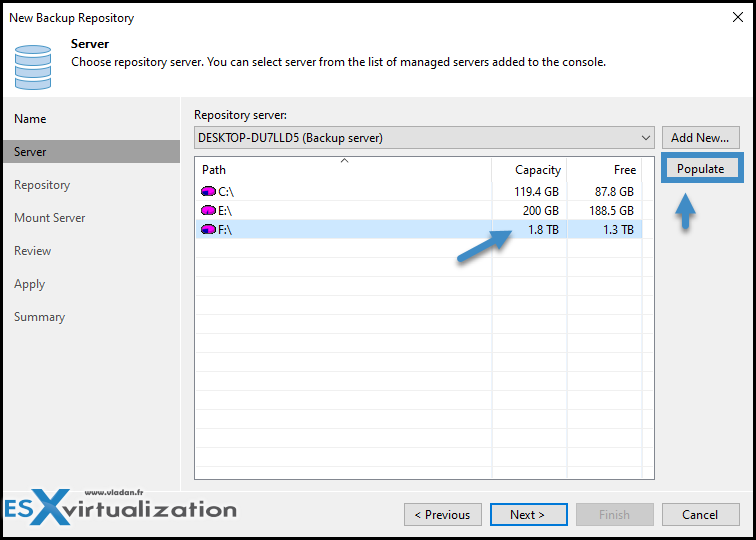 Then specify where the backups will be stored. Name the folder or keep the default, it is up to you.
Note that in my case I got a pop-up telling me to format with ReFS (which I'm not doing because I already have some other files stored on this disk).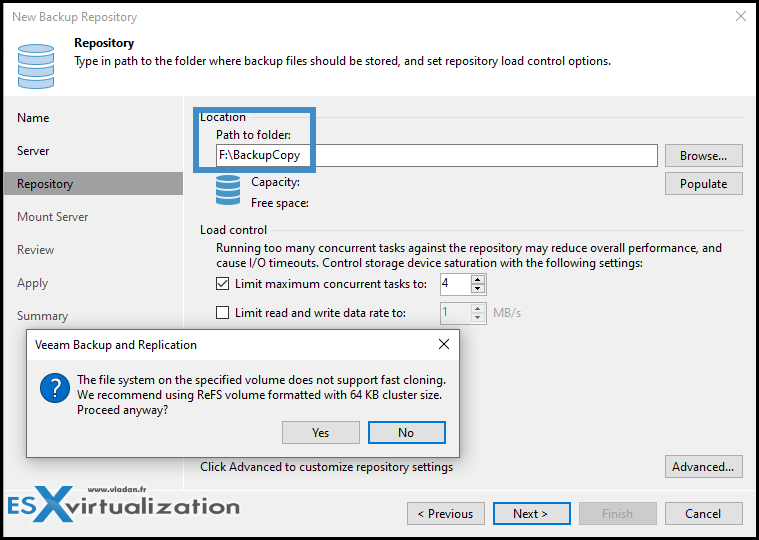 On the next screen we have a possibility to specify a server to mount backups when doing advanced restores (file-level recovery or application items)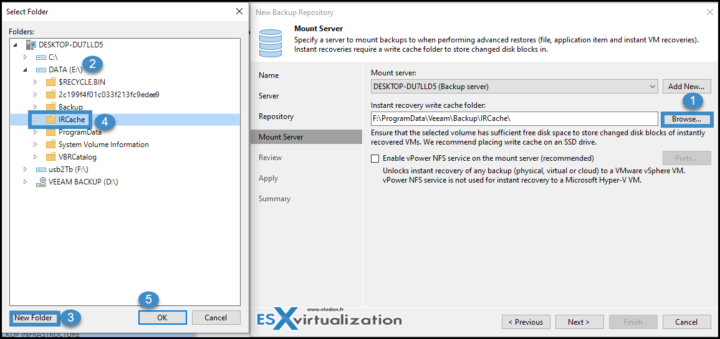 and then a final screen…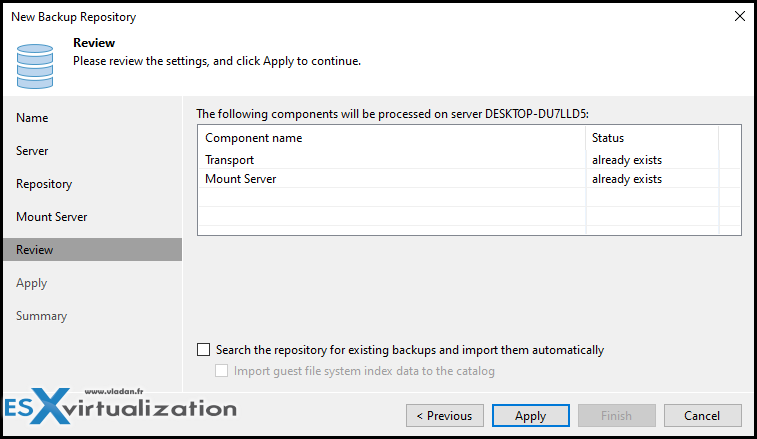 Hit Apply > Next > Finish.
Another pop-up asking me to Change the configuration backup location to the newly created repository. Say no, because it's removable drive and you don't want to have you

Now, go and select the Home button > Backup Copy Buton > Dropdown select Windows Computer backup.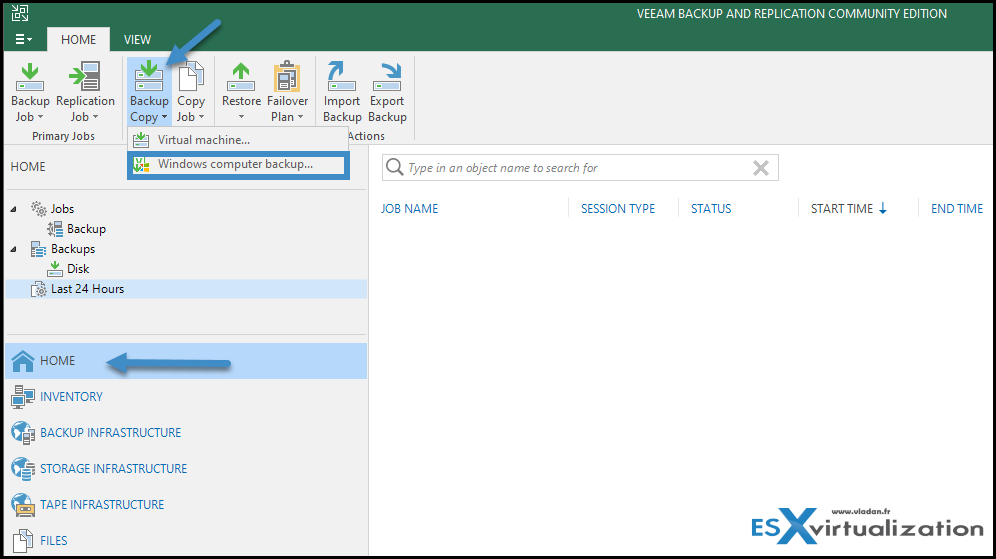 This will launch a new assistant creation of Backup Copy Job. Put some name (I usually specify if it is a "backup job" or "backup copy job". Like this I can see which job is currently running..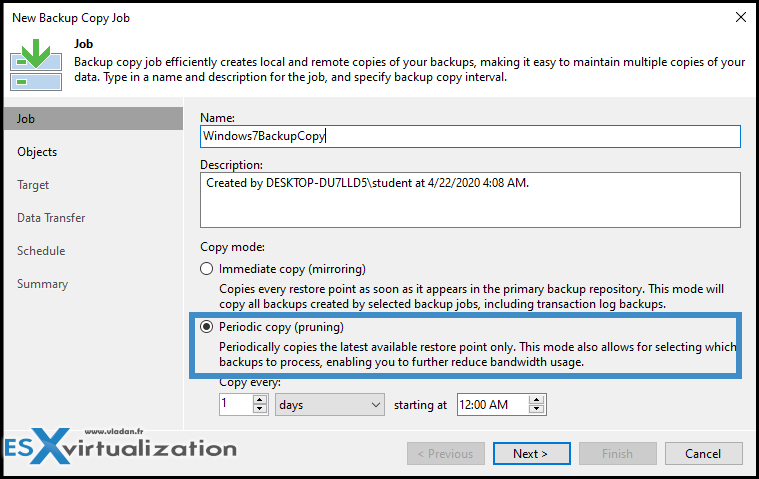 then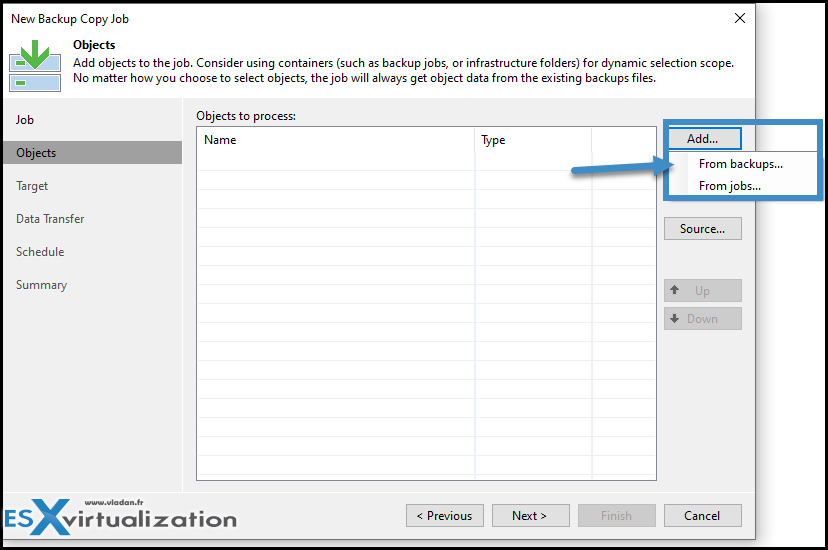 then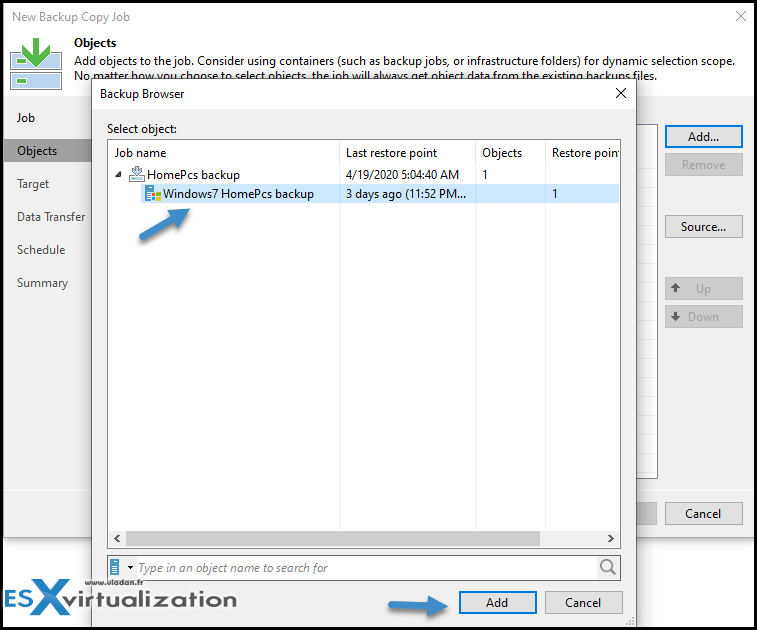 then click the drop-down to select your USB disk, chose the number of restore points to keep and optionally, check the "keep the following restore points as full backups for archival purposes". This allows you to keep some backups for archiving.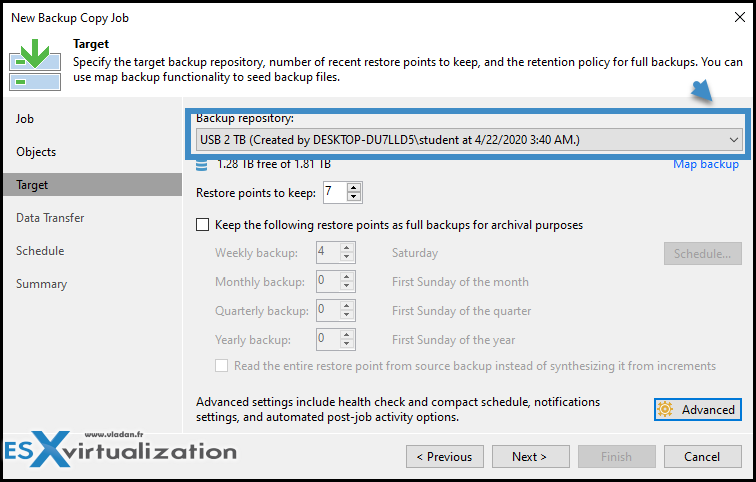 and then schedule. I keep the default – any time.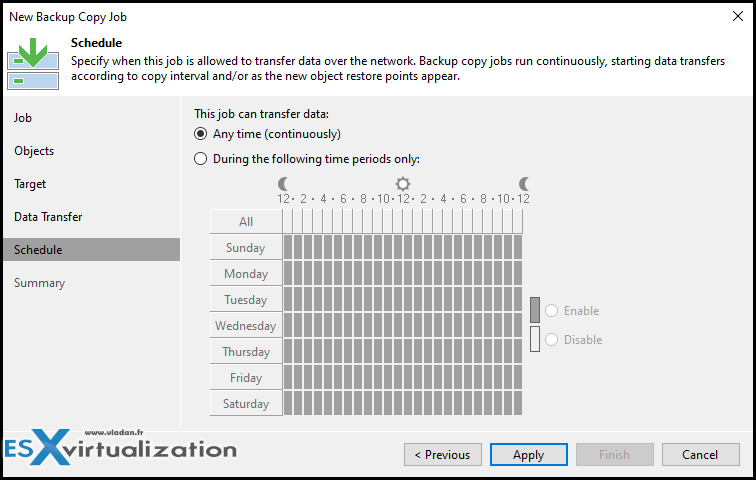 Hit Apply > Finish. Keep defaults. The job will launch automatically, but as in my case my last backup was 3 days ago, I need to create a fresh backup first. So let's go to jobs > Right-click the "HomePCs Backup" and chose Start Backup. The system will create a new backup (incremental in my case as I have created a full backup a couple of days ago).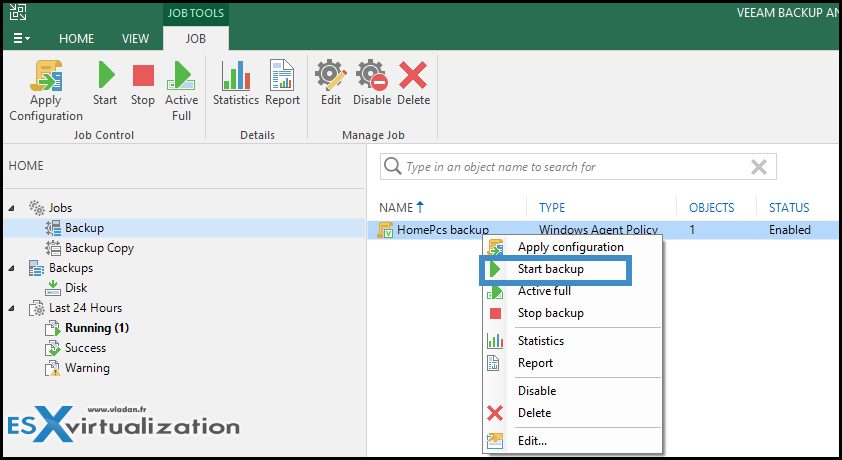 Once this latest backup finishes, the Backup copy job starts…. without any interaction.
Here is the screen. The backup copy is simply copying the latest restore point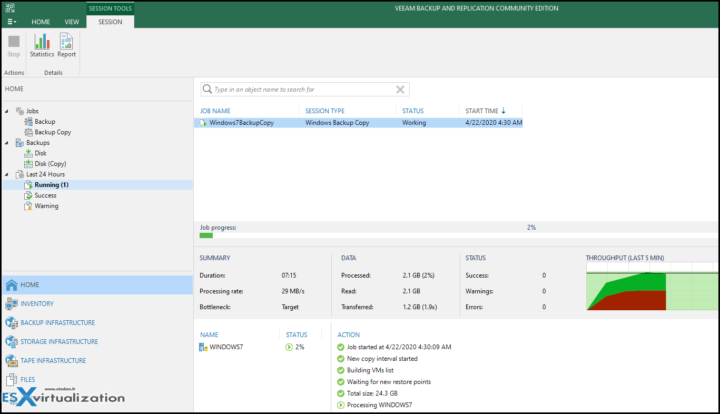 Once it's done, we can check our USB disk to see which files have landed there….

Final Words
Veeam Backup 10 Community edition is a free solution allowing you to protect 10 systems (VMs, physical computers, laptops etc…). It uses an agent installed on the system which does volume level backups that can be either sent to the remote Veeam backup server or backup to directly attached USB. For the purpose of our demo, I privileged to show you the possibility to have all backups stored in a central location and also a possibility to create a repository on high capacity USB disk which can be disconnected after backup copy job is done.
By disconnecting the USB disk, hackers cannot destroy your data or encrypt them if they hack your Veeam backup server. The Veeam backup server can be installed on Windows 10 computers as well if you're running a small home or very small business environment. Just make sure to have enough disk space so you can store all those backups.
****************************************************************
Save 15% On Veeam Backup for Microsoft 365 NOW !!
****************************************************************
Check out also FREE Veeam Products:
There are products from Veeam that are free. Did you know?
****************************************************************
Free Trial of Veeam Backup and Replication  – Latest ISO.
****************************************************************
Links:
More from ESX Virtualization
You might want to check our Free Tools page where you can find VMware utilities, but also utilities for Microsoft systems or other "Swiss Knife" software there
Stay tuned through RSS, and social media channels (Twitter, FB, YouTube)