A new, very interesting whitepaper from Runecast which focuses on Reducing operational complexity. today's Datacenter environments aren't getting any simplicity. In fact, it's rather the other way around. More and more complex.
In this paper, you'll learn what are the most common problems within a datacenter and what causes them. The Whitepaper was written by Alastair Cooke who is a known personality within a virtualization industry. Alastair also runs a very popular vBrown bag Sessions during VMworld and maintains a vBrownBag YouTube Channel.
This Whitepaper was sponsored by Runecast. You can download it for free here.
7 Areas which cause pain for the infrastructure teams:
Technology complexity
Interdependence
Aggregated rate of change
Volume of Knowledge Base articles
Ad-hoc changes from troubleshooting
Long time to resolution
Reactive fault resolution
Quote:
Most times, when an outage occurs in a well-managed data center, the cause is a fault that was known to the system vendor. It might be a bug that is patched in a later software release or it might be a default configuration that doesn't work for a specific combination of components. The engineer who is resolving the fault will use Google to discover the known issue and apply its known resolution. There are thousands of known issues with various combinations of components.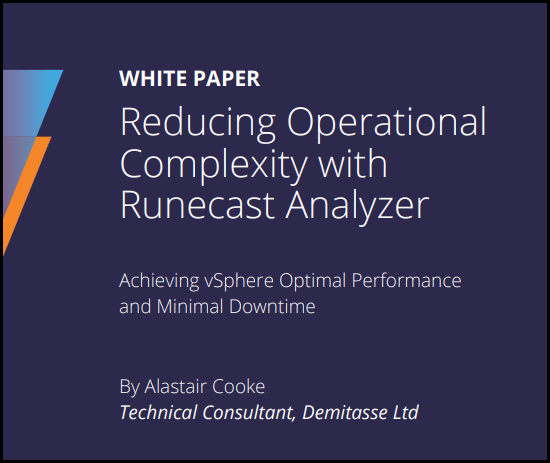 Quote:
System outages cost businesses money and can be a significant risk to the overall health of the business. The average cost of downtime is estimated at $300,000 per hour. Every time there is an outage, there is not simply a financial loss; the business may also lose confidence in the IT department.
Runecast is a well-known solution to my readers. You can check some articles about Runecast here:
We have reviewed the product in our detailed product review here – Runecast Analyzer Product Review 2019. Runecast provides VMware knowledge base articles, best practices, and security hardening recommendations that are constantly updated and centralized, and present them within the dashboard showing you whether your environment has issues or not.
You can download the FREE whitepaper here.
More from ESX Virtualization
Stay tuned through RSS, and social media channels (Twitter, FB, YouTube)