VMworld for me has been an awesome experience. It allows you to take some action and explore new products and technologies, and meet people which will explain how it works and what it brings as an advantage over older, legacy technology. Many new products are always announced during VMworld/VMware EXPLORE events.
Schedule builder is now open. Check schedule builder and create your schedule. Stay organized to maximize the benefits.
For me, VMworld was a catalyzer for me to pass certification exams, VCPs/VCAPs as during the show, those exams are discounted. If you're organized and motivated, it is doable at the beginning (1st day of the event) and then you're free to enjoy the show. Please note that I have not passed on the first try, but It was a good learning experience. (passed on the second try, that one).
Certification is one of the first important things that come to mind as being associated with VMworld. It might also help to "convince your boss" letter to send you there if you tell him that you'd like to get certified.  (an old example of Convince your boss letter is here). Certification helps you to find (better) job too. IT is all about certifications. At the end of the day, being certified proves that you master the technology, the coding, and the network.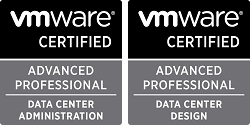 I've met peers bloggers and Twitter friends in person. Not via screen or so. Those were the most intense moments. Imagine you're traveling to an unknown city, then during a walk near the building, someone calls your name. -:). We talk,… and it turns out that one of my first Twitter friends recognized me through my Twitter profile picture!!! (Hence the importance of having a profile picture).
Since 2008 when I created ESX Virtualization Blog, the audience kept growing. But when I first installed the WordPress blogging software, it was all about keeping it for my internal bookmarking. I wasn't really targeting any audience. But the audience found the articles enough interesting through Google, and I just kept writing new and new ones when I saw that people actually read what I was writing. 
I saw that after publishing 10-15 articles when I typed the keywords through Google, my blog appeared on one of the 1st pages of SERPS (Search Engine Result pages). That was a very good impulse for me to see this, and it basically motivated me to the future. Since then I just kept going and writing.
Important is to start a blog and keep the articles flowing. If you think that you're passionate about some particular technology, then put your knowledge online. As much as you can. Prove that you are an expert in what you are writing about. If you are only passively surfing the internet, nobody will ever notice that you exist, and that you are a blogger…-:) Don't stay passive !!!
Your Opportunity
As you can see, I deviated from the traditional IT job, where you used to work for some company, to an IT blogger. All I want to say here is that VMworld/VMware EXPLORE is an amazing opportunity of meeting people and speak with them, in-person. After 2 years of pandemic sh*t now we finally have a real show. A nice opportunity to be there. -:)
Who knows, you might start your next job after visiting your favorite startup company during VMware EXPLORE!!!
The time is the only limit during those events. You only have X-hours a day and after 2 days of the show, the feet hurts, fatique is growing etc.
Only way to get through this is to plan ahead your day(s).
A photo with Satyam …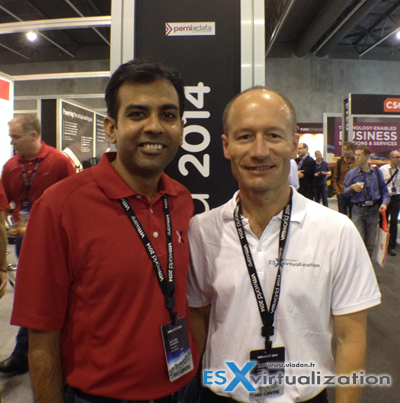 Let's say you want to visit 2-3 stands of interesting enterprises, then you want to hang out within VMwillage and chat with other bloggers that are usually present there. Don't forget you can also watch vBrowbag Tech-Talks sessions there.
You can also contact other people ahead of time, and have a meeting with them during the show. Usually this is the best option when you're really want to meet someone, because you don't know how busy is his/her's schedule and what's his/her's job during the show. If you go as an attendee, many people do go there to spend their time within their booth or on meetings with other people.
Time is flying while at the show so you'll end up saying "it's over already?" the last day and you won't believe that all this has happened so fast!
Memory from VMworld 2016 with Fred and Jorge.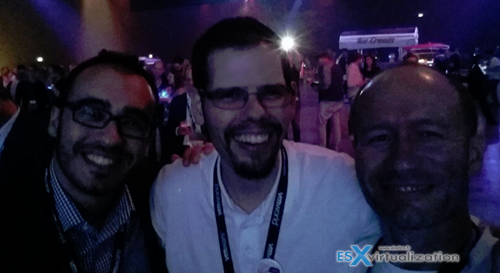 ESX Virtualization Blog has also a FREE study guide (I'm sure you know how to find it within the top menu)….VCP7-DCV Study Guide page.
Check out our YouTube Channel for the latest videos.
Get in touch:
Email: contact (at) vladan.fr
www.vladan.fr/facebook
www.vladan.fr/youtube
www.vladan.fr/twitter
Wrap Up
An online event cannot replace an in-person event! This is the first opportunity after a couple of years to get together, meet old and new friends and join the show. I hope I gave you some tips.
U.S dates:  August 29 – September 1, 2022 – Early-bird pricing ends June 13, for US. Moscone Center | San Francisco, California.
Europe Dates:  7 – 10 November 2022 – For Barcelona, it's still possible. Fira Gran Via | Barcelona, Spain.
More info about VMware EXPLORE at the official site here.
There will be over 900+ Sessions & 1,000+ Speakers a the show. A huge event indeed.
Access to the VMware Explore 2022 US Content Catalog is now available.
Early bird pricing and register for VMware EXPLORE here.
More posts from ESX Virtualization:
Stay tuned through RSS, and social media channels (Twitter, FB, YouTube)