As you might already know if you follow me on Twitter, I tried to pass my VCAP5-DCD exam during the VMworld Barcelona 2013 event.  Here is my VCAP5-DCD experience. I'd like to share my experience from the exam. The fact that the exam is actually during the conference event isn't really the best option (next time I'll avoid that) because it cut your already precious time you have during the event.

Usually you want to meat people, speak to cool startups, see some sessions etc. You certainly not want to spend 4 hours in the exam center just to find out at the end that you have failed that exam. Well, this happen to me. But It's a learning experience, and I did not feel depressed or too much deceived. I think that it's kind of a fail to success !!! -:).
It was actually the 75% discount during the event which triggered my decision and registration for the VCAP5-DCD. You must hold VCP already if you want to pass this exam. I thought that I'm gonna give it a try, even if I knew that it won't be easy. With that said, I've prepared during 2 weeks. So the day D, being registered for the exam, I sat the 4 long hours in front of a computer screen (started at 10 AM, finished at 2PM). Enough to get 247 points….. So for 53 points I missed the exam. Well, at least I know what was in and as you can see, the experience showed that I know some stuff already. So I won't have to study everything, just the stuff I'm weaker…
Well after the exam, and the rest of the day I was quite exhausted. Just had enough power to go to the vExpert/VCDX reception, where I talk to several other vExperts who sat this exam. Two of them passed at the second time and the third one passed that exam only on fourth time! This shows quite the complexity and difficulty.
My difficulties were the designs questions. I experienced the same frustrations that Jose-Louis in his experience. I wasn't sure where to place the elements and how to hook them properly. The time was running against me even if I had some extra time for non native English speaking candidates. The design questions did not appeared at regular interval, but randomly. And in my case I had the feeling that there were like 4 of those design questions at the last half an hour of the exam! Just not in the right moment where you struggling with concentration, and fatigue. Next time I'll track them down…
Then I had some chat with fellow blogger Gregg Robertson (The Saffa Geek) from Xtravirt, who maintain a VCAP5 page on his blog, and gives some good tips to pass this exam. He also suggested that some folks have had a good experience when preparing for the exam, by running Twitter groups for the preparation. So I think that I'll try that before my next attempt.

If you're one of those who tried to pass the VCAP 5-DCD and failed, there is a promo which gives you 50% off the price for the VCAP exam. The promo runs only till the end of the month. It's just been expanded by @vmwareeducation
You might want to know which resources I was using. I was using the TrainSignal's course from Scott Lowe which are very good and also Paul Mc'Sharry's book – VCAP5-DCD Official Cert Guide, Premium Edition eBook. It's a great book which opens you your mind to some wider overview of the consideration for the designing vSphere installations, but it does not give you real life experience. It has some examples and prepares you for the exam, but it's on you to use and read other resources (which are mentionned at the end) and which I did not studied because I did not take enough time.
There is also a test which you can run, but I had that feeling that it did not covered enough topics from real life, but especially the design questions. So my priority is to train now to some designs and I'll how other topics where I know that I have some learning to do too….
I met Paul during the show as he was attending the Barcelona event as well. He felt sorry for my failed attempt, but for me it was just a learning experience. He told me also that he will be updating the book soon.
Here is a screenshot from Barcelona City center, 5 min from the place where I was staying – Hotel Sixty Two.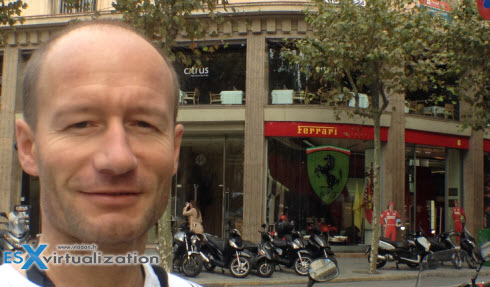 Update: Here is my full VMworld Barcelona coverage:
UPdate: I passed the exam finally, few weeks later. Read my (successful) VCAP5-DCD experience here.
The article was published first at ESX Virtualization website. Feel free to subscribe via RSS or by e-mail to get the latest news to be delivered via weekly newsletter.
Enjoy… -:)