VMware keeps improving vSphere in every release, there is however a way you can test new capabilities through VMware Flings. There is HTML 5 Web clien update which has an interesting feature added called vSphere "Perspectives".
This capability/feature has been released as a part of vSphere HTML 5 web client VMware FLING update and as such is available under Technical Preview License. If you download and install the latest VMware vSphere HTML5 client, you'll be able to hide or show different parts of the vSphere infrastructure.
Admins will be able to restrict, similar ways like Microsoft's Group Policy Objects (GPO) capabilities to hid or show different parts of Control Panel objects for example. Within Microsoft environments, for Windows servers, TS, and or desktops we were managing GPO's for years and one could really tighten and lockdown security for the end-users.
In vSphere, for example, you might want to completely make disappear everything except storage to give your storage admins only the possibility to monitor and manage storage. You could also hide completely everything except VM management, and give your power users the capability to work with VMs as they wish.
So when hidden, it's not accessible via vSphere client. You can always adapt and create a custom Role in vSphere, but the view as such, I don't think that it could be separated. By having a possibility to completely hide part of the vSphere UI, you get a very strong tool allowing you to restrict the view.
How to enable?
You must download and install the latest HTML5 Web client from VMware labs. (Note: You must agree to the Tech Preview agreement before the download). The installation is written with all the details in a PDF you can download from the same location. Basically you must deploy and configure a separate virtual appliance.
Then after deployment, you simply go to the Administration > Customization > Perspectives.
Quote:
This new feature enables administrators to take control of which parts of the UI other administrators see. This is done by defining a set of views and combining them together into a so called "perspective".
As an administrator you can show or hide: tabs, portlets, and primary views.
Once you create what's called "perspective", you can then assign those perspectives to both users and (or) groups.
Screenshot from the video below…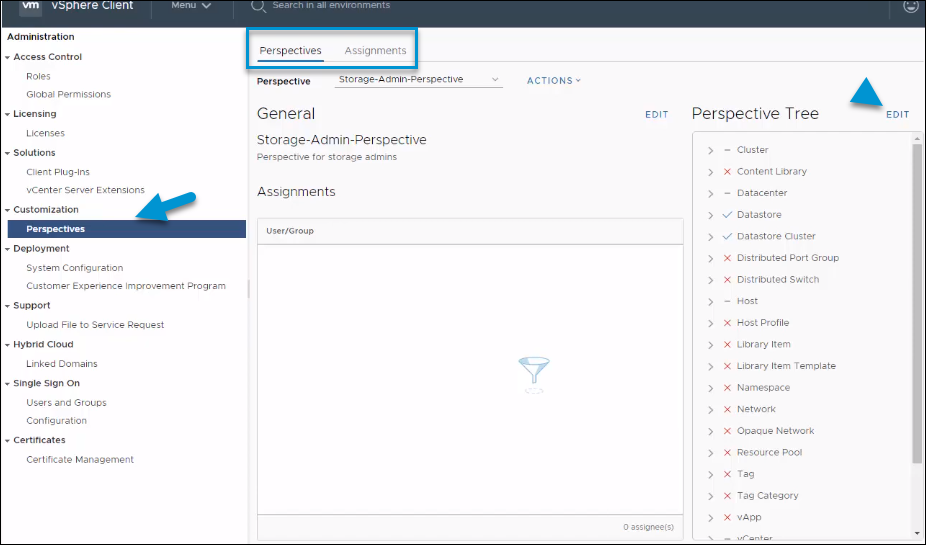 The Perspectives are kind of tricky too. When you think, much of this could be perhaps covered by creating simply a custom Role, but perhaps it would be nice to see some further closer integration between Perspectives and Roles, to have more fine-grain access on who can see and who can not.
There is a video at VMware Labs site demonstrating this feature.
Hopefully, you'll like it.
Source: vSphere HTML 5 Web Client Fling page at VMware Labs
More from ESX Virtualization
Stay tuned through RSS, and social media channels (Twitter, FB, YouTube)