Iperius backup is now fully compatible with VMware ESXi 7.0 and vSphere 7.0. Iperius is an Italian company that is very active with new updates. They just released a new update to make their product, Iperius Backup 7.0.8 compatible with ESXi 7.0 and vSphere 7.0.
Update: Iperius Backup 7.1 is out. New: Hyper-V restores of single files from incremental and differential backups, add VMs automatically to an existing backup job and more. Check the release notes here.
In fact, the particularity of Iperius backup is the fact that VMware ESXi FREE Version is also supported.
Yes, if you have a Free version of ESXi in your environment and need incremental and full backups, Iperius can do it. The product has also replication and incremental replication works for ESXi Free as well. Iperius does not use any agents in VMs, it's totally agent-less product.
A while back we have reviewed the product and we liked the simplicity (including licensing) and the ease of use. Check our detailed blog post here – Iperius Backup For VMware vSphere Product Review.
Iperius Backup New Features
ESXi –  Iperius Backup is compatible with VMware ESXi 7.0 and vSphere 7.0. As you know, vSphere 7.0 has been announced and released a couple of months ago, and many backup products still need to add support and compatibility. Iperius is now compatible.
SQL Server –  Iperius now supports TLS 1.2 encrypted connection.
SQL Server –  Fixed a bug in backing up transaction logs when multiple databases were selected.
Ransomware check –  improved check for some types of ransomware and more complex extensions of encrypted files.
Incremental Hyper-V backup using Windows Server Backup –  fixed error due to space in the VM name and improved interception of VSS errors.
Job as Service – Added new command line parameter to run a job as a service.
Iperius can be installed on Windows computers/servers and you have the option to send the backup to your NAS, store it locally or send it to the cloud for offsite storage.
Iperius Backup Main Features
Hot backup of ESXi, ESXi Free.
Hot backup of Hyper-V VMs.
VM Replication from host to host and from datastore to datastore.
Incremental replication also on ESXi Free.
Incremental and differential ESXi backup (CBT/VDDK).
Backup to disk, network, Cloud, NAS and LTO Tape.
Restore of ESXi and Hyper-V virtual machines also to different hosts.
Restore of individual files.
Application Consistent backups of Linux Virtual Machines with pre-freeze and post-thaw scripts
Incremental and differential backup (RCT) of Hyper-V.
Creating a connection to vCenter and configuring your first backup takes just a couple of minutes. Screenshot from the lab shows right-click on the job gives you a possibility to execute actions.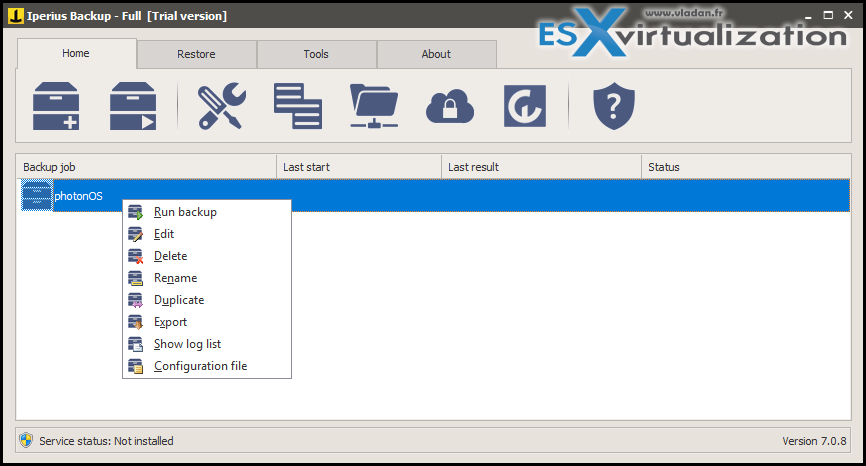 Iperius can automatically create "Application Consistent" backups even of Linux virtual machines, by quiescing the file system with pre-freeze and post-thaw scripts.
With the Complete version, you can backup not only VMware vSphere/ESXi VMs, or Hyper-V VMs, but also physical servers via in guest installation. A Drive image,  database backup (SQL Server, MySQL, etc.), Exchange backup.
As a destination, you can use NAS, Cloud (Google Drive, OneDrive, Dropbox, S3, etc.), FTP / SFTP, USB, RDX, Tape LTO, etc..
A really interesting product for SMBs.
An easy to use scheduling feature allows automatic execution according to the Weekly, Monthly, or after a predetermined period of time.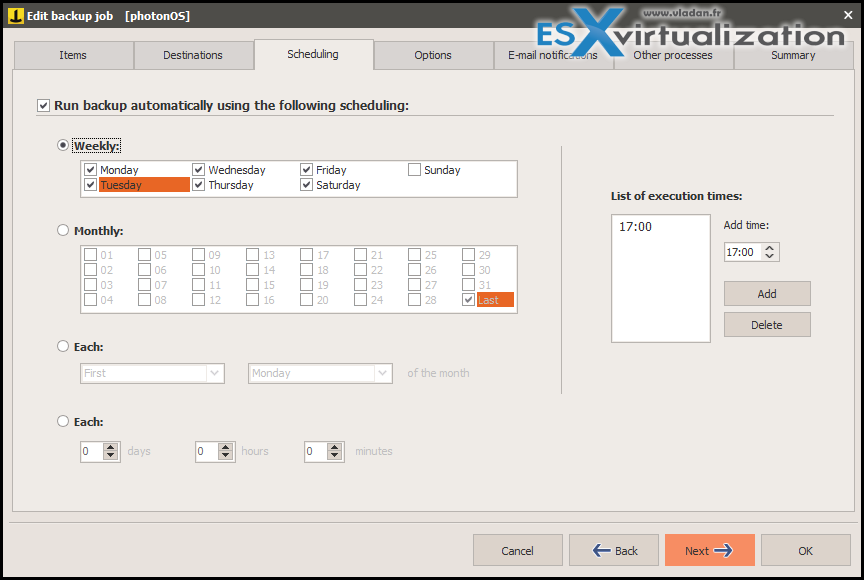 The solution can be coupled with the Iperius Console software, which is a complete solution for monitoring backups. It has a centralized dashboard, statistics, error detection, the possibility of updating, planning and execution of backups remotely, management of groups, users and permissions. Solution for multiple sites with multiple backup servers managed from a single location.
Which Version of Iperius Backup is for me?
There are many versions of Iperius Backup software. The whole product line starts with Iperius Desktop which is a version that can backup a single desktop as image backup software.
Then you can have 3 desktops versions, or "Essential" version allowing you to include Windows Server OS, as well as desktop OS.
Next are Advanced VM, Advanced DB (Database backup version), Advanced Tape, Advanced Exchange, and Full version, which does everything. You can upgrade it at any time, paying only the difference. Worth to note that All Iperius Backup licenses are Lifetime and include Free updates and support. Check out the different versions of Iperius Backup on this page.
Link to Iperius Website where you can download a Free Trial there.
More from ESX Virtualization
Stay tuned through RSS, and social media channels (Twitter, FB, YouTube)