Are you trying to learn NSX-T? There is a new book which might be your interest as it's written by a guy who is exactly like you. Trying to learn by installing, breaking, and investigating in his lab. The guy's name is Shashank Mohan and he is Australian, living in Canberra. NSX-T Logical Routing is written by a guy that back in the day, was very strong in networking in general, but struggled with NSX-T.
BTW, my networking knowledge is pretty basic, so I'm stepping in with an opportunity to do a review of this book (in a separate post that needs more time to write) and share back my experience of what I learned.
I'll keep you updated on that. You know, NSX-T seems to be "another beast" to master. Right now I'm really not, but I'm motivated to learn more. It might be an opportunity for a lab installation too as part of being vExpert we do have a license.
And why do I think that this NSX-T Logical Routing book is interesting for most VMware admins?
Because it's written by a guy that himself struggled with NSX-T!
Quote:
As a newbie to NSX-T, even with a relatively strong "traditional" networking experience, I found myself constantly seeking help online and reaching out to colleagues. I spent hours trying to find solutions that matched the exact situations that I was in, but two situations are rarely the same.
The book has 6 Chapters, that are broken into sub-chapters. Here is a very short overview.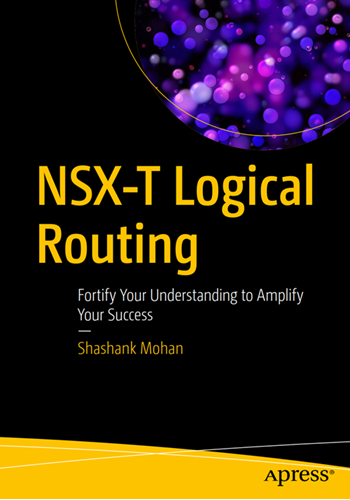 The Chapters:
Chapter 1: Introduction – architecture, datacenter, basics of NSX-T…
Chapter 2: Tunnel Endpoints – Overlay networking, VLANs, VXLAN vs Geneve, Transport node types… ++
Chapter 3: Remote Tunel Endpoints – NSX-T federation, what is, requirements, configs
Chapter 4: Logical Routing – what optimally configured network, logical routing fundamentals, east-west, north-sout logical routing
Chapter 5: Data Plane Availability – Edge cluster deployment considerations, Edge Node definitions, ++
Chapter 6: Datacenter Routing – communication with the physical network, NSX-T and BGP, NSX-T and OSPF
****************************************************
NSX-T Logical Routing – You know that you support ESX Virtualization Blog when buying this book from Amazon!
****************************************************
From the Back Cover
This book is a one-stop guide for IT professionals with a background in traditional and software-defined networks looking to expand or hone their skill set and has been developed through a combination of extensive research and testing in both development and production environments. It provides reliable information on a fundamental component of NSX-T, logical routing.
A comprehensive understanding of this capability will help IT professionals with design, implementation, troubleshooting, and enhancements.The book starts with an introduction to the foundational components of the NSX-T platform and how NSX-T fits into the software-defined data center. The focus then moves to tunnel endpoints, which is a critical aspect of the NSX-T platform, and the differences between overlays and underlays are explained. Once the basics are covered, it provides a detailed description of how NSX-T components communicate.
Next, the book introduces logical routing and its components and provides a better understanding of how these components function with one another. Several packet walks are illustrated to explain NSX-T logical routing behavior in different scenarios. After mastering logical routing, it explains how NSX-T ensures data plane availability, which is explored at various layers of NSX-T.
Finally, the book explores the concepts and intricacies of routing into and out of the NSX-T environment. It deep dives into utilizing the Border Gateway Protocol (BGP), Open Shortest Path First (OSPF), and Static Routing.
You will:
Know how VMware NSX-T endpoints communicate


Understand how NSX-T logical routing works

Know how NSX-T provides high availability for the data plane

Understand how NSX-T operates with static and dynamic routing protocols

Configure the platform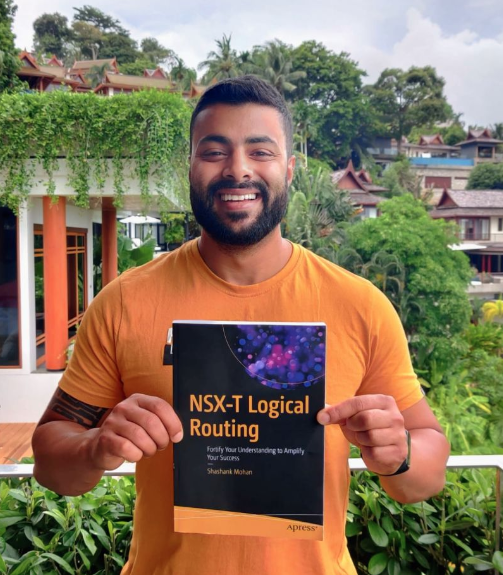 The book is available in Paperback or Kindle editions on Amazon.
****************************************************
NSX-T Logical Routing – You know that you support ESX Virtualization Blog when buying this book from Amazon!
****************************************************
As I said at the beginning of the post, I'll be preparing a review of the book, more detailed than this short post. But I have quite a lot of work in Oct-Nov (Veeam Summit Prague, VMware EXPLORE Barcelona….) so not sure about when the review (and myself with new knowledge about NSX-T, will be ready. -:). I'll try to stay motivated, motivated, motivated ……..
More posts from ESX Virtualization:
Stay tuned through RSS, and social media channels (Twitter, FB, YouTube)