As you know, we're heading to VMware EXPLORE Barcelona 2022 (7-10 November) this year so ESX Virtualization Blog readers will get some exclusive pictures, videos and news directly from the event as we plan to share everything on the blog and through social media. If you're there and you want to catch up with the author of this blog, Twitter is still the best -:).
The global pandemic seems to calm down (and we do hope it stays this way) so the time is now to prepare for the event the best way you can.
We have already written quite a lot on the importance of being there and having the possibility to find new IT friends, discover new technologies and have some fun.
Content Catalog is open for VMware EXPLORE Barcelona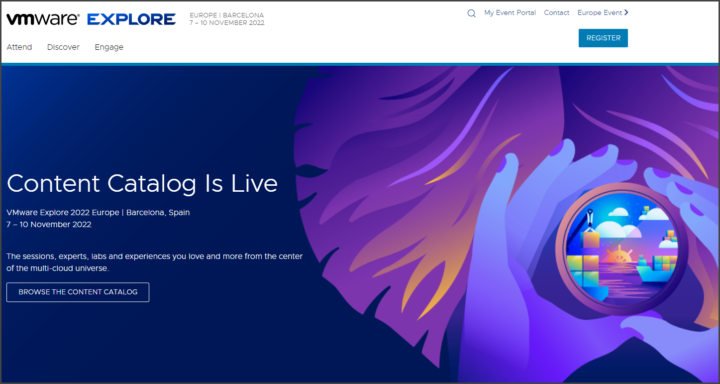 If you haven't already read it, you should check our previous posts about VMware EXPLORE:
ESX Virtualization Blog Coverage VMware EXPLORE 2022
In case you're planning to pass a VCP exam during the event, don't look further. ESX Virtualization Blog has also a FREE study guide that will help to study ….VCP7-DCV Study Guide page.
Parties, Sponsor's events etc….
We not gonna lie. Parties and events are part of the VMworld and VMware EXPLORE. However, this year it seems to be a bit slow and we don't have much info just yet. All we assume is that there should be a vExpert meetup (party), and a VMUG party too. I don't think that Veeam will miss organizing their legendary Veeam party too. Other vendors? No idea…….
I'll update the post with more when I know more.
VMware has the traditional Welcome Reception in The EXPO – "Get your first look at more than 60 exhibitors on the show floor, network with fellow attendees in a fun atmosphere, pick up some new swag, and enjoy delicious appetizers and drinks."
The Hall CRAWL – "The hall crawl gives you the chance to get up close and personal with the VMware ecosystem, sponsors and exhibitors in The Expo. Participate in giveaways, get in-depth product information, pick up some swag, and socialize while enjoying snacks and drinks at the sponsor booths."
The PARTY – "Work hard, play hard. The Party is our must-attend event. Plan to enjoy some food, drinks, games and, of course, great music. Check back for details about this year's entertainment and more."
That being said, so far we do not have much. For people planning to fly early to Barcelona, don't miss vRockstar Party that is held the Sunday evening. Follow Patrick Redknap (@PatrickRedknap) with the announcement, and be quick to get your ticket (places are limited).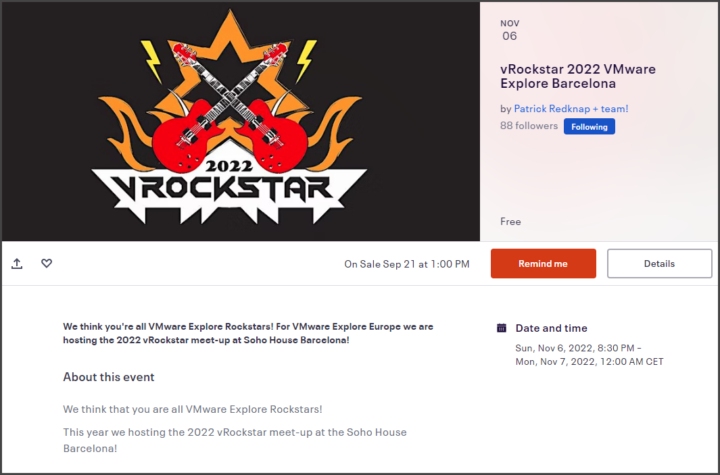 Not to miss ….
You should not miss the experts, the Hands-on-Labs or (if you're motivated enough) the Certification exams with 50% discount!!! 
You can get certified VCP or VCAP during VMware EXPLORE for half cost.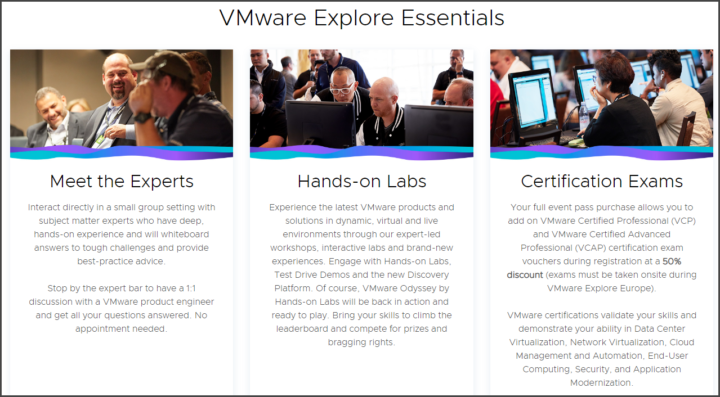 The vouchers for certification exams can be purchased after you have purchased the ticket for VMware EXPLORE, from within your account area at VMware EXPLORE. There is a little section that has a Purchase Exam button, Like this.

Then you're taken to a new page where you can make a choice whether you want to pass VCP or VCAP.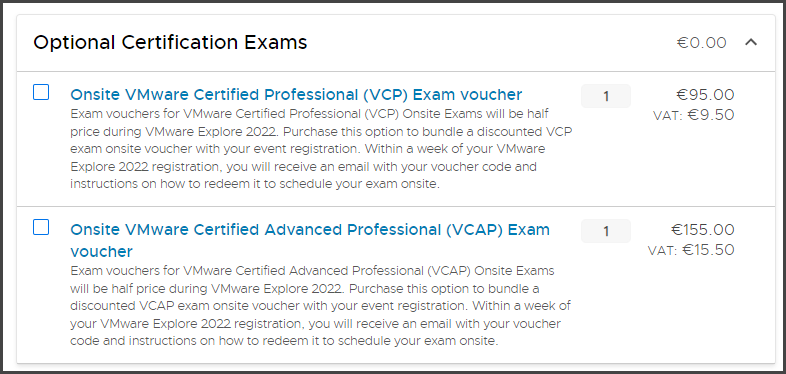 Those are some significant savings you can do. It's really interesting from a financial standpoint. If you are financing the exams from your own pocket or saving some money to your company, it is definitely a good and smart way to do it IF you're motivated end determined. I have done it once too. I can highly recommend of doing it if you're prepared, you're motivated and you schedule the exam on the first day of the event. If not you'll not fully enjoy the event and if you're a person that stresses the too much for the exams, you might not enjoy it at all. It's up to you…..
When vSphere 8.0 Download?
Update: here is the latest update from VMware. It seems that we'll gonna get it BEFORE VMware EXPLORE Barcelona!!!
"Due to the high standard we hold for the quality of any release, we have decided to delay the GA of vSphere 8 and vSAN 8 until October 11. VMware is committed to provide the best products to our customers, who informed our choice to push out the launches."
I know that the vast majority of our readers want to know when vSphere 8.0 will be released. To be honest we have no idea and so far we can't communicate on the private beta that we're part of. Most of the announcement has already been done via VMware EXPLORE the US however not many of the screenshots from the actual UI of the vSphere 8.0 has made their apparition. All we have is to work with the diagrams and screenshots we have from different VMware EXPLORE sessions and blogger briefings, however, we're not able to post anything from the private beta.
We might know a bit more after VMware EXPLORE Barcelona 2022, but don't be surprised if still no release 3 weeks after the event. In the past, VMware always announces its new versions during the main events, however, the actual release is happening only a few weeks (months) after the event.
Many features that will be released will also be released as a technical preview (so used with caution, in the lab first) and also, your production backup software vendors must first acknowledge this new vSphere 8.0 before you can actually deploy it in production. And even then, I'd be cautious as previously, VMware has been caught off-guard and "messed" up with their releases not being the most stable or that one of the patches breaks something… But that's just my opinion and hearing here and there. Nothing personal. VMware always repaired everything. All I want to say that there is no rush for vSphere 8.0 …..
So while I can understand that many readers are impatient about installing the latest and greatest, but as always, make sure to test this in the lab first when the final release will come out. Stay tuned.
More posts from ESX Virtualization:
Stay tuned through RSS, and social media channels (Twitter, FB, YouTube)