Few days back you could watch live a Top vBlog 2016 results organized by Eric Siebert from vSphere-land.com. The full results are here. This vBlog popularity contest become an every year event. No suprises again this year, Duncan has the blog with the most popularity, tightly followed by William Lam.
My results are a nice suprise for me and gives me motivation for the future! Thanks for everyone who voted for ESX Virtualization! Watch the recording on YouTube. Like every year, people could also vote for best blogger in different category, like storage blogger, scripting, podcast… to give more chances to bloggers specializing in different categories or bloggers which are not employees of a vendor or hardware manufacturer. This year I won in a category of Independent blogs… -:) which is completely unexpected ….
The top 50 bloggers will get a coin…. I got one already from last year…. Nice to have it as a souvenir.
Quote from Eric:
Bloggers who make the Top 10 will get a gold coin, 11-25 a silver coin and 26-50 a copper coin. I'll also be coming up with a new graphic that you can display on your website if you made the Top 50.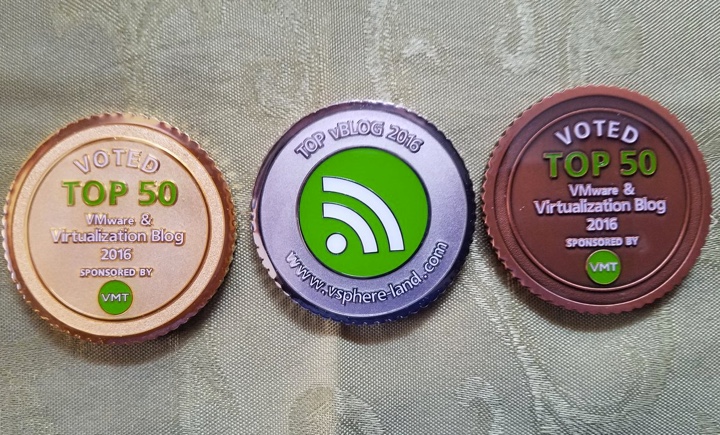 What to improve in this popularity contest ?
Eric exposed few ideas, like
Next year I'm looking to change this process dramatically and make the public voting be a part of an overall bigger method of determining the top bloggers
Which is good. Relaying only on voting is perhas too monolythic (if I can say that?).
The main problem for blogs that ends up down the list that they got lower number of votes. That's the way it is. Competition. A cyclist racing Tour de France cannot expect finish in the Top 50 if he doesn't takes his bike every day for 50-150km ride, right? You get the point. There is no magic. Work, work, work…
I don't know if anything could be improved in the voting process, which is now pretty much secured.
Few tips for new bloggers
Regularity – People vote for blogger (the person) they like. If that particular blogger wrote just 20-50 posts during the year and people still voted for him(her), then good. This is fine. I think the bare minimum for a blogger is to post at least one blog post per week. The importance is regularity.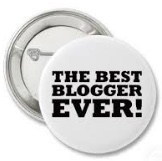 Speakers – Public speakers have life a bit easier. They can become popular, with their blog, a bit faster. Folks being knonw to speak during VMworld (or other) conferences are known to other people. So if they say that they also have a blog, automatically they have an audience because their readers subscribes via RSS and other social media channels.
Guest Posting – Bloggers who just started blogging and do not have much popularity can also contact more estabilished bloggers and do a guest post on a blog with a lot of traffic. A guest post is a good way to get known within the virtualization community, and also Google. I'm totally open to that. (hint: As a guest post we could consider a post as a part of a VCP6-CMA study guide which I'm working on.)
Wrap-up
I always get those remarks that I push out a lot of content. True, I blog almost daily. But I like to stay in contact with my readers. And the only way to do that is write regular posts for them. I started this blog as a bookmarking blog. A few step-by-step posts for the beginning. That was it. I wanted to have my own place to store my guides.
I knew how to use HTML software, but WordPress took the coding away becoming the CMS I'm using today. What a suprise when I could see through Statcounter.com the first connections. People are reading what I wrote? That's pretty incredible considering my quite poor written English back in 2008…
I sometimes pull my hair on "what's going to be today's post"? I ask myself quite often what my readers like to read about? I can guess, but never sure if a post will be succesfull or not. I sometimes gets remarks that my posts are not enough technical. While this might be true, I always have in mind that not everyone out there is a VCDX or VCAP….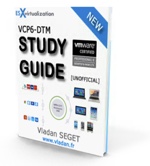 After succesful VCP6-DCV Study Guide, the VCP6-DTM Study Guide is about to be released (sponsored or not). If some sponsor reads this, feel free to reach back if you want to sponsor the work.
I have another study guide in the pipes – VCP6-CMA Study guide, to complete the "trilogy". It is getting ready, slowly…
The next bloggin season I would like to focus more on posts with general IT, including Windows Server 2016 or Hyper-V. However I can reassure my readers that I will still remain strongly focused on VMware virtualization and especially on SMB and small shops.
My blogging might further evolve in the future as I'm planning to get a real mic and do some more quality recording for our Youtube channel. So far I've been using my iPhone headphones… -:( So getting a quality mic will improve the sound quality. I also have to admit that I'm (still) not ready to do some public speaking as I really prefer writing. Some interviews which I've done in the past is all I feel for. Who knows, perhaps in the future, with a good mentor, I might take the chance… -:)
The title of this post was inspired by…. Iron Maiden
Who are you.
The new number two.
Who is number one.
You are number six.
I'm not a number, I'm a free man…
Again, Thanks to Eric for organizing this TOP vBlog contest!
Dear readers, thanks for your votes. Stay tuned through RSS, and social media channels (Twitter, FB, YouTube)