A fellow Spanish blogger Xavier Genestos, which I already encouraged my audience last year to check one of his other books about Windows 2016 Server. Xavier just published another book. This time it is about Remote Desktop Services within Windows Server 2016. The book's name: Remote Desktop Services for IT Administrators.
Xavier is an experienced writer and I have definitely something to learn from him. One of my future projects just might be to write a book… Stay tuned -:).
The book is destined for a Spanish speaking audience. Us who speaks little Spanish, all we can do is to help Xavier with the book's promotion or check Google translate (still pretty good).
We can see that the book, available through LULU (which allows you to print the book-on-demand), has many chapters. Let's get an overview and details.
The book has 24 Chapters and those are teaching you all you need to know about Remote Desktop Services (RDS), and RDP protocol and configuration options. You'll learn also about RDS server architecture and also, at the end, about some possibilities to make your architecture High Available.
You can read more details at Xavier's Blog here.

Chapters:
RDP Protocol
Architecture
Dimensioning and performance
Installation of an AD domain
Installation within a Workgroup environment
Collections and Remote App
SSL Certificates
RDS Licensing
Different deployment scenarios (step-by-steps)
Clipboard
Printing
RDP Session console
Shadowing (for support)
Keyboard shortcuts
Installing applications
Administrative Command line tools
Security
Troubleshooting tools
High Availability
You can buy this book at LULU which does print-on-demand.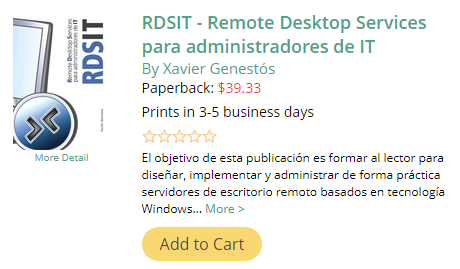 Check the FAQ: http://www.sysadmit.com/p/faq -libros.html
and the discount codes of LULU publisher:  (25% during the time of writing).
You can see the index of the book in the section of the blog: "Index and references books":
http://www. sysadmit.com/p/vista-previa.html
Windows 2016 brought RDP v10, which introduces enhancements and new stuff especially a new H.264/AVC 444 mode.
Spanish speaking audience will definitely appreciate the possibility to get a quality content technical book in a native language. Windows Server 2016 is the latest server operating system from Microsoft and it's here to stay for some time. It's about time to start learning what's in from the RDP and RDS point of view. Don't you think?
Quote from Microsoft's blog about H.264/AVC444:
When enabled on the RDP Server, the H.264/AVC 444 mode will be prioritized when the RDP 10 client and server both support AVC/H.264 and support the AVC 444 mode. Note: For Remote Desktop Session Host (RDSH) environments only full desktop sessions are supported with H.264/AVC 444, RemoteApp sessions still use the proprietary codecs for now
Windows Server 2016 and Windows 10 (build 1511 or newer) now use the new version of RDP v10 (traffic protocol, used for RDS). New protocol now supports up to 4K resolution and introduces a new mode – AVC 444.

The main challenge to use AVC/H.264 as the one and only Codec in Remote Desktop scenarios is that text shows a halo effect with typical implementations of AVC/H.264. This is caused by the color conversion process that happens as part of the compression which throws away some of the chrominance information, as represented in the 4:2:0 format. To the human eye the lack of chrominance information is not as apparent with video content, however with Remote Desktop scenarios, where mostly text is used, it is something that is noticeable and users will perceive this as blurry. The AVC/H.264 standard defines the capability to use 4:4:4 format which doesn't lose the chrominance during conversion, however typically this isn't part of most AVC/H.264 hardware encoder and decoder implementations and thus provides a challenge.
Xavier's blog – Sysadmit.com (ES) His new book on Lulu.
More posts from ESX Virtualization:
Stay tuned through RSS, and social media channels (Twitter, FB, YouTube)