Virtualization admins which manage virtual infrastructures running VMware vSphere or Microsoft Hyper-V often use external backup and replication tools. This is mainly due to a reliability and performance. VMware's core replication technology works with a VMware vSphere Replication (VR) product, but this product has only a limited features set. To benefit automatic failover or failback you can, however, use an automation and orchestration product from VMware called VMware Site Recovery Manager (SRM). In this article, however, we will focus on using Nakivo Backup and Replication product for Replication of VMs to Remote Site And Seeding Option.
You can already imagine how backup products work when used for backup, or replication of VMs to the remote site. In both cases the software product uses VMware Changed Block Tracking (CBT) technology which allows, after the first full copy, to copy only blocks which changed since the last job.
CBT keeps track of the blocks of a VM's disks that have changed since a certain point in time like a checkpoint. Changed Blocks are recorded at a VMDK level. You need VMware virtual hardware 7 or higher. ( Introduced in vSphere 4 I believe).
So by now you certainly imagine how the replication of VMs works (in a normal situation):
The steps:
 Create VM Replication Job > Specify Destination ESXi > Storage > Network > Schedule > Retention > Options.
During a normal situation, with VMs which are reasonably sized, you'll find yourself with VMs in Power OFF state at the remote site. You create a replication job within the Nakivo backup console and you're done.
How about when the VM(s) are too large to replicate?
In this case, you can perform staged replication. Or we say that you will be Seeding your VMs. In this case, simply, copy your VMs to a removable media or small NAS box and transfer those VMs to your target site.
In case you don't have a secondary site, you can possibly use a service provider, a company in your location which provides this kind of services. Most Service providers accept this kind of transfers when setting up new customers for replication purposes.
Then Create VM Replication Job that will use the transferred VMs as a target and perform only incremental replication as it will use the pre-seeded VMs. Let's have a look which steps we need to accomplish with a little bit more details.
The steps:
Part 1: Copy Large VM(s) to NAS > Transfer to target site > Register the VM in vCenter (or Individual ESXi) by opening a datastore browser, do a right-click on the VMX file and register.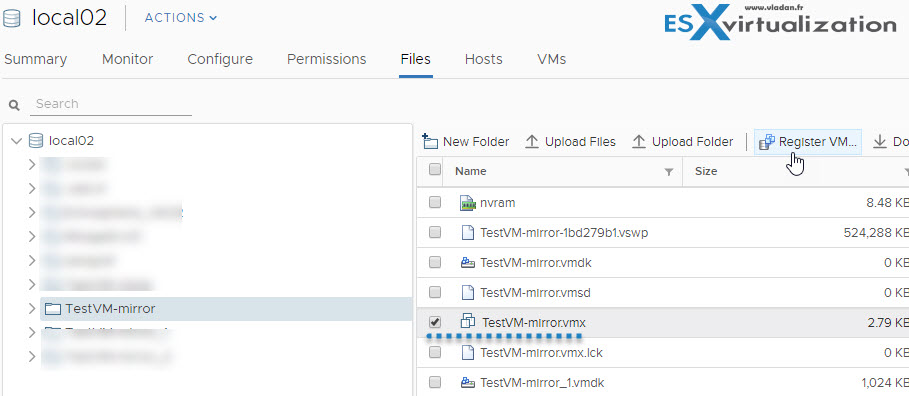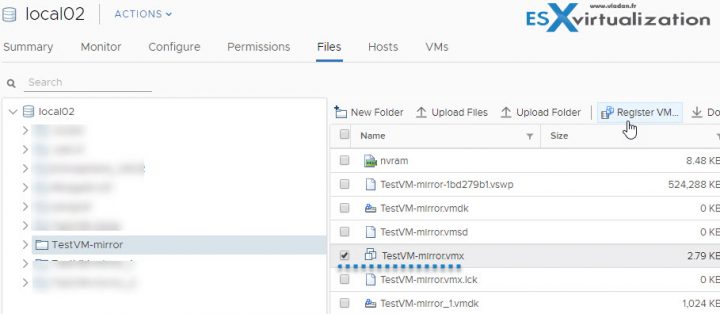 Part 2: Create VM Replication Job > Specify Destination ESXi > Check "Use existing target VM" checkbox within the Nakivo Replication Wizard.
The workflow looks like this within the Nakivo console.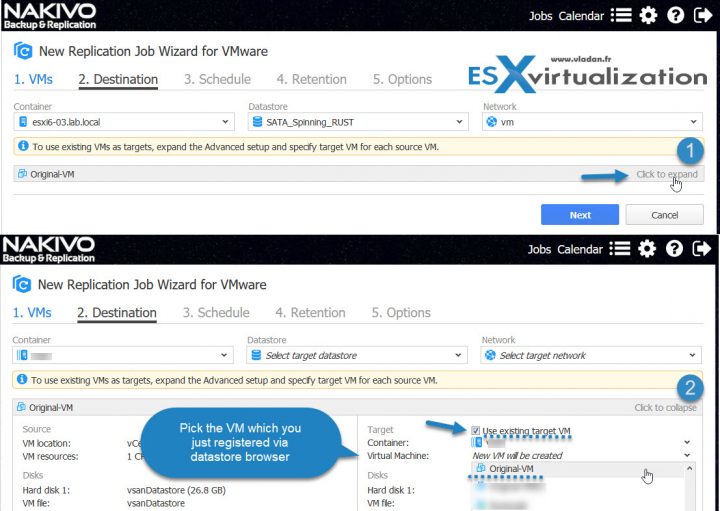 Then only you finish the wizard with the rest.
Schedule  > Retention > Options.
When you run the job, the product will analyze the target VM you have selected, determine how it is different from the source VM, and transfer only the differential data. The VM can differ several days or weeks between when you have first made the copy. It does not matter. A lot of the bits will be the same.
Latest product release brought:
Transaction Log Truncation for Microsoft SQL Server – the function automatically remove (truncate) transaction log files after a successful VM backup or replica is made
Instant Object Recovery for Microsoft SQL Server – you can recover SQL databases and tables, back to the source SQL Server (or a different server)
Calendar Dashboard – new view of scheduled jobs

Wrap Up:
Seeding of VMs can be really useful when you have VMs too big to replicate. Most of the backup products including Nakivo provides you with an option to leverage the seeding and syncing only the changes during the first replication job. Once the first replication was done there will be even less network traffic which will be only due to daily change ratio on each VM.
Nakivo can also be installed directly on some NAS hardware. Some models from Synology, WD, QNAp or Asustor and soon other storage hardware manufacturers might be supported too.
Nakivo can also send the backups to offsite, such as Amazon, through AWS Marketplace which is simple, reliable, and affordable way to backup or replication of paid AWS EC2 instances, sold through the AWS Marketplace.
Check at Nakivo.com and download the free trial version or a qualifying NFR license for your lab. You can download Free Edition of Nakivo Backup and Replication here.
More about Nakivo on ESX Virtualization:
More from ESX Virtualization:
Stay tuned through RSS, and social media channels (Twitter, FB, YouTube)