Runecast is a powerful Cloud Native Application Protection Platform (CNAPP) that is designed to help organizations secure their IT infrastructure by providing comprehensive vulnerability assessment, misconfiguration detection, compliance management, upgrade planning and simulation, and integration capabilities.
It is no longer only a product that track the misconfiguration of your vSphere infrastructure and tells you which patch or which tweak you need to apply to become compliant. It become platform capable of maintain a security and compliance of a system as a whole. A cloud native application protection platform (CNAPP) is a security and compliance solution that helps teams build, deploy, and run secure cloud native applications, as well as collaborate with more efficiency with developers and DevOps.
With the rise of cloud computing and the adoption of modern DevOps practices, the need for advanced security solutions has become more urgent than ever before. Companies that rely on cloud services and applications are exposed to a range of security threats, including cyber attacks, data breaches, and compliance violations. Runecast platform offers a range of features that help companies address these security challenges in a proactive and efficient manner.
One of the benefits of using Runecast is its ease of deployment and use. The platform can be deployed as a virtual appliance, and it supports multiple hypervisors, including VMware, Hyper-V, and KVM. The user interface is intuitive and easy to navigate, with features such as customizable and automated reports, and alerts. Additionally, Runecast offers integrations ticketing – ServiceNow and Jira + APIs (check more at https://www.runecast.com/integrations)
Vulnerability Assessment / Vulnerability Management – One of the key capabilities of Runecast is its vulnerability assessment and management capabilities. The platform analyzes the entire IT infrastructure, including virtualization, network, and storage layers, to identify potential security risks and vulnerabilities. It uses various sources of vulnerability data, including CVEs, security advisories, known Exploited Vulnerabilities (KEVs) from the Cybersecurity and Infrastructure Security Agency (CISA), as well as vendor bulletins, to ensure that the assessments are accurate and up-to-date.
Runecast provides an easy-to-use interface that displays vulnerabilities by severity, giving organizations a clear understanding of which issues are most critical and require immediate attention. The platform also provides recommendations on how to remediate the vulnerabilities, including patches and configuration changes, to ensure that the infrastructure is secure.
Misconfigurations / Configuration Drift Management – Another key feature of Runecast platform is its ability to detect misconfigurations and configuration drift. These issues can lead to security vulnerabilities and can cause outages or performance degradation. Runecast uses machine learning algorithms to analyze the configuration of the infrastructure and compare it to best practices and vendor recommendations. This ensures that the infrastructure is configured according to industry standards, reducing the risk of security incidents.
Runecast also provides real-time monitoring and alerts for configuration changes, ensuring that any unauthorized changes are detected and remediated before they cause any damage. This proactive approach to configuration management helps organizations reduce the risk of security incidents and maintain a high level of availability and performance.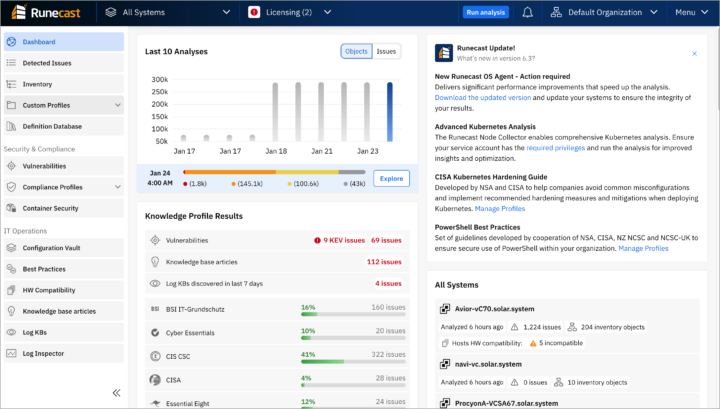 Security Compliance / Security Standards – Runecast helps organizations maintain compliance with industry standards and regulations, including HIPAA, GDPR, PCI DSS, and ISO 27001. The platform provides a range of compliance checks, including access controls, audit logging, and encryption, to ensure that the infrastructure meets the requirements of these standards.
Runecast also provides a range of compliance reports, enabling organizations to demonstrate compliance to auditors and other stakeholders. The platform provides real-time monitoring and alerts for compliance violations, ensuring that any issues are detected and remediated before they cause any compliance breaches.
Upgrade Planning / Upgrade Simulations – Runecast helps organizations plan upgrades and migrations by providing simulations of potential upgrade scenarios. The platform analyzes the infrastructure and provides recommendations on the best upgrade path, taking into account factors such as compatibility, dependencies, and performance.
Proactively discovers incompatible hardware components or incompatible combinations of driver, firmware, BIOS, etc, then recommends compatible combinations, so you can upgrade your hardware if needed. Runecast is able to identify any issues in your hardware stack, including your server platform and I/O devices.
Runecast also provides simulations of the upgrade process, allowing organizations to test the upgrade process before actually performing it. This helps organizations avoid potential issues and downtime during the upgrade process, reducing the risk of service interruptions and data loss.
Screenshot from Runecast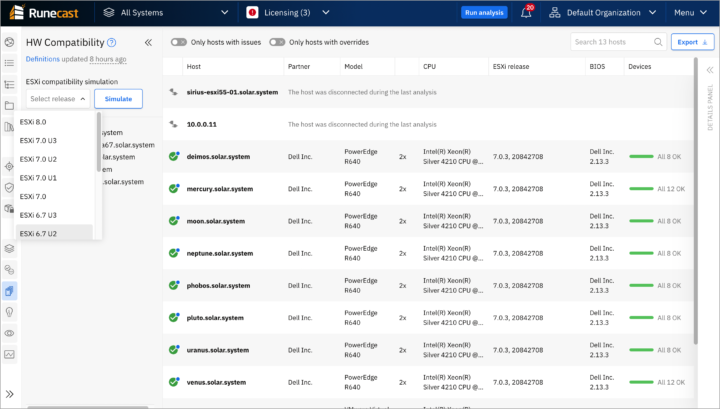 Integrations – Runecast integrates with a range of other IT management platforms, including VMware vSphere, Microsoft Azure, Amazon Web Services, and Kubernetes. This enables organizations to manage their entire IT infrastructure from a single platform, reducing complexity and increasing efficiency.
Runecast also integrates with IT service management (ITSM) platforms, such as ServiceNow and JIRA, enabling organizations to create and manage tickets for security incidents and vulnerabilities directly from the Runecast platform.
Zero Learning Curve / Proactive Approach Enabled – One of the most significant benefits of Runecast is its ease of use and zero learning curve. The platform provides a simple and intuitive interface that enables organizations to start using the platform immediately, without any training or specialized knowledge.
Runecast is able to perform real-time analysis of configuration and log data from the infrastructure stack, including virtualization, storage, network, and security layers. The platform applies various industry standards, compliance regulations, and best practices to identify misconfigurations, security vulnerabilities, and other potential issues. Runecast also offers automated remediation advice to help administrators fix problems and prevent them from recurring in the future.
Final Words
The platform tracks key performance indicators (KPIs) related to CPU, memory, storage, and network usage, and provides detailed reports on usage trends, bottlenecks, and anomalies. With this information, IT administrators can optimize their infrastructure resources, plan capacity, and detect and resolve performance issues before they impact users.
Runecast is also designed to help organizations meet compliance requirements and standards. The platform includes built-in compliance templates for various regulatory frameworks, including GDPR, HIPAA, PCI-DSS, and others. These templates are regularly updated to reflect changes in regulations and standards, ensuring that organizations stay compliant with minimal effort.
Overall, Runecast platform is a robust and versatile platform that provides organizations with the tools they need to manage their hybrid cloud environments efficiently and proactively. With its advanced analytics, machine learning, and AI capabilities, Runecast enables organizations to identify and mitigate risks, optimize performance, and reduce costs in their IT infrastructure.
More posts from ESX Virtualization:
Stay tuned through RSS, and social media channels (Twitter, FB, YouTube)