Virtualization technologies like VMware has brought about a critical need for robust security measures to protect sensitive data and ensure the integrity of virtualized environments. Ransomware can sneak inside of your network and corrupt not only your systems at the OS level, but also within the virtualization layer, where your VMDKs and VHDXs live. By corrupting those files you're left completely in the dark by not even able to manage your virtual infrastructure (or what's been left). Book this date – 22nd of June, SecOps 360 Day – Strategies to fight ransomware and improve communications between SecOps and IT Teams.
Enterprises often faces an internal "battle" between security teams and admin teams. This event will help you to improve your internal process where you might see a way for improvement between IT Operations (ITOps) and Security teams. This event brings you strategies for improving communication, fostering collaboration, and synchronizing processes between these vital units.
In today's digital landscape, organizations across industries face an ever-growing threat from ransomware attacks. The consequences of falling victim to ransomware can be catastrophic, resulting in financial loss, data breaches, reputational damage, and operational disruptions. To combat this menace effectively, security teams must stay ahead of cybercriminals by continuously updating their knowledge and adopting cutting-edge security practices. One FREE online event that will be able to help you is SecOps 360 Day.
SecOps 360 Day is a premier online event that serves as a beacon of knowledge and collaboration for security operations professionals. This annual gathering offers a unique opportunity to exchange insights, learn from industry veterans, and explore innovative solutions to counter the growing ransomware threat. The event features informative sessions accessible from the comfort of your own workspace.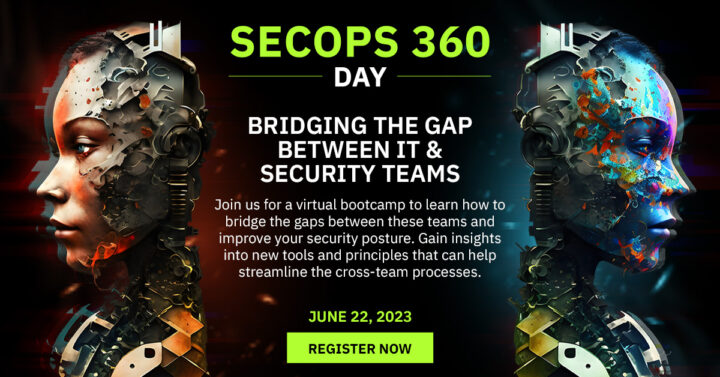 Why Attend SecOps 360 Day?
Access to Expert Insights – Ransomware attacks are constantly evolving, and it is crucial for security teams to stay updated on the latest trends and countermeasures. By attending SecOps 360 Day, participants gain access to a wealth of expert insights, best practices, and research findings from renowned professionals in the field. The event covers a broad range of topics, including threat intelligence, incident response strategies, vulnerability management, and proactive defense mechanisms. This knowledge empowers security teams to adapt their strategies and fortify their defenses against the ever-changing ransomware landscape.
Real-World Case Studies – SecOps 360 Day provides a platform for organizations to share their experiences and lessons learned from real-world ransomware incidents. By listening to firsthand accounts from those who have successfully mitigated attacks, attendees can gain invaluable insights into the tactics employed by cybercriminals and effective countermeasures. The event offers engaging case study presentations, panel discussions, and interactive sessions, allowing participants to learn from peers who have faced similar challenges and emerged stronger.
Cost-Free Access – One of the most significant advantages of SecOps 360 Day being an online event is that it is completely FREE to attend. Participants have access to the latest offerings from leading security vendors, who showcase their products and services virtually. Attendees can explore the virtual exhibition area, interact with solution providers, and gain insights into emerging technologies designed to enhance ransomware defense capabilities. From advanced threat intelligence platforms to behavior-based analytics tools, participants can evaluate and choose solutions that align with their organization's specific needs, without any financial constraints.
Example Use Case
One of the sessions during the event is actually a use case from an admin I met already once during VMworld Barcelona, and he is also a blogger. He works for a large telecom company and he was facing a challenge to verify  compatibility of hardware for latest versions of VMware vSphere. As you might know, Runecast has a new feature that allows you to save a valuable time for searching for compatible hardware or IO device. Runecast allows you to verify the compatibility of your Server IO devices against the VMware HCL I/O Devices. This gives the admin a detailed view of which components are safe for an upgrade for let's say to the latest version of vSphere.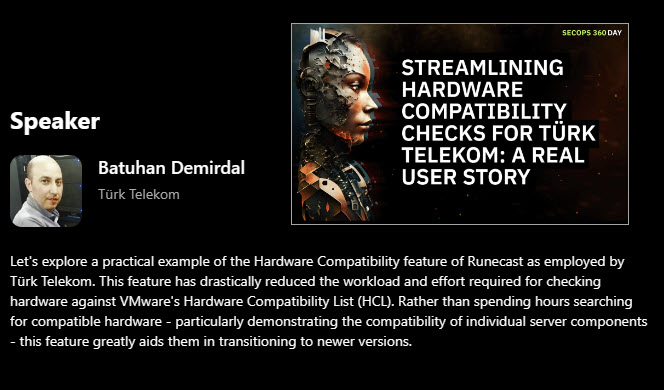 So I think it will be an interesting event for virtualization admins and security teams. You all know that Runecast has been build by admins, for admins.
Final Words
In the battle against ransomware, SecOps 360 Day is a must-attend event for security teams looking to strengthen their defense posture. As an online and FREE gathering of experts, it offers unparalleled opportunities to expand knowledge, learn from real-world experiences. By leveraging the resources and connections provided by SecOps 360 Day, security teams can enhance their ability to combat ransomware threats and safeguard their organizations from potential disasters.
The event is organized by Runecast. Register for SecOps 360 Day HERE. (22nd of June 2023)
More posts from ESX Virtualization:
Stay tuned through RSS, and social media channels (Twitter, FB, YouTube)