Nakivo is one of the vendors supporting the backup of O365 applications and Sharepoint Online sites. One of the main reasons that you need to back up that data is that Microsoft isn't responsible for that data so in case there is a problem, you as an admin have to restore the data prior to the crash. You can have a malware or ransomware attack, accidental deletion of a database or partial suppression. Anything can happen.
I always like to have few cards to play with from my sleeves. I usually have at least two backup strategies, or strategies allowing me to go and restore my work back before a disaster strikes. So having a backup solution giving you an option of granular recovery of the data is a must today.
Nakivo 10.2 brought three main functionalities in that release. We have reported on the details here.
The main features of the 10.2 version are:
S3 Object Lock Support:

NAKIVO now supports the Amazon S3 Object Lock functionality, this functionality protects our backups from accidental deletion, overwriting and/or ransomware.

SharePoint Online Backup: 

can now protect not only Exchange Online and OneDrive for Business, but also data from SharePoint Online, you can do

 

a backup of all sites and subsites SharePoint Online to keep all data safe and accessible SaaS. 

We can 

the search function to retrieve the items we need and

granularly restore the SharePoint Online document libraries and lists to their original location or in a personalized custom way. 

Tenant Resource Allocation: With this new functionality, administrators can now assign hosts, clusters, individual VMs, backup repositories, and transporters to MSP client companies or different departments in a large company.
Nakivo SharePoint Backup Features
We'll talk about the main functions available, as well as provide a couple of screenshots from the UI…
Incremental Backups – 1st backup is full, the following are incrementals. This is a usual backup strategy where you set how many restore points you want to keep, how many daily backups you want to execute etc. The fact that you can set incremental backups, saves time and storage space.
Application-Aware – Nakivo uses Microsoft VSS (volume shadow copy) service to execute the application-aware backup. A common use of existing technology from Microsoft allowing to perform most of the application-aware backups (not only SharePoint but also SQL, Exchange, etc). Once a shadow copy is created, you can back up the SharePoint database in a transactionally consistent state and be sure of its integrity.
Flexible – You can use GFS (grandfather-father-son) rotation scheme where there are three or more backup cycles, such as daily, weekly and monthly. The daily backups are rotated on a daily basis using a FIFO system as above. The weekly backups are similarly rotated on a weekly basis, and the monthly backup on a monthly basis. In addition, quarterly, half-yearly, and/or annual backups could also be separately retained you can maintain multiple recovery points at the same time and ensure their long-term retention.
Reliability and safety – backups are encrypted. There are two types of encryption, in-flight and at rest. So your backups are safe.
Quote:
Trying to recover large amounts of data can be a challenging and time-consuming process. With the Universal Object Recovery feature, you get the opportunity to save time and resources as well as achieve tighter RTOs. NAKIVO Backup & Replication allows you to recover individual files directly from existing SharePoint backups and avoid unwanted overhead.
The creation of the job is simple. Just Select the Microsoft 365 account from the Add New button.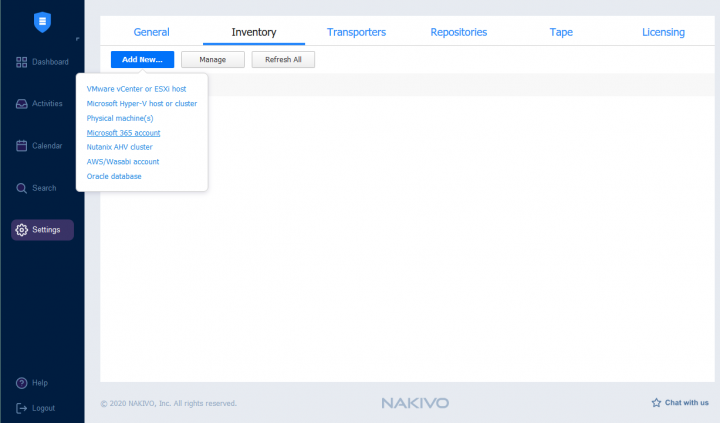 We'll need also to select transported using for storing Microsoft 365 objects.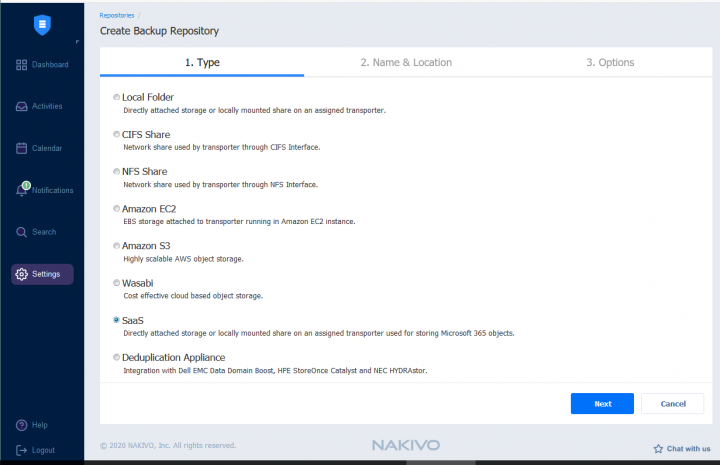 Then you select a location.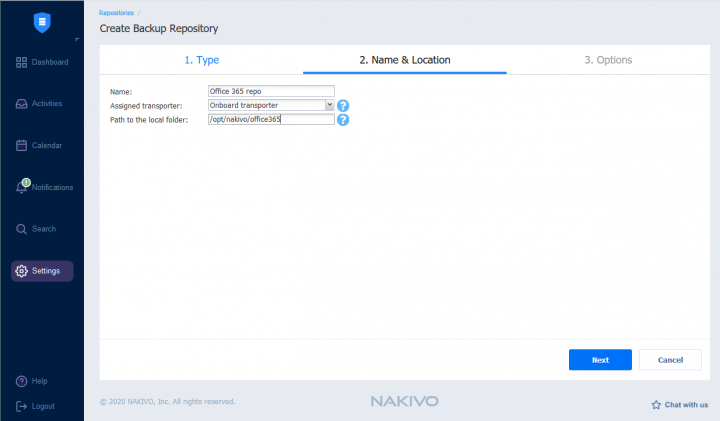 see the progress bar…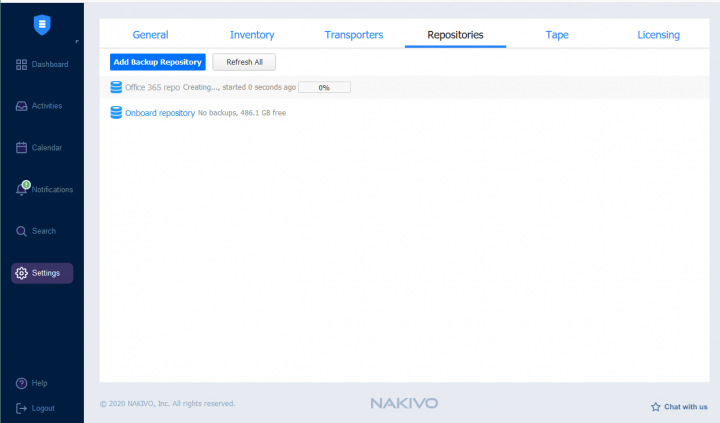 Then you can see here the details of the SharePoint sites.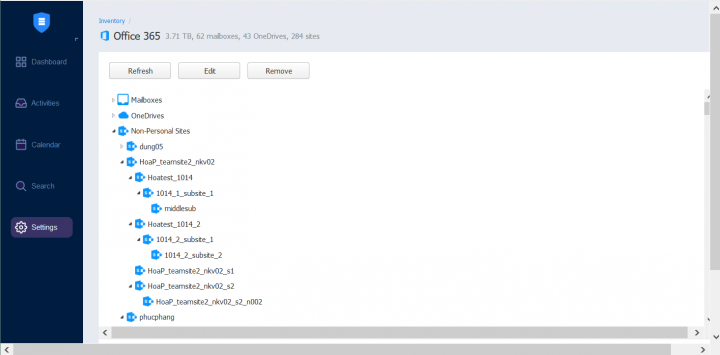 Backup job wizard, what you want to backup? You might have some test databases online which does not need to be backed up. The process can help you to select only what's necessary to be backed up.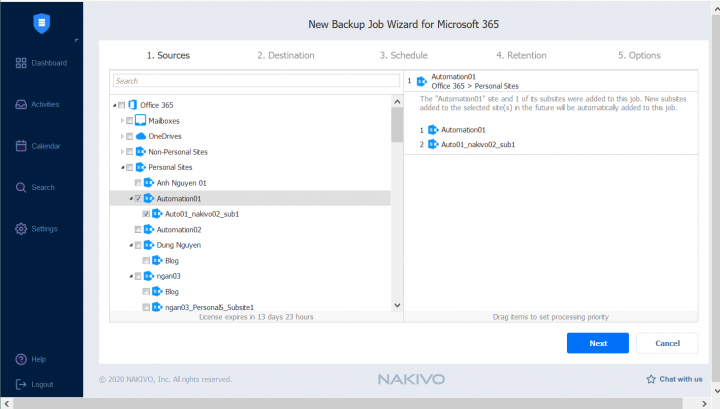 Then, like with any other Nakivo backup jobs, you can see the progress, the statistics, access the schedule, job options or Recovery points retention. You can see the target storage and the items which are backed up.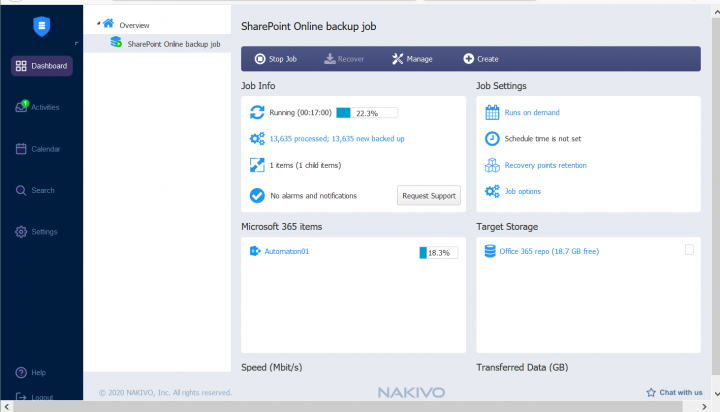 You can recover Exchange Online emails, OneDrive files and folders, and SharePoint Online content to the source (original) location or to a custom location in your organization.
The Scheduling options allow you to run Office 365 backup jobs automatically and back up Office 365 regularly. The Calendar dashboard is there to schedule backup jobs and avoid the interference of multiple backup jobs at the same time.
You have search capabilities that help you find the needed item in your Office 365 backup in a short time so yeah, pretty cool. The solution is scalable allowing you to protect multiple users from multiple Microsoft Office 365 accounts by using one instance of NAKIVO Backup & Replication.
As always with Nakivo, the same web-based UI is used over and over to add new functions to the product. Still very easy to use and configure, with responsiveness and speed.
Links:
Trial Download: /resources/download/trial-download/
More posts about Nakivo on ESX Virtualization
More from ESX Virtualization
Stay tuned through RSS, and social media channels (Twitter, FB, YouTube)