StarWind SAN & NAS is a software product that allows you to create shared storage, with redundancy and availability, for your favorite hypervisor. A VMware ESXi (or vSphere), or Microsoft Hyper-V.
StarWind SAN & NAS is actually a ready-to-go Linux-based virtual machine (VM) that is deployed onto Microsoft Hyper-V or VMware vSphere. The solution shares the same software-defined storage (SDS) features as StarWind VSAN, which allows it to fully unleash to power of ZFS as well as expose standard protocols like iSCSI, SMB, NFS, and others. It supports hardware and software-based storage redundancy configurations.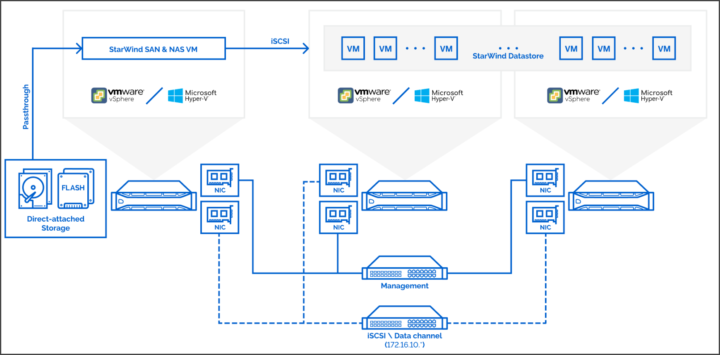 It is easy to deploy and use solution, which is based on Linux, ZFS, and StarWind Virtual SAN. It's easily deployed in the form of a VM on top of your hypervisor of choice, VMware ESXi or Microsoft Hyper-V.
It's a certified solution for VMware and Microsoft.
Availability and Redundancy options
You can choose a preferred redundancy configuration with local disks and use ZFS, Hardware RAID, or Linux MD/RAID. The High Availability and Fault Tolerance features, ensured via "mirroring" of hard disks and flash between your hypervisor servers.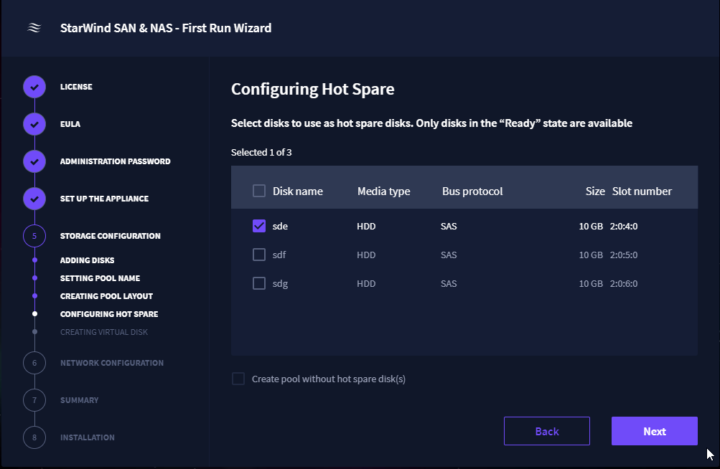 File and Block Storage
SAN & NAS supports all industry-standard block and file protocols, like SMB3, NFSv3, NFSv4, NFSv4.1, and iSCSI (including VVols on iSCSI, NVMe-over-Fabrics, and iSER). This way, the solution unlocks the entire potential of all of your available underlying storage capacity.
The installation is a wizard-driven, easy to use.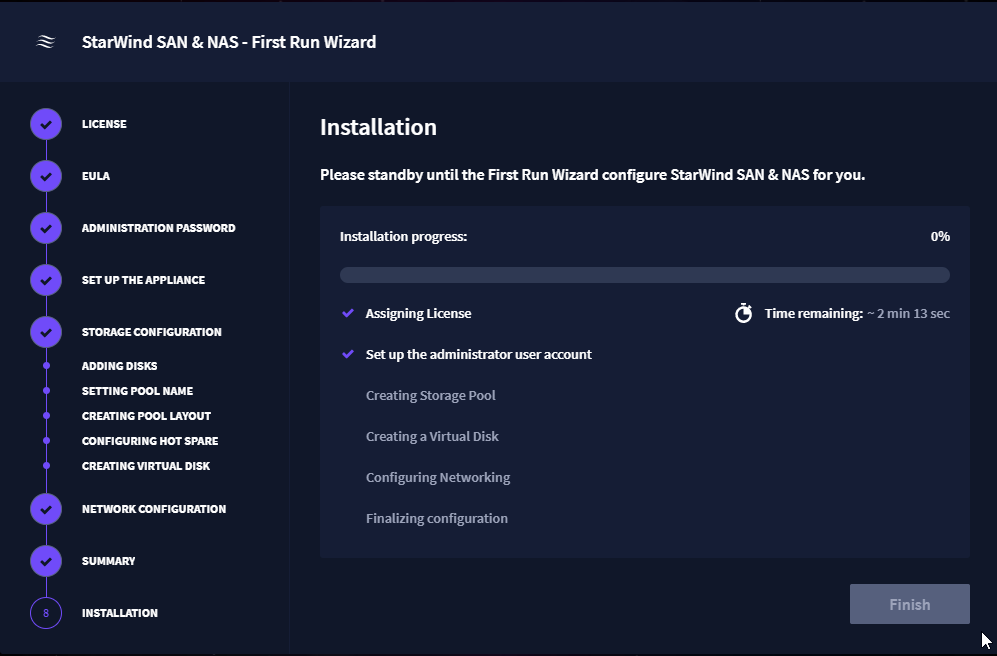 The web-based console is accessible after installation. You can see the different menus on the left, such as storage, network, task and events, as well as the dashboard sumary page. The Tasks tab provides information on tasks performed in StarWind SAN & NAS. The Tasks tab displays the task name, the appliance entity type where this task has been performed, entity name, owner of the task, its status, and timestamp.
To modify the general StarWind SAN & NAS settings such as the appliance hostname, changethe  password,and  time zone, click Edit in the General tab.
NOTE: The default password for the user account is "rds123RDS" without quotes.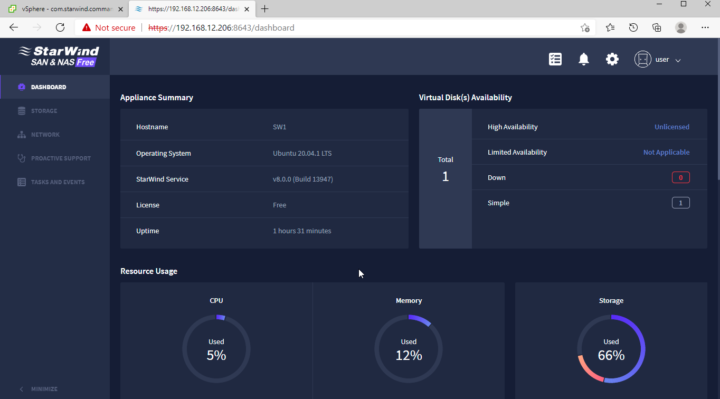 Optionally you can deploy a vCenter server plugin that adds a shortcut to your VMware vSphere web-based client.
The latest release has added:
Text-based User Interface (TUI)
SMB & NFS shared folders in TUI
Appliance build (VM template) for Hyper-V Server
PCIe NVMe SSD support
Appliance Update Manager
License Manager
VMware (VMFS) Datastores integration
Wrap-up
If you'rea  small business, enterprise ROBO, SMB & Edge and you are looking to transform your standalone hypervisor server or groups/clusters of servers into shared storage without buying any expensive proprietary hardware nas or SAN device, don't look further. StarWind SAN and NAS product has been created with simplicity in mind.
The virtual appliance has the same software-defined storage (SDS) features as StarWind VSAN, which allows it to fully use the power of ZFS and also expose standard protocols like iSCSI, SMB, NFS, and others.
Link: Product page at StarWind
More posts about StarWind on ESX Virtualization:
More posts from ESX Virtualization:
Stay tuned through RSS, and social media channels (Twitter, FB, YouTube)