For those of you who follow this blog long enough, you know that DR, backup, and recovery are topics that we cover quite often. With the ransomware war happening every single day, nobody wants to lose the battle. But are we prepared enough? One of the ultimate arms that you can get is multiple backup copies and hope that the ransomware doesn't wipe them all. One of the options is using Virtual Tape Library (VTL) which does not need you to buy a new hardware tape library and deal with tapes.
You can then use your backup software to create a backup copy job and store an additional copy of your backups on VTL. This is particularly useful when you want to separate your backups and protect your backups from ransomware by keeping them "air-gapped" on virtual tapes.
It is also possible to set up a cloud replication where you can replicate and tier your backups to any public cloud and use any industry-standard object storage for flexible scalability.
One of the solutions out there is to use StarWind Virtual Tape Library (VTL). On the image below, you can see the solution and also the option to setup a Cloud Replication. StarWind VTL can be setup in two (three) ways: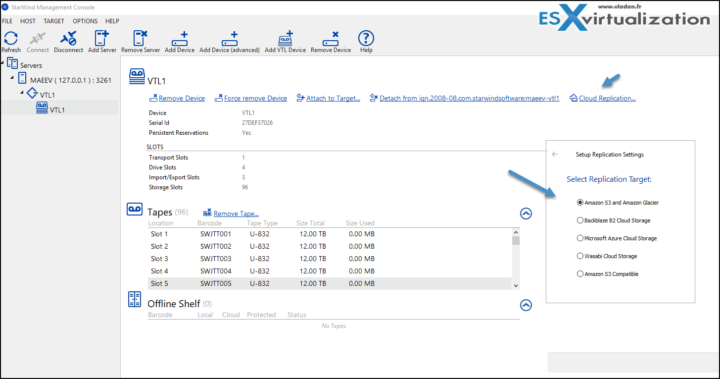 Your most important data is protected from ransomware air-gapped on virtual tapes in multiple locations. Automatically replicate and tier offsite to AWS, Azure, Backblaze, or another cloud for maximum cost-efficiency and security.
StarWind VTL Appliance
If you don't have spare hardware to install StarWind VTL you can opt for StarWind VTL appliance which is the pre-deployed solution (hardware + software) in a box. More on this page at StarWind.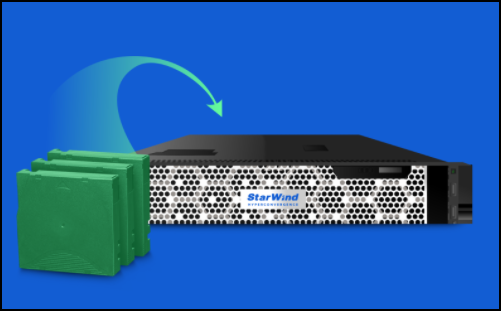 StarWind VTL advantages:
Ransomware protection – ransomware doesn't know how to address data stored on tapes. (for DR reasons you should separate your backup server and StarWind VTL. Why? Because of 3-2-1 rule. 3 copies of data, 2 different location, 1 copy offsite)
Security and cost-efficiency – VTL eliminates manual backup process by shipping Virtual Tapes to any cost-efficient cloud and object storage using commodity ethernet.
Enterprise-grade scalability – StarWind VTL scales capacity using object storage like HGST ActiveScale, Cloudian, Fujitsu Eternus, or cloud storage from AWS, Azure, Backblaze, or Wasabi.
Zero-change integration into any backup infrastructure thanks to using tape API, native to any backup software.
StarWind VTL FREE
There is a Free version of StarWind VTL which is limited to 4 tapes and does not provide local option. Also, there is a PowerShell config only (with Free PowerShell scripts bundled), but for lab testing, it's just perfect.
Quote from StarWind
Free VTL is designed for production purposes, PoC (Proof of Concept), or test and development. Free Virtual Tape Library allows offsite archival in the cloud but doesn't store any data locally. To restore or test the backup, data has to be first downloaded from the cloud storage. The full version though, allows fully customized data retention, replication, and tiering profiles to keep the important backup data on premises for immediate recovery. StarWind VTL Free ships with a set of ready-to-use PowerShell scripts that will help users to conveniently deploy and configure the solution.
From StarWind forums, here is the setup for the FREE version:
1. Add and setup an extra virtual HDD (perhaps unnessesary).
2. Install StarWind software with default settings. Answer yes to questions.
3. On the question where to set the default storage pool. Select the extra HDD (perhaps unnecessary).
3. Check Starwind Management Console that there are a server (127.0.0.1) port 3261 setup.
4. Create an empty folder C:\starwind
4. Open starwind powershell and change path to "C:\Program Files\StarWind Software\StarWind\StarWindX\Samples\powershell"
5. Run CreateVirtualTapeLibrary.ps1
6. Check Starwind Management Console that there are now a targetvtl1 and a vtl1 device created.
7. Open iSCSI Initiator.
8. Goto Discovery tab and Press Discover Portal button and enter 127.0.0.1 and press Advanced button. Local Adapter: Microsoft iSCSI Initiator Initiator IP: Default
9. Goto Targets tab and select the new target and press Connect.
10. Leave default settings and press OK
11. Download HPE StoreEver Tape Drivers for Microsoft Windows. Extract to folder.
12. Open Device Manager and update drivers on each of the newly found tape devices.
Source: StarWind VTL
Thoughts
Everything is in software. Where others use proprietary solutions, StarWind is able to leverage commodity servers and install their software layer to provide VSAN, VTL and other. I like StarWind because they keep innovating over the years, more and more. And also, they adapt and embrace new protocols (How To Create NVMe-Of Target With StarWind VSAN) and new technologies. There ain't many vendors allowing you to build a resilient cluster with 2-nodes only, 3rd node is required in most cases. StarWind is one of them.
More posts about StarWind on ESX Virtualization:
More posts from ESX Virtualization:
Stay tuned through RSS, and social media channels (Twitter, FB, YouTube)