There is a new webinar scheduled in a couple of days with a topic that might be your interest – Tips on How to Design Production Clusters – Avoid those mistakes: StarWind Webinar. The webinar will show different cluster architectures, the ones that are designed to fail, and why. You'll learn typical mistakes that are usually done when building clusters.
When? July 9th 11AM PT / 2PM ET. You can register at this page here at StarWind.
The webinar is presented by Alex Khorolets, Solutions Engineer, StarWind.
Update: Watch the video on YouTube here.
Quote:
Most storage webinars describe how to create a solution or tune the production environment in the best way. But we learn from mistakes, so the important thing also is—what NOT to do with the cluster to not lose mission-critical data in a split second.
Yes, this is true. One of the best ways is to learn how others has failed and why, no?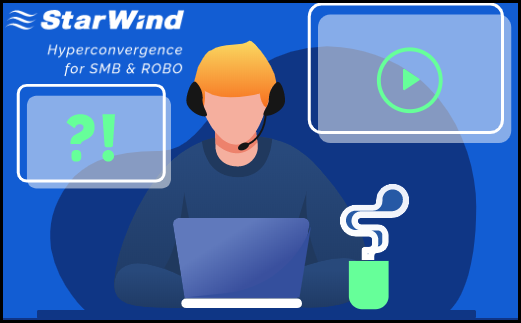 Register for the webinar at this page here at StarWind.
*********************
Do you know StarWind?
StarWind Virtual SAN, a Hyper-Converged storage solution that can function only with 2-Nodes (without witness) and without a 10Gb Switch. (direct connect NICs). StarWind has its own internal heartbeat mechanism which prevents "split-brain" situations. As you know, a split-brain situation can occur after one node went suddenly down or there was a network failure. So the system needs to determine which data are the most recent, and sync them across the nodes.
StarWind has also a "full package", I mean, an appliance, where you buy one package which fits it all. You'll get preinstalled and pre-configured nodes which simply hooks together and are managed via StarWind Command Center. It is an HTML5-based tool designed to make HCI management much easier. Part of the package is also proactive monitoring and support where StarWind engineers proactively manage your environment from a remote location.
StarWind Innovates with iSER
iSER uses the RDMA protocol suite to provide higher bandwidth for block storage transfers (zero time copy behavior). So basically it eliminates the TCP/IP processing overhead but still preserves the compatibility with iSCSI protocol.
In addition, it has the lowest latency and lowest CPU utilization. Moreover, it enjoys the stability and benefits of the iSCSI protocol like security, high availability and so on.
Faster than iSCSI, FC, FCoE and easier to manage than SRP
StarWind High Availability (HA)
StarWind has also an internal heartbeat mechanism, which ensures proper storage path isolation in the event of synchronization network failures and prevents so-called storage "split-brain".
Below you can see that different NICs carries on different traffic for different service. Heartbeat, synchronization etc.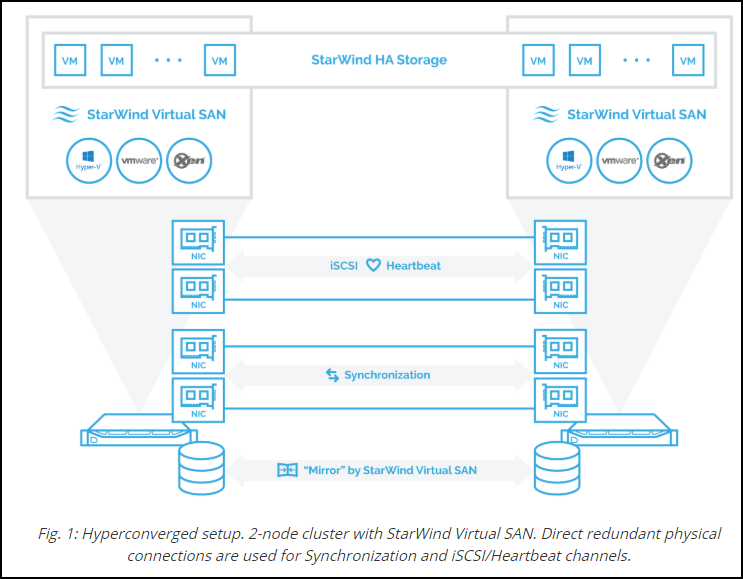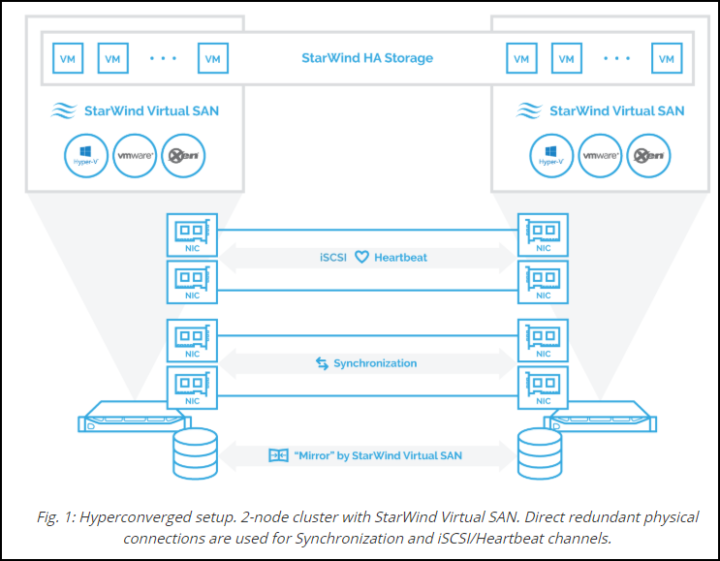 The shared storage becomes fault-tolerant (because backed by 2 or more hosts) and provides high availability to higher performance and low-cost.
More posts about StarWind on ESX Virtualization:
More from ESX Virtualization
Stay tuned through RSS, and social media channels (Twitter, FB, YouTube)