VeeamON Miami 2023 is a highly anticipated event that brings together professionals from the data protection community. Whether attending in person or tuning in online (for FREE), this event offers a unique opportunity to connect with industry experts, learn about the latest trends in data protection, and gain valuable insights into Veeam's innovative solutions. In this blog post, we will explore why VeeamON Miami 2023 is considered the best data protection community event and highlight the benefits of participating either online or on-site.
Unparalleled Networking Opportunities – VeeamON Miami 2023 provides unparalleled networking opportunities for data protection professionals. By attending this event, whether in person or online, participants have the chance to connect with experts, fellow industry peers, and potential partners. Networking sessions, interactive discussions, and dedicated lounges create a conducive environment for collaboration, idea sharing, and building lasting professional relationships. Engaging with like-minded individuals allows attendees to expand their network, exchange knowledge, and gain valuable insights into industry best practices.
DEMOS – Besaides the main headline speakers, you'll see some cool demos and this would not be a VeeamON without ones, right? Do you want to know how to recover your encrypted database running in a container as fast as possible. Micahel Cade has the answer in his cutting edge demo!

Another demo which can be seeing in the General session is the one from Emille Telez showing the future integration with ServiceNow and which will allow bi-directional processes to take place and have an anomalies detection (ransomware) with auto-ticket creation with integration into Veeam product. For example if you resolve the ticket in ServiceNow, it will automatically mark as resolved in VeeamON.

And that's also where Anton Gostev stepped in with the detail view of what new stuff is coming into thee Veeam products.
Anton was presenting a Live remote session (but with a backup solution of course, in case something goes wrong. This would not be a Veeam!)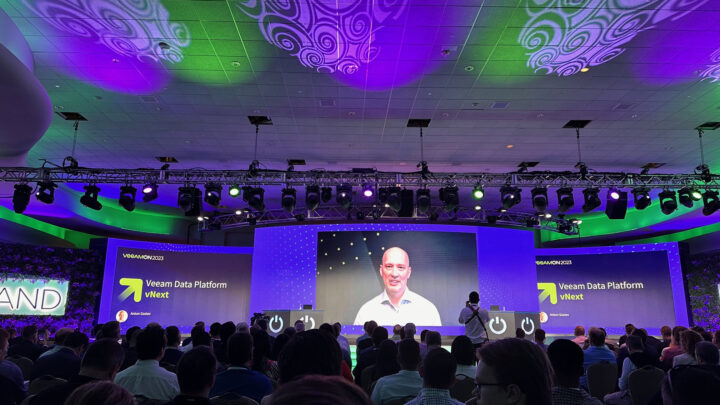 Anton talked about new enterprise plugins for ServiceNow and VeeamONE. There are other introduction, such as syslog and other security enhancements.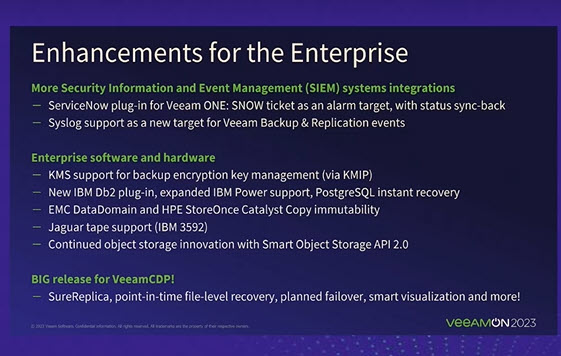 There is more than that, and I think it's really worth to watch if you're Veeam customer of if you're planning to use Veeam within your environment.
Expert-led Sessions and Workshops – VeeamON Miami 2023 offers a diverse range of expert-led sessions and workshops conducted by industry thought leaders, product specialists, and experienced professionals. Attendees have the opportunity to attend keynote presentations, technical deep dives, and panel discussions on various topics related to data protection, cloud management, disaster recovery, and more. These sessions provide valuable insights into emerging trends, innovative technologies, and practical strategies for addressing data protection challenges. Whether participating online or on-site, attendees can customize their learning experience by choosing sessions that align with their interests and professional goals, ensuring they gain relevant knowledge and skills.
French Italian team at the show….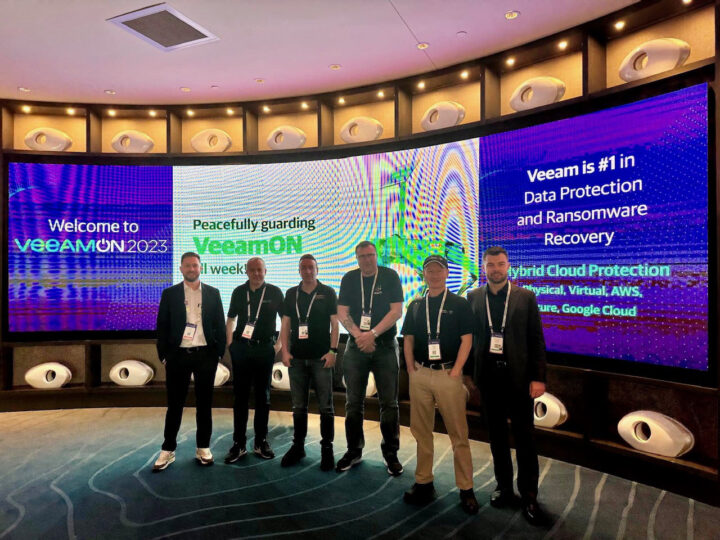 Cutting-edge Product Showcases – One of the highlights of VeeamON Miami 2023 is the showcase of cutting-edge products and solutions. Attendees can explore the latest advancements in data protection, backup and recovery, cloud data management, and cybersecurity. Live demos, hands-on labs, and interactive exhibits provide a comprehensive understanding of Veeam's products and their capabilities. This firsthand experience enables attendees to evaluate how these solutions can address their organization's specific data protection needs. Whether attending virtually or in person, participants can engage with product experts, ask questions, and gain a deeper understanding of the technologies that are shaping the future of data protection.
Myself during the evening time at one of the sponsor's cocktails … but the best is yet to come. The legendary Veeam party is tonight so better keep some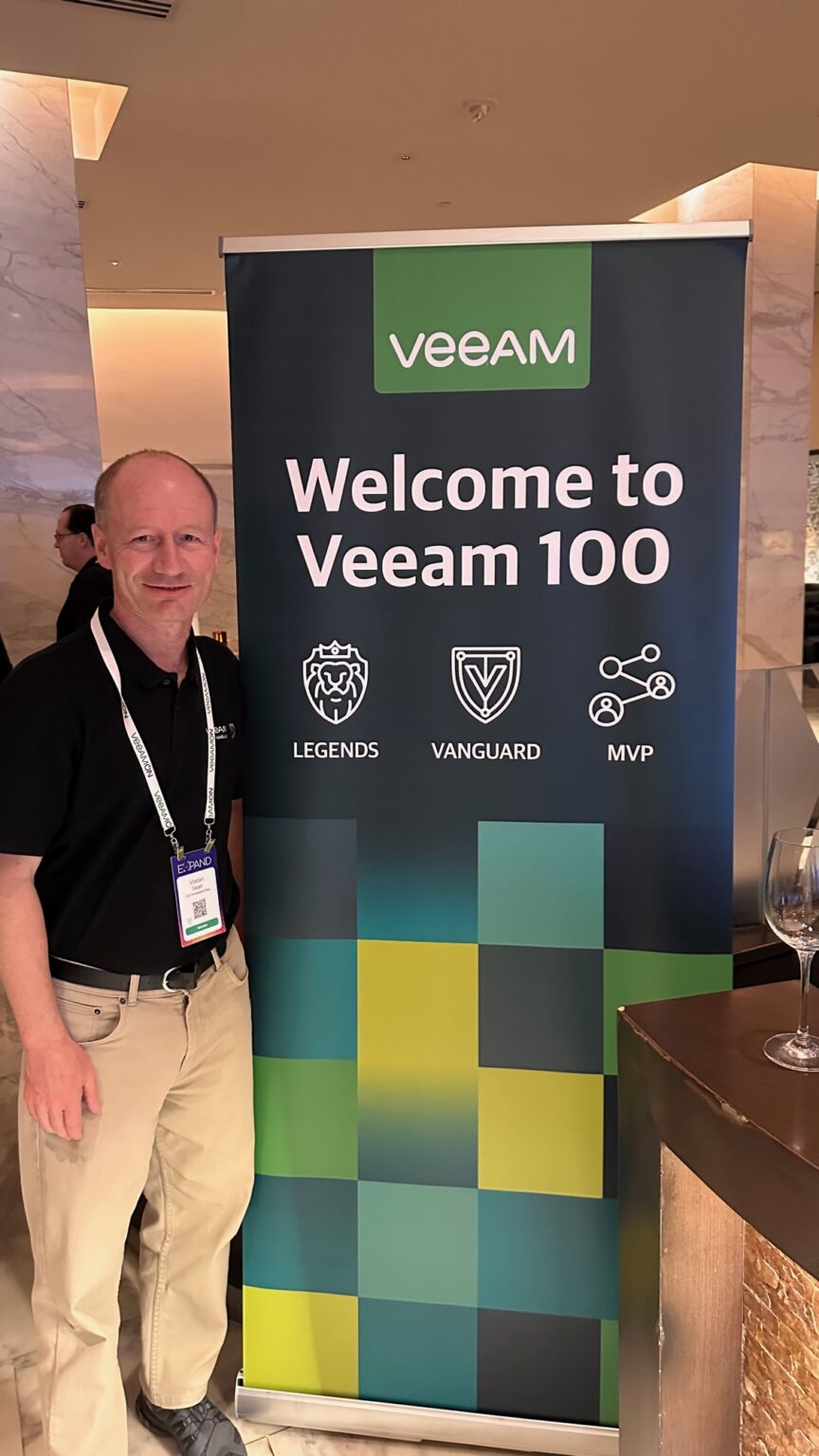 Virtual Access for Global Participation – VeeamON Miami 2023 extends its reach beyond physical boundaries by offering a virtual platform for global participation. This virtual access allows data protection professionals from around the world to join the event from the comfort of their homes or offices. By removing the limitations of travel and logistics, the virtual component ensures a wider audience and increases accessibility for those who may not be able to attend in person. Participants can access keynote sessions, interactive panels, breakout sessions, and networking opportunities through the virtual platform. This inclusive approach encourages knowledge sharing and collaboration among a diverse range of professionals, fostering a global data protection community.
Final Words
VeeamON Miami 2023 stands out as the best data protection community event, offering numerous benefits for both online and on-site participants. The event facilitates networking opportunities, expert-led sessions, cutting-edge product showcases, and virtual access for global participation.
Whether attending in person or tuning in remotely, data protection professionals have the chance to connect, learn, and stay ahead of the rapidly evolving data protection landscape. VeeamON Miami 2023 is a must-attend event that promises to empower individuals and organizations with the knowledge and tools necessary to navigate the complexities of data protection successfully.
Stay tuned for more info via our social media.
More posts from ESX Virtualization:
Stay tuned through RSS, and social media channels (Twitter, FB, YouTube)