The biggest release so far for Turbonomic today. The product has evolved over the past significantly. Turbonomic can now not only optimize your infrastructure On-premises but also Hybrid and Public Cloud. This post – Turbonomic 5.9 Introduces Public Cloud Cost Compare And Migration Scenarios.
Turbonomic can match the demand of all your applications to the supply of available infrastructure by implementing the desired state, which is an optimal state of the whole infrastructure. All this without a human intervention as with the grow of infrastructure it's impossible to achieve that all the time with only human intervention.
Turbonomic wants to create a Real-time Hybrid Cloud management platform ensuring application performance, infrastructure efficiency and policy compliance across the whole infrastructure. The continuously changing environment where we have to make a decision between the cost, compliance or performance, can only be done via some intelligent platform.
Their new update brings finally a possibility to make choice between different public clouds offerings (Azure and AWS) and to migrate your workloads into to the cloud to lower your costs while maintaining your availability, performance, and compliance.
What's new in Turbonomic 5.9
Turbonomic is here since about 2010, and every year they introduce few new versions. This 5.9 version brought significant optimization steps in the main engine, which is faster 100x up to 400x then in the past.
Example for 18000 VMs it takes only 30seconds to run an analysis of the whole environment. (for 100.000 objects it takes only about 9 min).
There are some really innovative functions, especially the migration/move planning.
AWS and Azure Cost control and visibility – allows seeing Azure, AWS, and SoftLayer as cloud providers. The complete cost breakdown can be seen through the new UI. Those are real-time costs per service. It's not guessed costs, but real-time costs. You'll see on demand pricing on what's consumed by you. (They connect through an API with your credentials).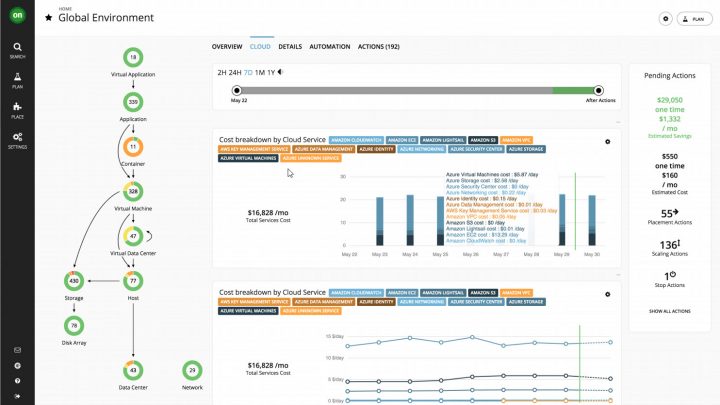 Cloud cost by Service provider – You can see the breakdown by account (AWS or Azure) per cloud provider. They can proactively affect the performance and the cost. You can affect the costs via Turbonomic.
Cloud Costs by Cloud Account – You can attach several business units on a per-account basis so you're able to do a granular billing.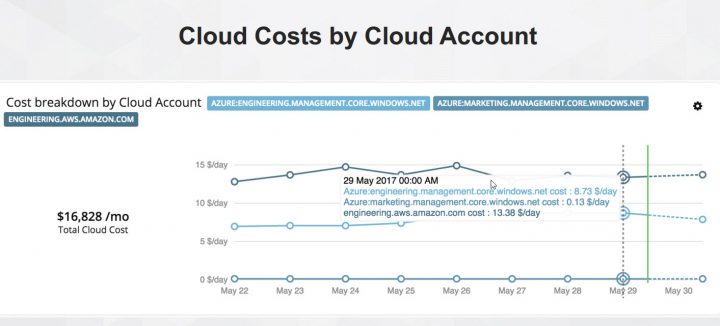 Cloud cost vs cloud budget – it basically shows the cloud budget you have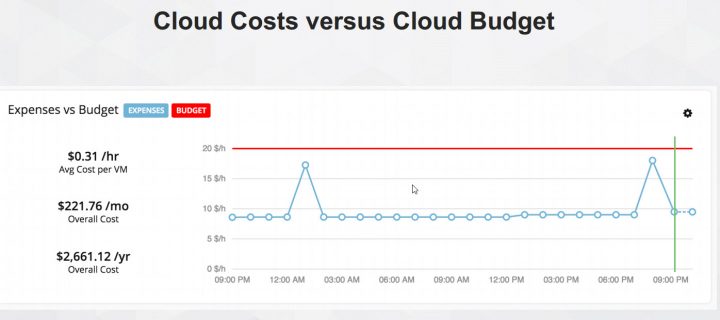 Cloud Cost Budget Control – You can fix a monthly budget you want to spend. The system will help you determine the placing within the available cloud targets.

Scaling Cloud instances to meet application demand – visibility, visibility. You can scale your instances to meet your application demands. They show the real consumption of your environment.
You can see that you're currently running a m4xlarge template and you need to be able to resize it to an m4xxlarge template. They'll show you the predicted cost for that operation.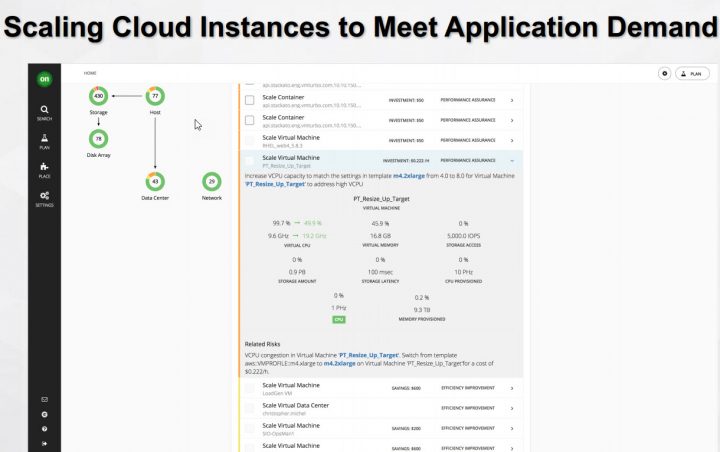 Cloud Migration Planning – It's an awesome tool IMHO. A first what I'm aware that exists utility. A real time saver allowing you to do a proper planning based on your infrastructure and knowing the costs ahead. It starts by clicking the Plan type (right-top button).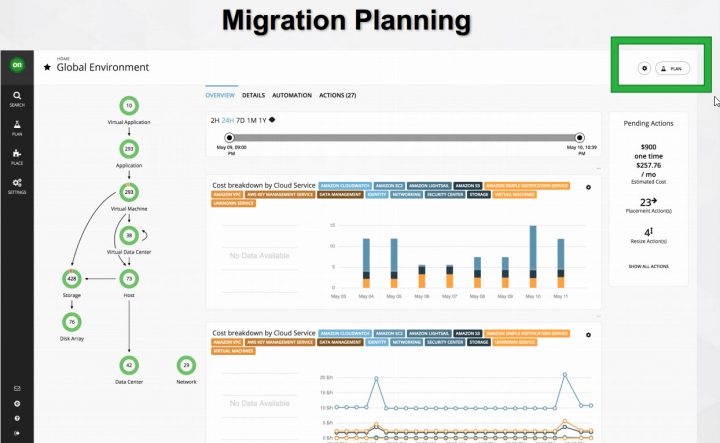 Which plan type you want to execute? Workload migration, Hardware Refresh, Add a host(s), decommission host(s) or migrate to a public cloud? A plenty of choices within this section.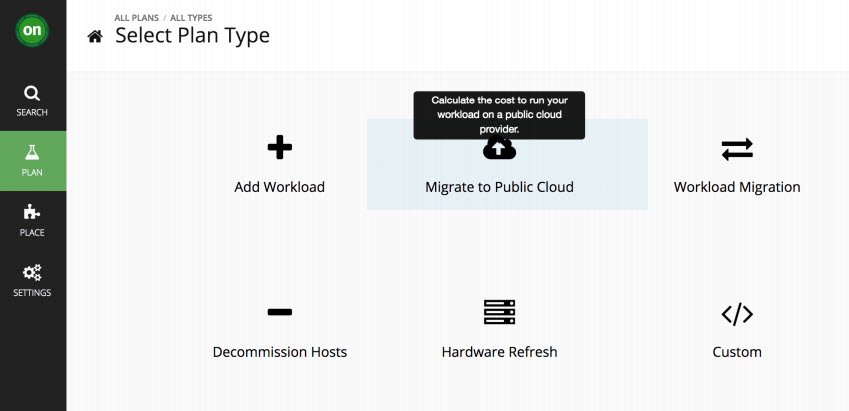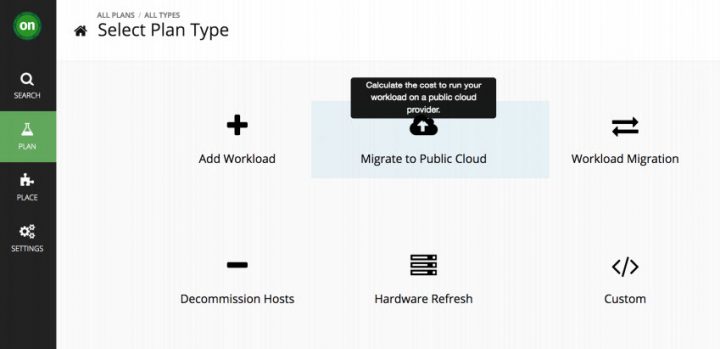 You only want to include part of your infrastructure. Pick up your VMs… within your infrastructure. By groups.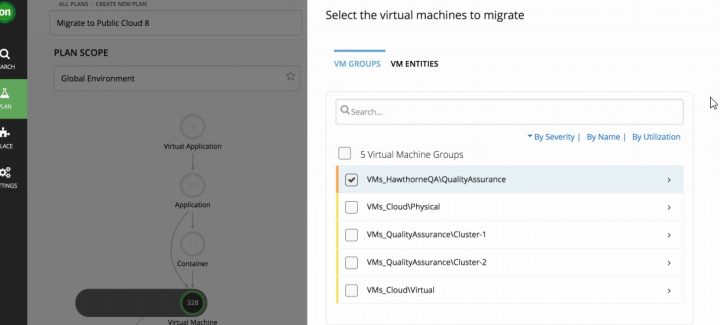 To which providers you'd like to move? AWS, Azure? Or both? You have a choice here… A truly multi cloud.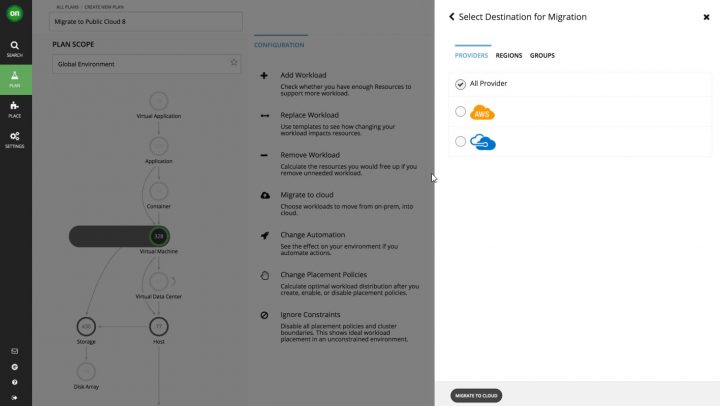 You can then select which regions you want to move to. (Regulatory requirements someone?)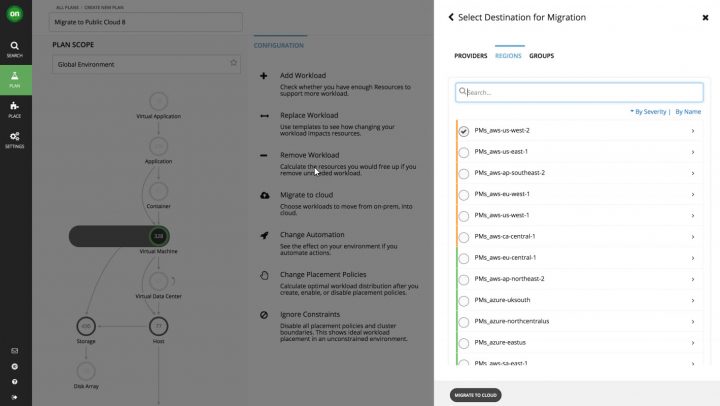 And the results… You can select the cost with or without Turbonomics. You can see the difference how much will be the savings.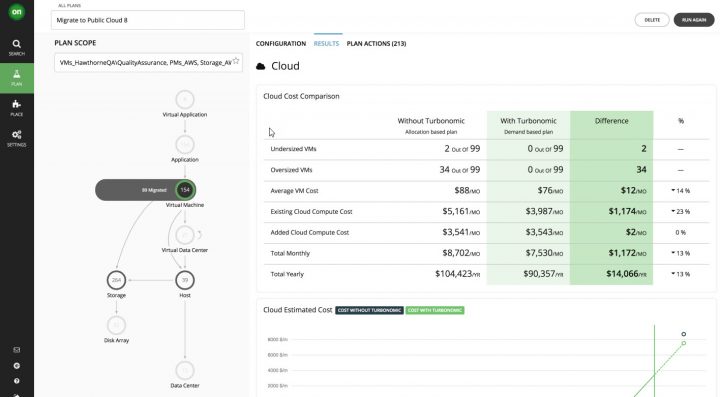 Turbonomic has currently both UI where the new one, based on HTML 5 is "work in progress". It's not yet full feature parity. The old UI is still a default one. (I suspect the new UI comes in the v6.0).
Recently released cloud edition which is a new edition of Turbonomic. In addition to the Workload Edition and Application Edition, can manage a hybrid environment. The Cloud Native Edition combines the Application edition and adds some new targets such as Amazon AWS, Microsoft Azure or IBM SoftLayer. Check the new PDF they just released. The Turbonomic Cloud Native Edition can also use a load balancer to manage the loads spanning large data centers and public clouds.
Turbonomic (previously VMturbo) has been around for a while, still focusing on the most important thing that counts for every admin out there – performance. With the time, the system not only manages VMware environment, or VMs in general but expands itself to physical and cloud infrastructures. QoS using policies, control features (resizing, right-sizing ) and Intelligent workload management.
More news from ESX Virtualization
Stay tuned through RSS, and social media channels (Twitter, FB, YouTube)