Today is a day where we go for another topic that is present on the latest VMware Blueprint, that covers all chapters of the VCP-DCV certification exam based on VMware vSphere 8.x. The topic is VCP-DCV on vSphere 8.x Objective 5.6 – Configure a virtual machine port group to be offloaded to a data processing unit (DPU). 
The study guide page VCP8-DCV with all those individual chapters helps you with learning towards VMware certification exam (2V0-21. 23) and to became VCP-DCV on vSphere 8.x. Check the Official VMware VCP-DCV 2023 exam guide (blueprint) here. Also please check the certification requirements (depends on if you hold already a VCP etc..)
In vSphere 8, the vSphere Distributed Services Engine(vDSE) introduces virtual infrastructure as a distributed architecture with the addition of data processing units (DPUs) also known as SmartNic that enable offloading infrastructure functions from the host or server CPUs to data processing units (DPUs). Starting with vSphere 8.0, VMware moves functionality that runs on the core CPU complex to the DPU CPU complex.
vSphere Distributed Services Engine offloads and accelerates infrastructure functions on the DPU by introducing a VMware vSphere Distributed Switch on the DPU and VMware NSX Networking and Observability, which allows to proactively monitor, identify, and mitigate network infrastructure bottlenecks without complex network taps. The DPU becomes a new control point to scale infrastructure functions and enables security controls that are agentless and decoupled from the workload domain.
vSphere Distributed Services Engine does not require a separate ESXi license.
ou can offload the networking functionality from the ESXi host to DPU for better performance. vSphere Distributed Switch backed by ESXi on DPU supports the following modes:
Non-offloading mode before NSX is enabled: The DPU is used as a traditional NIC.
Offloading mode after NSX is enabled: Traffic forwarding logic is offloaded from the ESXi host to the vSphere Distributed Switch backed by the DPU.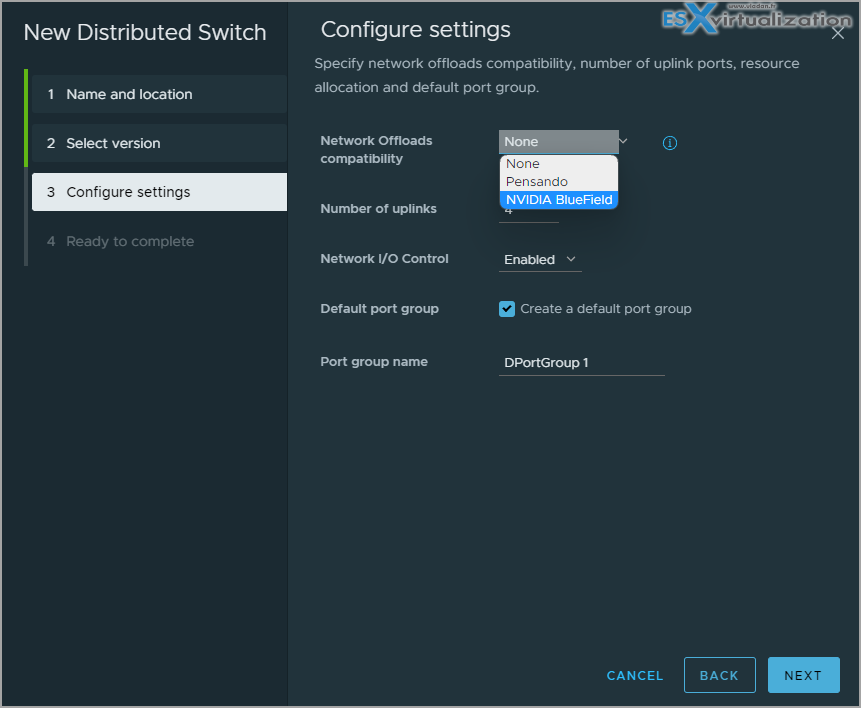 The Pensando Distributed Services Card, powered by the industry's most advanced data processing unit (DPU)1 will be one of the first DPU solutions to support VMware vSphere® 8. The VMware vSphere Distributed Services Engine (formerly known as Project Monterey) and AMD Pensando DPUs can help customers reduce operational costs by unifying workload management, improving performance by freeing up CPU resources, and providing an added layer of security by isolating infrastructure services from server tenant workloads.
Screenshot from AMD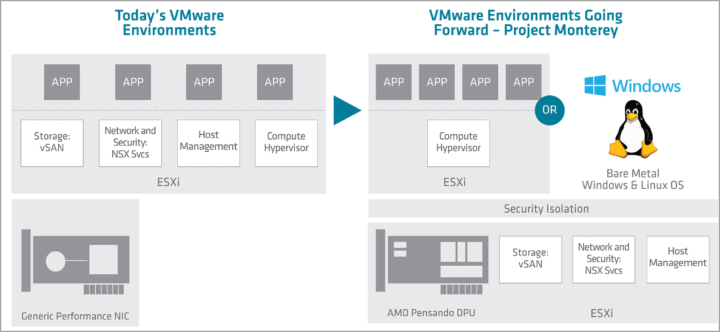 Hopefully this chapter will help you to study towards VMware VCP-DCV Certification based on vSphere 8.x. Find other chapters on the main page of the guide  – VCP8-DCV Study Guide Page.
More posts from ESX Virtualization:
Stay tuned through RSS, and social media channels (Twitter, FB, YouTube)