In this objective, we'll show you how to set up the main piece of VMware infrastructure – a vCenter server running on Linux Photon OS – VMware vCenter Server Appliance (VCSA). Since several years, VMware is trying to break out from Windows dependency and since 6.5 and now with 6.7 the feature set of VCSA is even larger than vCenter server on Windows. So this post will be detailing VCP6.7-DCV Objective 4.6 – Deploy and configure VMware vCenter Server Appliance (VCSA).
And the 6.7 is also the last version where admins still have a possibility to install vCenter server on Windows platform. Next major release of vSphere will only be running on Linux.
The VCSA is running Photon OS which is a VMware own lightweight distribution, optimized for fast booting, security, and scalability. During a long time, VMware was using Suse Linux Enterprise Server (SLES) distribution, but the fact that VMware did not own the stack was a break to faster development.


During the deployment of the appliance, you select a deployment type of vCenter Server with an embedded Platform Services Controller (PSC), Platform Services Controller, or vCenter Server with an external PSC. When you deploy a PSC appliance, you can create a VMware vCenter Single Sign-On domain or join an existing domain.
VMware vCenter Server Appliance (vCSA) 6.7 supports embedded deployment where vCenter Server and Platform Service Controller (PSC) are on the same node. So you can join another node with the VCSA + PSC. This architecture is called an Embedded Linked Mode (ELM). 
Advantages? You can manage all vCenters which are linked within the same SSO Domain. You don't have to re-login with your browser session to multiple vCenter server sessions. The vCenter Servers appear all within the same browser window session.
This guide is available as Free PDF!
Free Download at Nakivo – VCP6.7-DCV Study Guide.
System Requirements for VCSA deployments
Check system requirements, hardware requirements, storage requirements, required ports for vCenter server and PSC.  Documentation Set PDF: "vCenter Server Installation and Setup Update 1", Pages 25-34.
VMware delivers a single ISO which does it all, with built-in tools. This single ISO has everything so you can Install, Upgrade, Migrate or Restore. Mount the ISO to see the file structure.
We'll need at least one ESXi host, and then no matter on which OS you are, (Linux, Windows or Mac OS) you simply chose the one corresponding for your environment, and execute the installer.
If you're looking at the folder structure, you'll see that there is a vcsa-ui-installer and inside we have 3 folders:
lin64
mac
win32
So Let's kick the tires and execute the one from win32 as we're right now on Windows workstation. You'll see the four operations which are available. Click the first one – Install, and let's follow the necessary steps.

We'll be doing a clean install.
Note: Before we get started, we have created a forward and reverse DNS records on our DNS server.
All you need is an ESXi host, and to download the VCSA ISO.
Note that you can also use VMware Workstation which now has the possibility to install VCSA, for lab training.
The process is composed of two phases:
Deployment
Configuration
One of the initial choices is the choice between embedded or separate PSC deployment types.
With vCenter Embedded Linked Mode, you can connect a vCenter Server Appliance with an embedded Platform Services Controller together to form a domain. vCenter Embedded Linked Mode is not supported for Windows vCenter Server installations. vCenter Embedded Linked Mode is supported starting with vSphere 6.5 Update 2 and suitable for most deployments.
Embedded Linked Mode has:
No external PSC
Simplified backup and restore
Simplified HA process
Up to 15 vCSA's can be linked together using vCenter Embedded Linked Mode and displayed in a single inventory view.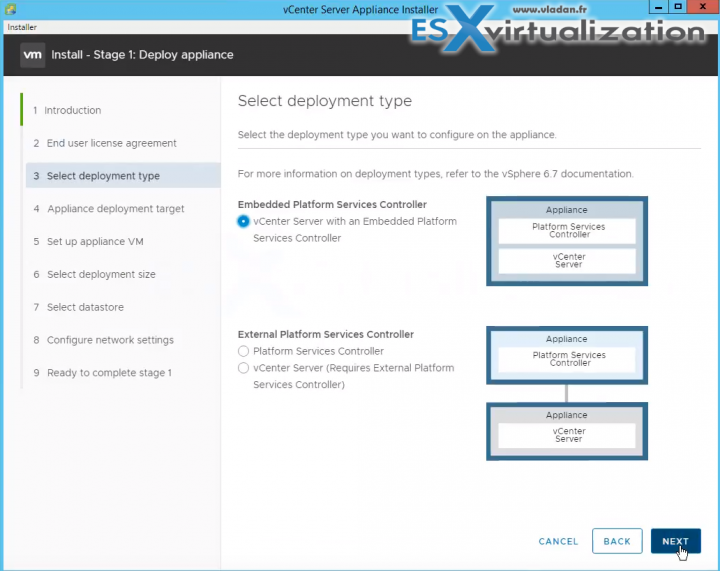 Specify a target – ESXi or an existing vCenter Server.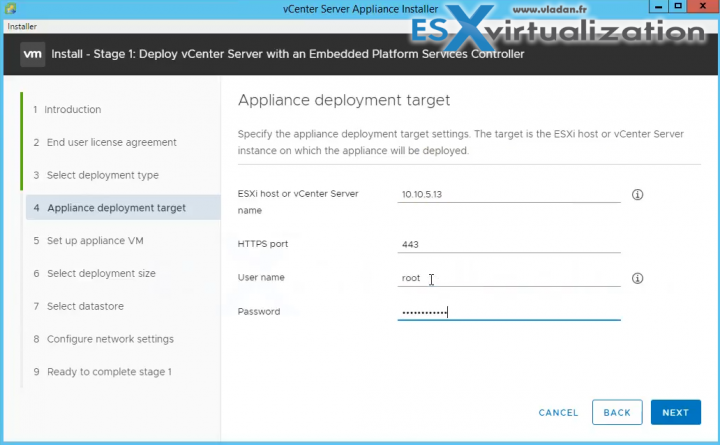 Set up the appliance VM (VM name, root password…).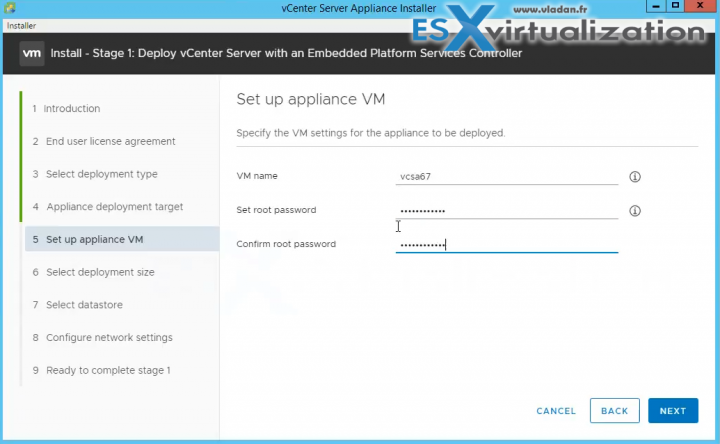 And the deployment size. Note that you can adjust also the disks sizes.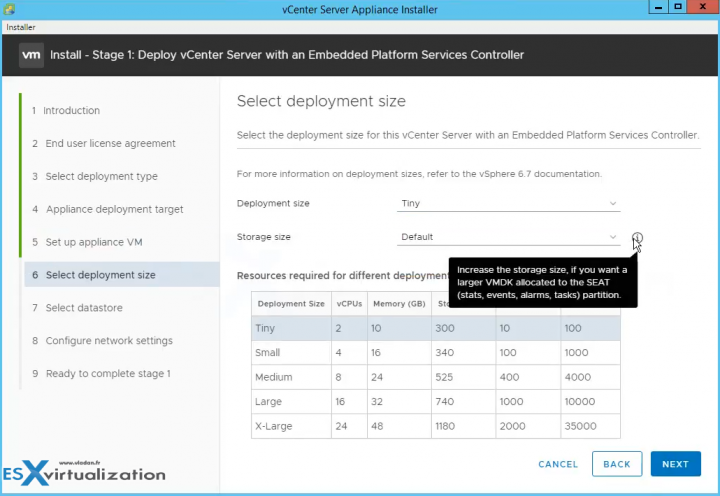 Next step is to choose a datastore location where the VM will be stored and also, you can tick the "use thin disks" allowing you to save some disks space.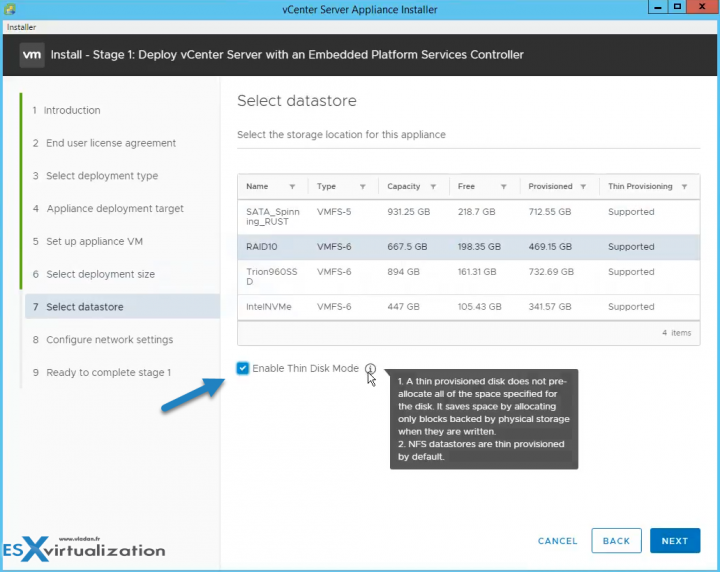 Next we need to configure networking. Make sure to double check before validating. If not, your deployment might fail.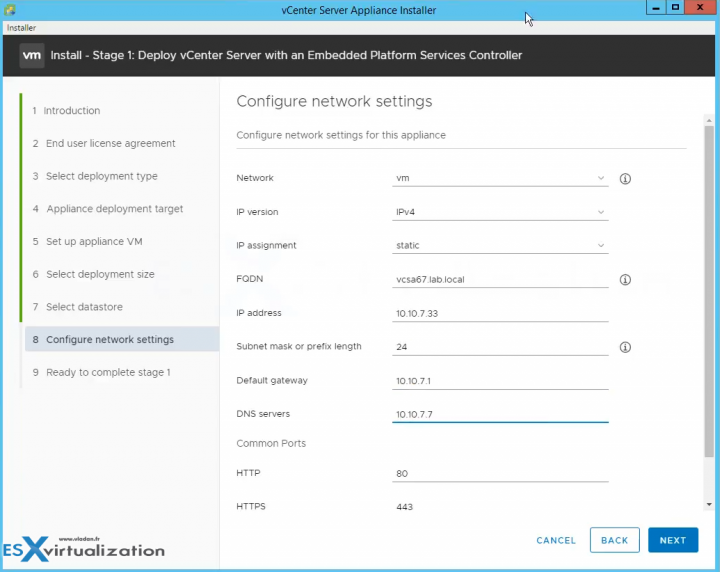 Then you'll have one final page where you just check whether everything is configured as it should for the 1st phase – deployment.
After a while, when you'll see that on the console you have a message saying that you must configure root password, just login to the console and configure root password.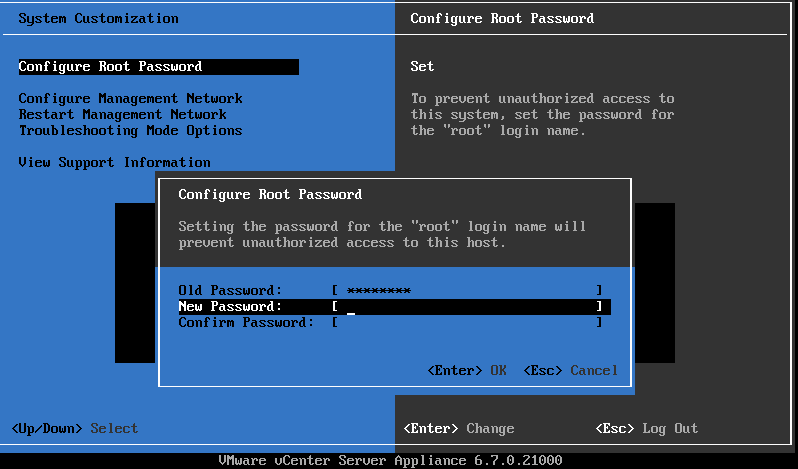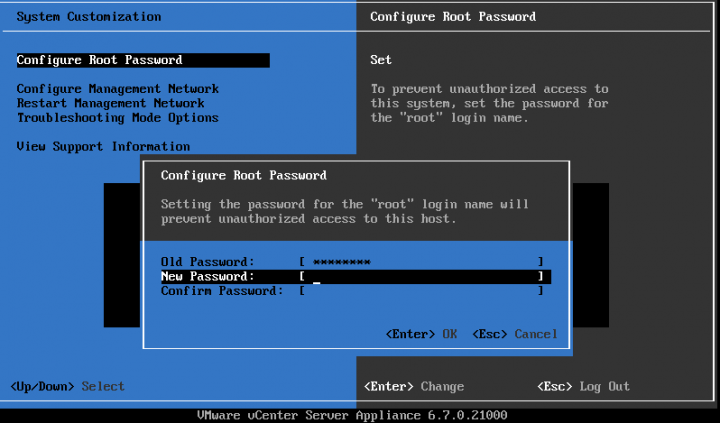 Please note that this root password will expire in 365 days. In case you do not want this password to expire, wait until the VCSA appliance is configured and go to the VAMI user interface via https://FQDN_or_IP_VCSA:5480 > login > Administration > Click Edit next to the Password expiration settings.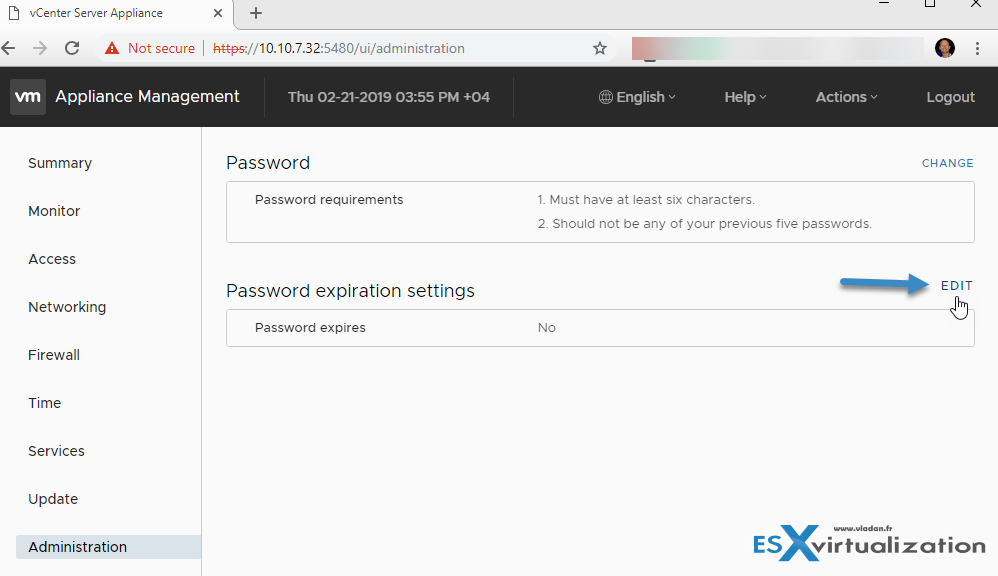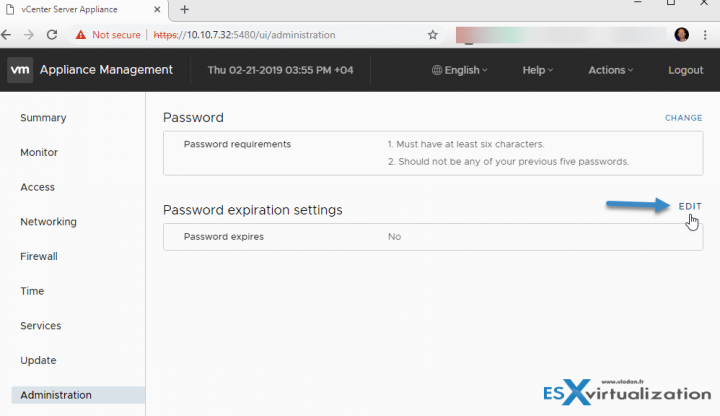 While there you can also set Networking, Time servers (NTP), check services or (and ) update to the latest version.
Phase 2 – Setup vCenter Server Appliance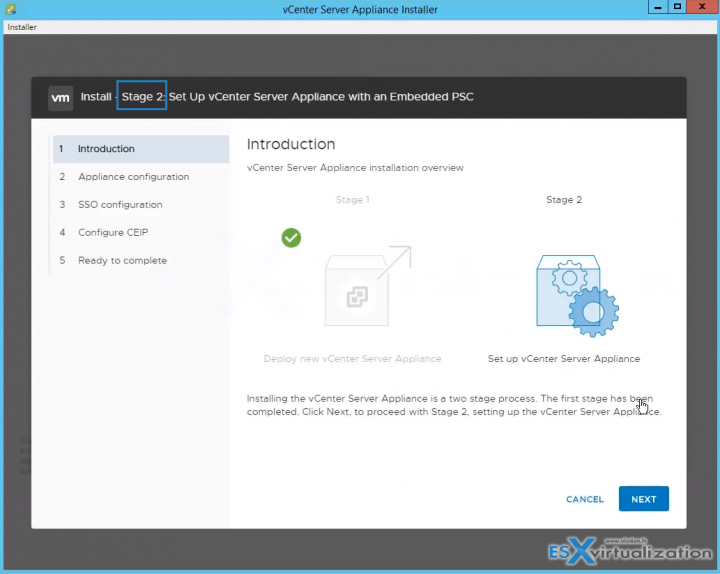 And then we have some options concerning Time synchronization mode which can be either via ESXi or external (via NTP servers).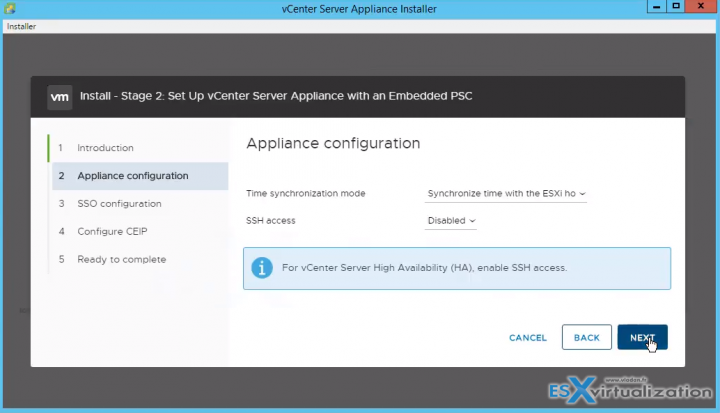 Next screen shows the SSO configuration, where we can either create a new SSO domain or join an existing SSO domain. You'll need to create a new domain name and password in the case that you are creating a new SSO domain.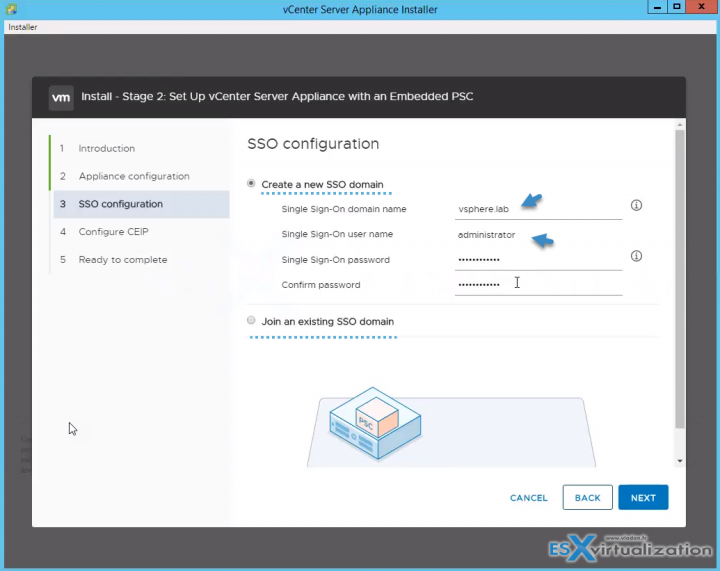 You can join CEIP on next page (Optional). and then, you're ready to launch the Phase 2: Configuration. Once it is done you can login at
Note that we have a video of the whole process.
CLI Deployment of VMware VCSA
The CLI deployment process includes downloading the vCenter Server Appliance installer on a network virtual machine or physical server from which you want to perform the deployment, preparing a JSON configuration file with the deployment information, and running the deployment command.
The ISO file contains templates of JSON files that contain the minimum configuration parameters that are required for deploying the vCSA or PSC.
For a complete list of the configuration parameters and their descriptions, navigate to the installer subdirectory for your operating system and run this command:
vcsa-deploy install --template-help command
In the vCenter Server Appliance installer, navigate to the vcsa–cli-installer directory, and open the templates subfolder.
Check the full syntax at Documentation Set PDF: "vCenter Server Installation and Setup Update 1", Pages 79-80.
We do not know if we covered everything what's needed, but have this chapter as a guideline. Your principal study material should be the Documentation Set PDF: "vCenter Server Installation and Setup Update 1, as well as your home lab.
Follow the progress of the VCP6.7-DCV Study Guide page for further updates.
More posts from ESX Virtualization:
Stay tuned through RSS, and social media channels (Twitter, FB, YouTube)