There is new utility which has been released by VMware Labs – VCS to VCVA Converter. It's a tool which allows migrate Windows based vCenter to VCVA (preconfigured vCenter on Linux based virtual appliance). The utility has won Fling contest 2013 and has just been released as v. 0.9. One of the requirements is that Widnows based vCenter is installed on a separate SQL database. (SQL express not supported either), which means the a lot of very small shops won't do the move as many of those installations are done with the limited (but free) SQL Express DB.
As with most utilities provided by VMware labs, the tool is not to mean to be used in production. VCS to VCVA converter has limitations and requirements which are quite strict. Think about vCenter as a critical piece of your infrastructure which provides services to other software products you might be using (backup, replication, monitoring tools…), so you might think twice before testing it in production.
It's true that VCSA 6.0 has been announced with the same features and scalability options as Widnows based vCenter (except Update manager, which still needs Windows based system). Usually VCSA was the choice of greenfield deployments and lab testing, because the VCSA is much simpler to deploy, patch or upgrade. But wait, this is just the first release and I'm sure that future releases with much less limitations will follow…
Image courtesy of VMware Labs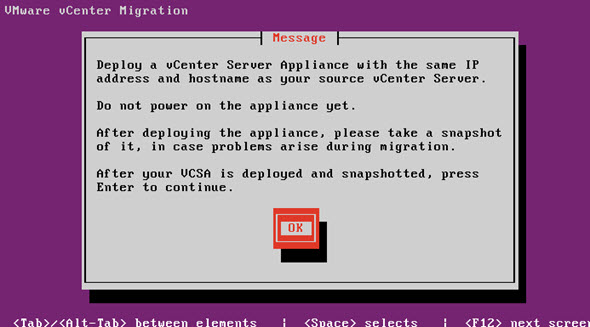 VCS to VCVA Converter – What exactly it does?
Instead of sayin that is a converter I'd rather say that it's a migration tool.
Quote:
It allows customers to migrate from Windows vCenter Server with an External Microsoft SQL Server Database to the vCenter Server Appliance with an embedded vPostgres database. The Fling migrates the vCenter database, roles, permissions, privileges, certificates and inventory service. The target appliance will run at the same IP address as the source vCenter.
System Requirements
vCenter Server running on Windows – vSphere 5.5 or greater
The Windows vCenter Server and the vCenter Server Appliance should be running the same version (e.g. vCenter Server Windows 5.5u1 to VCSA 5.5u1)
The vCenter Server Appliance should be deployed with at least the same number of CPUs and at least the same amount of memory as the Windows vCenter Server host
vCenter Components (Inventory Service, vSphere Web Client and VMware Single Sign On) must be running on the same host as the vCenter Server
External Microsoft SQL Server 2008R2 or later for the vCenter Database (VCDB)
vSphere Web Client Plugins connected registered with an Active Directory user
VMware Single Sign On User/Groups are currently not migrated (require re-registration)
Migration Appliance must be able to communicate with the Windows vCenter Server Database and its database as well as the new vCenter Server Appliance. The following ports are used for this communication and should be open on the vCenter Windows server and on the VCSA:
○ Ports: 22 (ssh), 443 (https), 445 (SMB)
Limitations:
Microsoft SQL Server and vCenter Server must be on separate hosts
Microsoft SQL Express Database is not supported in version 0.9
VMware Single Sign On Users and Groups are not migrated in version 0.9
Windows Local Users and Groups are not migrated in version 0.9
vCenter Alarm action scripts are not migrated in version 0.9
The migration will require some downtime for the vCenter Server
Linked Mode configuration is not migrated. Multiple vCenters must be migrated separately
Any VMware or 3rd party vSphere Web Client plug-ins (e.g. VUM, NSX) that are running on the same host as the vCenter Server will not be migrated
Thoughts:
I think it's a great deal that VMware continues to push Opensource to their management products and it's not finished yet. With this 0.9 release you can see that this is just first step. I'd expect the future release supporting not only the SQL express DB, but also support for older SQL DBs, and other DBs which are sometimes used for vCenter server (Oracle?). Also it's only one way migration tool. Perhaps folks are Windows lovers at the end, so why not give them possibility to for example migrate back?
Source: VMware Labs