Previously we had an only single edition with Vembu BDR Suite. Now things changed as Vembu is targetting more the SMB sector, which is obviously good news for all SMBs. The latest Vembu BDR Suite 3.9.1 for VMware and Hyper-V introduces Standard Edition destined for Small Businesses (SMBs).
With this new Standard edition of Vembu BDR Suite, SMBs has still unlimited VM backup (no limits on the size of datacenter), fast VM recovery, Instant file recovery, granular recovery and much more, but it lacks some of the top-notch features which add more comfort and permit to do more with your data.
The Enterprise edition has still features which might interests, even an SMB. Features like VM replication or tape backup. Also, advanced Grandfather Father Son (GFS) retention or Automated backup verification allowing to verify the recoverability of the backup data automatically by performing boot, mount and integrity check.
In fact, to compare both editions, there is a dedicated page at Vembu. I invite you to take a look there as there are simply too many features to list here and to compare them all. On that page, you can also download a PDF which summarises that perfectly – Vembu Edition Comparison.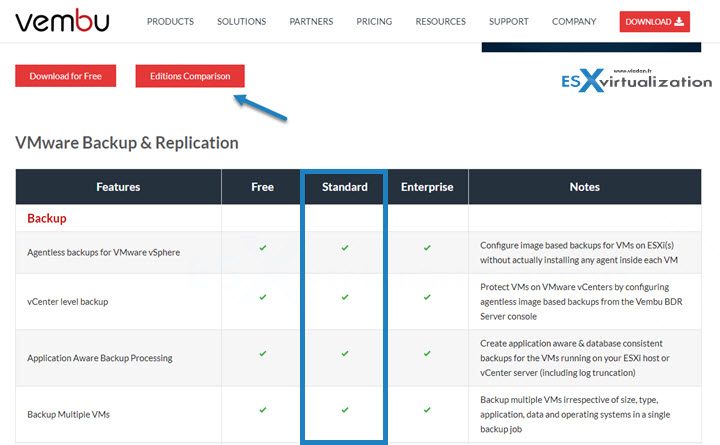 We had a detailed post on the Vembu BDR 3.9 which brought tape support and few other things. Here is the recap of the 3.9 release:
Quick VM recovery on ESXi – previously, quick VM recovery was available for Hyper-V only. Now the recovering the backup data as a virtual machine happens in a matter of seconds by booting the backed up machine directly from the storage repository on any hypervisor of choice like Hyper-V or VMware ESXi or KVM.
Native Tape Support – You can now implement more backup strategies as tape adds an additional media type to already supported disk. Tapes are still best for long-term archiving. You can backup directly to tape or transfer the latest full backups to tape on regular basis.
Backup Encryption – you can now encrypt your backups on a per-job basis. After defining a password, you'll be able to select this password during new job creation wizard or create also a new password for a specific job. Full and the incremental data of backups will be encrypted with AES-256 bit encryption algorithm. During a restore operation, you'll be prompted to enter the encryption password.
Pre/Post Commands –  With the separate wizard for prescripts and postscripts, you can add any number of executable scripts and Vembu lets you automatically run your own business logic at specific stages of a backup job based on the configuration.
And there is more.
TIP: Check the full detailed post of our here – Vembu BDR Suite 3.9.0 is GA – Backup vSphere, Hyper-V and Physical.
Interesting Features:
Advanced Reverse Incremental with Any-Point-In-Time Full – Since every incremental is a self-sufficient snapshot with pointers to the blocks in VHFS, any incremental is instantaneously available as a full backup. There is no extra processing to restore an incremental backup compared to a full backup (no need for a merge).

Restore VMware, Hyper-V and Physical Windows Disk Image Backups in VHD, VHDX, VMDK, Flat-VMDK and RAW formats – Since VMware, Hyper-V and Physical Windows Disk Image backups are stored at block level in a neutral format, Vembu BDR Suite makes it possible to instantly restore any incremental backup in any virtual disk format including VHD, VHDX, VMDK, VMDK-FLAT or IMG.
More about Vembu on ESX Virtualization:
Now the interesting part.
Vembu BDR Suite Standard Edition 3.9 Pricing.
Interesting to know, that you'll be able to get some savings with the Standard edition, we'd like to quote that from Vembu's website.
Quote:
The Standard Edition for VMware Backup is priced at USD 216/CPU-socket/annum. If your requirement comes under 6 CPU sockets, you get an additional discount of 50% that could lead to USD 108/CPU-socket/annum!

The Standard Edition for Hyper-V Backup also has surprises. Priced at a reasonable USD 144/CPU-socket/annum, it gets down to USD 72/CPU-socket/annum if you fall under the above-mentioned discount category.
Wrap Up:
Another release from Vembu which brings more choice for the customer. Now, Vembu has 3 editions – Free, Standard and Enterprise.
Note: We have detailed the Free Edition here a while back.
Other than that, I have the feeling that the war in the backup and data protection space is getting more global as more and more actors are trying to get the parts of the market. The principal beneficiary is who, finally? The end user. With so many choices today, the end user can freely evaluate each solution one-by-one, then chose the right one for the needs of its enterprise or organization.
Vembu uses a web-based console. The backup server itself can be installed on Windows system or on Linux. (Ubuntu supported). You'll need 8Gb of RAM. Vembu supports latest VMware vSphere, Hyper-V, and KVM.
Download Vembu BDR Suite v3.9.1 and also check the release notes here.
More from ESX Virtualization
Stay tuned through RSS, and social media channels (Twitter, FB, YouTube)