Vembu Backup and Disaster Recovery Suite (BDR) isn't new to our readers. The product can backup virtual or physical workloads with a possibility for recovery of full VMs or individual files within those VMs, Application objects such as SQL Server, Microsoft AD objects and other. It has also a fast restore via Quick VM Recovery. It uses a web-based UI which is responsive and does not need any plugin to work with. Today we'll explore VM Replication for High Availability with Vembu BDR.
As you know replication of VMs has been around for a very long time. The main difference compared to a backup is that it allows replicating (copy) a running VM to another ESXi host (or cluster) which is usually located on a remote site or within another building/data center just across the street. There the VM is registered on the destination host, ready to be powered on.
In this case, if something happens to the main data center with VMs in production (flooding, fire, etc…) there will be VM replicas ready-to-start in the remote datacenter. Depending on your needs you can replicate often or not too often.
This technology, after the first full copy, injects the data which changed at the mains site since the last replication (delta) directly into the virtual disks (VMDKs) and VMs located at the remote location. Those VMs as I said are registered at the remote ESXi host/cluster and are ready to "wake-up", ready to be started in the case of necessity via a process called failover.
The replication technology
It is agentless VM Backup & Replication where a VMware vStorage APIs for data protection (VADP) is used with Changed block tracking (CBT) feature ON. CBT allows incremental data transfer (copy) using VMware VADP.
The product leverages Microsoft VSS to backup a database based systems like Exchange or SQL. You can enable the Application-aware image processing for Microsoft application VMs for replication jobs as well.  Microsoft Volume Shadow Copy (VSS) is used during the snapshots to create shadow copies by coordinating with business applications, file-system services, backup applications, fast-recovery solutions, and storage hardware.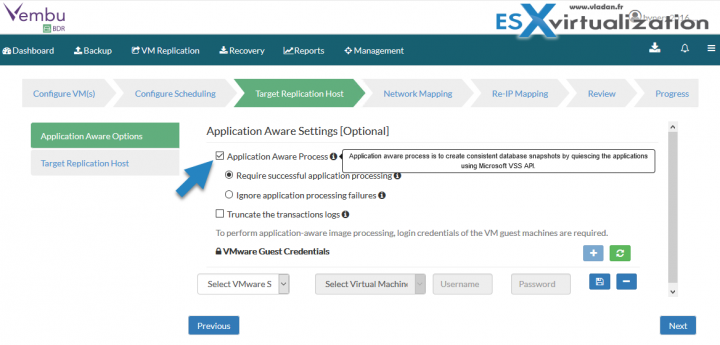 Vembu VMBackup agent will communicate with VMware ESXi production storage and replicate the VM data to another ESXi host. The VMBackup works as a proxy between both the ESXi hosts. The replicated VM will be in power-off mode.
During the creation of the VM replication job, you have a possibility to configure network re-ip mapping where you'll create rules which will change the IP address of the VM at the destination. During failover, those rules are applied to the replica to match the IP scheme of the remote sites.
Re-IP mapping is to assign a new IP to the replicated VM. Re-IP rules are helpful if the IP addressing scheme in the production site differs from the DR site scheme.

Vembu BDR Supports VM Failover and Failback, where admin can perform Failover and Failback as a recovery process for replications.
What is Failover?
Failover is a process that switches operations from original VM to its replicated VM on target host during a crash of the source VM. Once failover completes successfully, the replicated VM in target host will be up and running. It has low RPTO and can restore in minutes.
During a disaster, target VM would be powered ON and further changes could be done on the replicated VM (i.e replicated VM could be used as the source VM in case of disaster), so called as Failover.

Failover will be finalized by any of the following operations
Undo Failover
Permanent failover
Failback
What is Undo Failover?

In this case, the source VM is back online. The system was repaired (motherboard, CPU…. whatever, was replaced etc..) . During the Undo failover process, the changes produced within the replicated VM during failover session would be deleted and would revert back to its original state before failover.
What is Permanent Failover?
A permanent failover is simple. This option makes the replicated VM as the source VM permanently. If the source VM is totally dead, not recoverable, this would be the option to use.
What is Failback?
If you do a recovery from the main datacenter to remote datacenter, you can then perform failback operation, which helps in recovering the failover data and creates a permanent VM restored to the same host ( or to another host). You can also set up a new replication back from the remote datacenter to the main datacenter, where the disaster is now gone. (site repaired, servers reinstalled, repaired etc).
Note that finalize failback is enabled only when Failback operation is completed.
You can:
Undo Failback
Commit FailBack
Vembu BDR has currently the possibility to configure 7 retention count for your replicas. This limits you a little bit for the planning of schedule. You can choose for example to replicate every 4 hours which gives you for 7 restore points about 1 day of replicas (28hours). If you chose to replicate every day after the business hours, you'll get a week of replicas (7days). Depending on the workloads you want to replicate to the remote datacenter you might build the schedule for a group of VMs as the schedule is based on a per-job basis.
Wrap UP:
Why is VM replication important? Usually, the backup server is located at the main site, side by side with a production. This gives you a very good option to restore fast as you can schedule backup jobs often with a large choice of schedules and retention points.
However, to have some DR plan, for offsite location, it's wise to have the second site elsewhere. This site can have just one ESXi host and be ready to serve workloads in case the main site is in trouble. But simply just having a remote site is not enough. It's necessary to have the ready-to-go workloads to be prepared and in stand-by mode.
The best scenario would be to have 2 sites and running workloads on both end > do the replication to the other side.
VM replication is crucial for High availability and it completes backup strategies. Backups are good but with replication, you get more option and more possibilities to recover in case of a disaster or technical problems at the primary site.
Check Vembu Website Here for more details.
More from ESX Virtualization:
Stay tuned through RSS, and social media channels (Twitter, FB, YouTube)