VMware is announcing a new professional certification VCP-DCV 2019. I've already blogged about the new certification changes that VMware is implementing in this blog post – VMware Certification Changes in 2019 and you could see that the passed certification will be named after the year when you met the requirement. Example VCP 6.5-DCV will become VCP 2019 and you'll be able to choose to pass VCP exam based either on vSphere 6.5 or 6.7.
VMware calls this exam officially "Professional vSphere 6.7 Exam 2019". The VCP6.7-DCV 2019 certification will be based on 2V0-21.19 exam number and it will have 70 questions with a duration of 115 minutes. The passing score is 300 which is a traditional VMware standard.
Depending on your VMware journey, whether you're renewing or starting completely new certification cycle, you can use VMware Online On-Demand Training to fulfill the requirements, VCP Vouchers to plan the exam cost, and then just need the practice and knowledge for the full success.
Note: You can also use VMware learning credits or VMware learning Zone for the exam. Check out our post What Are VMware Exam Vouchers?
As usual, we will plan to work on VCP6.7-DCV Study guide, but at this point in time, we're still in the early stage of the work. Make sure to check back regularly. We do, however, completed our VCP6.5-DCV Study Guide which can be used to pass VCP6.5-DCV virtualization exam and become VCP-DCV 2019 certified as well -:).
Quote:
Your exam may contain unscored questions in addition to the scored questions, this is a standard testing practice. You will not know which questions are unscored, your exam results will reflect your performance on the scored questions only.
VMware exams are scaled on a range from 100-500, with the determined raw cut score scaled to a value of 300.
Scaled scoring allows for raw scores from different VMware exams to be scaled to a consistent value.
Raw passing scores differ between VMware exams based on different technologies or different levels of competency.
A scaled score provides a standard range for test takers and permits direct and fair comparisons of results from one exam form to another.
Certification Path: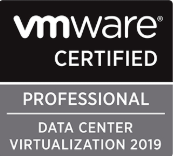 If you have no VMware certification you can pass any of the required training course > Pass one of the Foundation exams > Pass one of the Professional Data Center Virtualization Exams. (VCP6.5-DCV or VCP6.7-DCV).

If you're current VCP holder or holder of VCP5 or VCP6, you don't need the required training and you can go and pass the exam only. A recommended training only. You can pick either VCP6.5-DCV or VCP6.7-DCV 2019. But you have aso a choice of "Delta" exam which is shorter (40 questions only).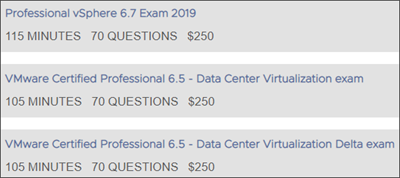 The Exam Blueprint has some sample questions too….
Example:
Sample questions presented here are examples of the types of questions candidates may encounter and should not be used as a resource for exam preparation.
Sample Question 1: The storage administrator has decided to implement NAS in a deployment. Which hardware acceleration API should be used to change the virtual disk file?
A. full file clone
B. reserve space
C. native snapshot support
D. write same
Sample Question 2: A vSphere administrator has enabled vSphere Distributed Power Management (DPM) on a DRS cluster. The hosts are not entering standby mode even though there is enough available compute capacity. Which feature should be enabled to ensure DPM functions correctly?
A. UEFI mode
B. vSphere HA
C. Wake on LAN
D. Proactive HA
The Exam has 7 sections where each section has different Objectives. So the last section, which is section 7 has Fifteen different Objectives. But also VMware warns that not ALL section will be included in the final exam blueprint depending on the exam.
Quote:
VMware exam blueprint sections are now standardized to the seven sections below, some of which may NOT be included in the final exam blueprint depending on the exam.
It means that the blueprint shall evolve over time so….
****************************************************
Update: No more Mandatory recertification
If you're VCP5-DCV or VCP6-DCV you don't need to re-certify and your certification will not expire. You can pass 1 exam to be VCP6.7-DCV 2019 without going through mandatory training as a new candidate or someone with VCP4-DCV. Good news indeed…
So, effective immediately, the mandatory recertification requirement will be removed from all current certifications.
Quote: We are also extending the ability to upgrade to the latest version in the same track if you are within three versions (for example, from VCP5-DCV to VCP-DCV 2019). This is
a change from the previous requirement of being able to upgrade within only two versions.
Here is a video. Source blog post at VMware. FAQ document in PDF is here.
Question: I am VCP4-DCV. Can I now upgrade directly to the new VCP-DCV 2019?
A. No. The VCP4-DCV will still be inactive. If the VCP4-DCV is the most recent certification you have earned, you will need to follow the steps as a new candidate.
*****************************************
VMware Page for the exam can be found here.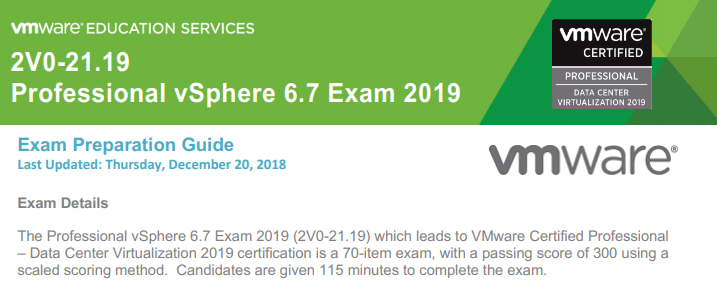 Here the current Blueprint:
Section 1 – VMware vSphere Architectures and Technologies
Objective 1.1 – Identify the pre-requisites and components for vSphere implementation
Objective 1.2 – Identify vCenter high availability (HA) requirements
Objective 1.3 – Describe storage types for vSphere
Objective 1.4 – Differentiate between NIOC and SIOC
Objective 1.5 – Manage vCenter inventory efficiently
Objective 1.6 – Describe and differentiate among vSphere, HA, DRS, and SDRS functionality
Objective 1.7 – Describe and identify resource pools and use cases
Objective 1.8 – Differentiate between VDS and VSS
Objective 1.9 – Describe the purpose of cluster and the features it provides
Objective 1.10 – Describe virtual machine (VM) file structure
Objective 1.11 – Describe vMotion and Storage vMotion technology
Section 2 – VMware Products and Solutions
Objective 2.1 – Describe vSphere integration with other VMware products
Objective 2.2 – Describe HA solutions for vSphere
Objective 2.3 – Describe the options for securing a vSphere environment
Section 4 – Installing, Configuring, and Setting Up a VMware vSphere Solution
Objective 4.1 – Understand basic log output from vSphere products
Objective 4.2 – Create and configure vSphere objects
Objective. 4.3 – Set up a content library
Objective 4.4 – Set up ESXi hosts
Objective 4.5 – Configure virtual networking
Objective 4.6 – Deploy and configure VMware vCenter Server Appliance (VCSA)
Objective 4.7 – Set up identity sources
Objective 4.8 – Configure an SSO domain
Section 5 – Performance-tuning and Optimizing a VMware vSphere Solution
Objective 5.1 – Determine effective snapshot use cases
Objective 5.2 – Monitor resources of VCSA in a vSphere environment
Objective 5.3 – Identify impacts of VM configurations
Section 6 – Troubleshooting and Repairing
Section 7 – Administrative and Operational Tasks in a VMware vSphere Solution
Objective 7.1 – Manage virtual networking
Objective 7.2 – Manage datastores
Objective 7.3 – Configure a storage policy
Objective 7.4 – Configure host security
Objective 7.5 – Configure role-based user management
Objective 7.6 – Configure and use vSphere Compute and Storage cluster options
Objective 7.7 – Perform different types of migrations
Objective 7.8 – Manage resources of a vSphere environment
Objective 7.9 – Create and manage VMs using different methods
Objective 7.10 – Create and manage templates
Objective 7.11 – Manage different VMware vCenter Server objects
Objective 7.12 – Setup permissions on datastores, clusters, vCenter, and hosts
Objective 7.13 – Identify and interpret affinity/anti-affinity rules
Objective 7.14 – Understand use cases for alarms
Objective 7.15 – Utilize VMware vSphere Update Manager (VUM)
As you can see, if you're starting with VMware technology today, you have a lot of learning to do.  Stay tuned, we'll help you out -:)
If you have met the requirements (you are current VCP) so you don't need to sit a VMware class, you can also purchase the VCP Exam vouchers at the VMware online store. VCP exam vouchers may be used as payment for all VMware professional level certification exams.
Source: VMware
Make sure to check our vSphere 6.7 page and some other links below.
More from ESX Virtualization
Stay tuned through RSS, and social media channels (Twitter, FB, YouTube)