This is information which came out as a bomb yesterday and we have already tweeted that. VMwarePer-CPU pricing is going up. Imagine that you want to go for a new infrastructure VMware and that you like the new AMD EPYC™ 7742 CPUs from AMD which has 64 cores. Well, you just find out that you'd have to pay Two VMware CPU licenses instead of just one.
Yes, this looks like a bad dream. Like a joke from VMware which suddenly wants to limit you with your hardware choices. If not you'll pay the double price for your CPU socket. This suddenly reminds me of the vRAM TAX that VMware wanted to charge several years back but then seeing the bad effect, it's been rolled back.
Why it is different this time and why it "might" just works for VMware this time? It is because so far, 64 core CPUs are very new and not affecting existing clients. Remember in the past the vRAM TAX would affect all clients immediately by limiting the number of vRAM per host and per VM.
Blast from the past:
"vSphere Essentials, Essentials Plus and Standard will receive 24 GB of vRAM per CPU license, while vSphere Enterprise will get 32 GB and Enterprise Plus will get 48 GB per CPU license"
And it was only Paul Mauritz who said afterward that it was a mistake:
"Yes, it is an admission that we made things only more complex, and we are rectifying that,"
What exact restrictions VMware prepared and why you will not like it?
Q. Can you help me understand the new model?
A: Under the new model, one CPU license covers up to 32 cores in a single CPU. If the CPU has more than 32 cores, additional CPU licenses are required

Q: What existing VMware products already use CPU cores as the key licensing metric?
A: VMware Enterprise PKS and VMware NSX Data Center subscription are examples of some of the products that use CPU cores as the licensing metric.
Thoughts:
This is exactly what the competitors were waiting for. Another tax from VMware. Another tax which is too many, to change for Hyper-V or KVM? New migrations in perspective? Time will tell. So far if you're fast enough and manage to buy your AMD EPYC CPU's and install VMware vSphere before 30 th April, you'll get one license for free on each CPU socket (the same pricing as now)…
VMware is playing with fire. The fact that they have already tried this once in the past, and then they had to roll back, does not really help. The only thing which can help here that this fact is not affecting existing customers on a CPU socket which has less or equal 32 cores. But future installation based on cores counts over 32 will be "taxed".
Even if you have a 48 core CPU you'll still pay for x2 license! (to be verified as the examples shows only 32 and 64 cores)
Screenshot from VMware blog post.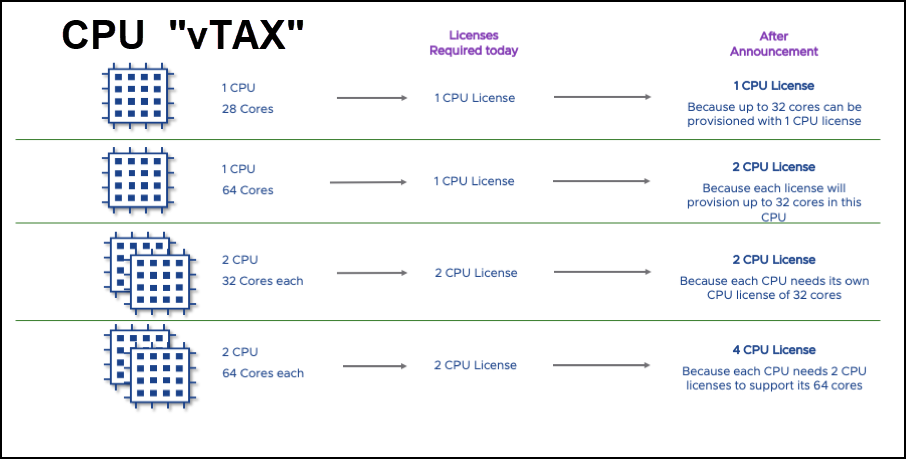 And additionally, to benefit from the offer expiring the April 30th and having a possibility to claim the free licenses, VMware is rather restrictive and will charge you for SnS on those free licenses when renewal time will come anyway.
Judge by yourself:
Servers and VMware licenses must be purchased before 11:59 pm PST U.S. April 30, 2020
The request for additional licenses must be submitted before 11:59pm PST U.S. on January 29, 2021. Proof of server purchase prior to April 30, 2020 will be required
Customers must be on active VMware support (SnS) contracts at the time of the request for additional licenses.
Note that customers will be charged for Service and Support on the additional free licenses at the time the customer's Service and Support contract for the existing licenses renews.
Source: VMware
Well, this is not a very bright future for going with EPYC architecture and VMware indeed. What's your thoughts?
More from ESX Virtualization
Stay tuned through RSS, and social media channels (Twitter, FB, YouTube)