A new VMware View client for MAC introduced an USB support. So it's now possible to have the USB peripherals enabled, if of course it's enabled via the View administrator. In the latest release of VMware View 5.1.2 a new internalization interfaces has been developed, together with other enhancements and bug fixes. If you want to have a look at the major update of VMware View – the 5.1 release, you can read my article on that here: What's new in VMware View 5.1.
The new version of VMware View Client for Mac 1.7  brings the possibility to enable USB ports. But it does not mean that the admin (or rather the security policy of your enterprise) will allow the general use of USB devices on corporate VMs…..
The latest VMware view client for MAC enables:
copy paste from USB stick, external hard drive, directly to your virtual desktop
print from within your VM to an USB attached printer on your MAC
print pictures (or copy them) from your digital camera
Quick quote from the source:
Allows you to redirect your locally attached USB devices from the local Mac to your View desktop. You can now copy a file to a thumb flash drive, save a picture from a camera or print a document to your local printer, all from your View desktop.

To start, you just need to turn on USB services the first time, by selecting "Start remote desktop USB services" from the USB drop down. From then on, your attached USB devices will be listed in the USB drop down.
Photo borrowed from VMware Blog.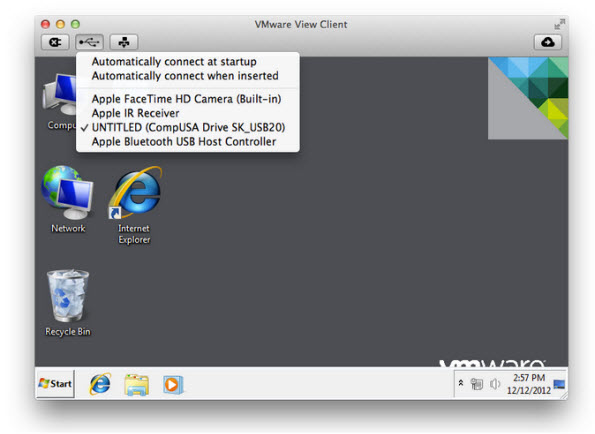 As a side note, concerning versions of VMware View client for Linux:
Linux – The VMware View clients for Linux can use FreeRDP when connecting via RDP to a desktop. The USB redirection has already been supported.
Android – Where Android 4.1 users on Nexus 7, Nexus 10 and kindle fire HD 8.9 are supported as well. The latest version of the Android client has been updated with  full-screen touchpad functionality available which brings the highest resolution to 2560×1600.
Source: VMware End-User Computing Blog
More Links: