VMware has recently released some On-Demand courses for VMware vSphere 7. There are "Install/configure", "optimize and scale", and "What's new" courses.
I think it is interesting to know that this course is one of the courses you need to attend and it is mandatory (I mean either the physical, on-site one or this, on-demand course) to pass VCP-DCV 2020 and become a VMware Certified Professional.
vSphere Install, Configure, Manage course is historically the most popular VCP training course. The On-demand course is equivalent to five days of training and has some intensive hands-on training that focuses on installing, configuring, and managing VMware vSphere® 7, which includes VMware ESXi™ 7 and VMware vCenter Server® 7.
Yes, attending this course meets the training required to achieve the following certification – VMware Certified Professional – Data Center Virtualization (VCP-DCV).
VMware vSphere: Install, Configure, Manage [V7]
For over a decade, VMware virtualization has changed the IT industry by providing a rock-solid base for bare-metal virtualization. Each year they buy and add many different software products that are used by datacenter administrators.
VMware continues its development with multi-cloud management, network virtualization, and many other software tools and solutions.
By the end of the course, you should be able to meet the following objectives:
Describe the software-defined data center (SDDC), explain the vSphere components and their function in the infrastructure, Install and configure ESXi hosts, deploy and configure VMware vCenter® Server Appliance™.
Use VMware vSphere® Client™ to manage the vCenter Server inventory and the vCenter Server configuration.
Manage, monitor, back up, and protect vCenter Server Appliance, create virtual networks with vSphere standard switches.
Describe the storage technologies supported by vSphere, configure virtual storage using iSCSI and NFS storage.
Create and manage VMware vSphere® VMFS datastores, use the vSphere Client to create virtual machines, templates, clones, and snapshots.
Create a content library and deploy virtual machines from templates in the library, manage virtual machine resource use.
Migrate virtual machines with VMware vSphere® vMotion® and VMware vSphere® Storage vMotion®, create and manage a vSphere cluster that is enabled with VMware vSphere® High Availability and VMware vSphere® Distributed Resource Scheduler.
Use VMware vSphere® Lifecycle Manager to perform upgrades to ESXi hosts and virtual machines.
VMware has also other courses that entitle you for VCP-DCV 2020:
We have started to work on VCP-DCV 2020 Study Guide so Check for the update at our VCP-DCV 2020 Study Guide page where you'll find all objectives, and in the end, there also should be a Free PDF Guide.
The whole exam blueprint has 80Chapters! The exam has 70 questions and you have 115 minutes. The passing score is 300.
There are single and multiple-choice questions. The cost is $250. Purchase VCP Exam Voucher. The exam code is 2V0-21.20.
Note: You can still become VCP-DCV 2020 and pass the exam 2V0-21.19 and use our Free VCP6.7-DCV Study guide available to download from our partner's site.
Update:
Thanks to @esloof for the heads up on this -:).
If you are willing to become VCP-DCV 2020 and pass the VCP7 exam, 2V0-21.20,   you will not be required to pass the Foundation exam…. Good to know.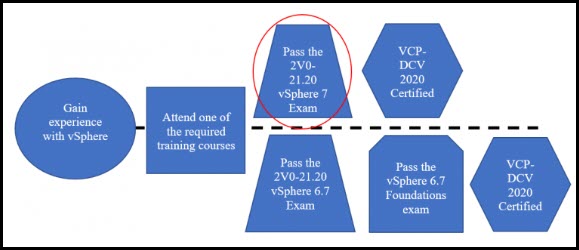 More from ESX Virtualization
Stay tuned through RSS, and social media channels (Twitter, FB, YouTube)