This news comes directly from VMware and they are hot. February 9th, 3:01 ET – embargo is lifted. It's about VMware Workspace One as well as Horizon 7, and Horizon Air Hybrid-Mode, newly announced as well. This post will focus on VMware Workspace One, which is tightly integrated with AirWatch for the mobile device management, but brings many innovative technologies which completely eliminate passwords and offers fine grain policies which can for example enforce GPS location. We'll also have a look at App Volumes 3.0 which has been newly announced by VMware few days back…
With more and more BYODs is present in the enterprise. That's the fact that we can nothing do about. More and more complex environments for the IT admin which needs still deliver the app to those devices, make them secure and compliant.
VMware Workspace One – What's inside?
Unified App Store – pluggable architecture which becomes a collection of entitlements for the users. Workspace One App for IOS, Android and Windows. Integrates web, mobile, cloud, Windows, Horizon and Citrix. Simple onboarding with e-mail address… (wait and see).
Email and Content Apps – Integrated Email and Calendar system built for business. Integration platform for common worflows. Emails are protected on any device for malicious file attachments. (No details here which platform will be used for email messaging.)
Compliance Check Conditional Access – Sensitive data are protected by restricting access. It's a policy engine which manages that. The policy engine resides in AirWatch. It's possible to enforce for GPS location, App Blacklist or Jailbroken devices…. (Check my AirWatch Post – Windows 10 and App Management With Airwatch !!! )
One Touch Mobile SSO – Eliminate passwords. No need complex PIN. Has new technology leveraging DTS (Device trust service). Without VPN, Cloud-based Kerberos Key distribution.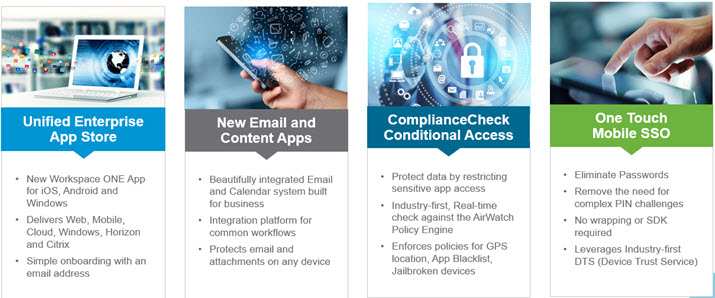 The VMware Identity manager which is behind the global authentication, allows AD integration. You can integrate the service with an Active Directory environment that consists of a single Active Directory domain, multiple domains in a single Active Directory forest, or multiple domains across multiple Active Directory forests.
You can create multiple directories on the Identity manager, each one has a AD connector. This allows to connect to different ADs in your environment. In most cases you just need to create one directory.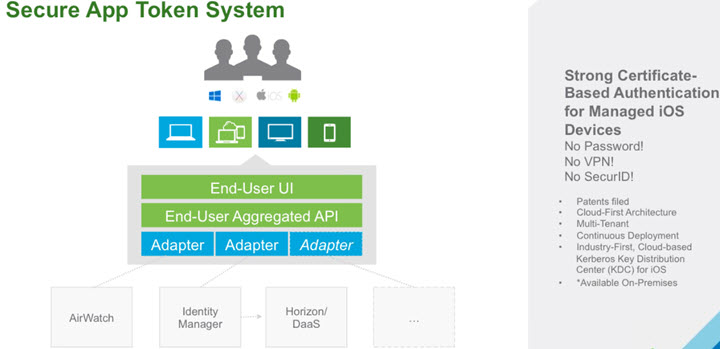 Identity manager is a product that had made its apparition not so long time ago and which solved problems with SSO. It is Included with Blue or Yellow AirWatch Bundles. It provides secured access to corporate applications across all devices and platforms, and a single sign-on experience to cloud apps, single portal access for employee work applications, and conditional access control to apps based on device, network, and user.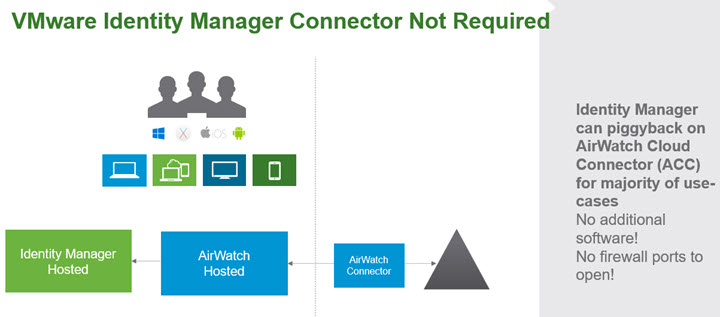 We have the feeling that the barriers between Horizon View (previously VMware View), Horizon Workspace as such, are much less visible than in the past where the View product was strictly separated from the other VMware products except the tight integration with vCenter.
In this release, with the VMware Identity Manager and AirWatch we can see the efforts done to satisfy as much as possible the client's needs for authentication, apps management or security. While in the hypervisor space we can see the evolution slow-down (except VSAN). The EUC is just never ending evolution with more and more features added, new products acquired and few months later "baked in" as part of the whole portfolio. There is nothing wrong with that, but to keep up is like "never-ending-story"… -:)
The Workspace One offering is proposed as On-Premise or as a Cloud subscription …
VMware Workspace One – The offers: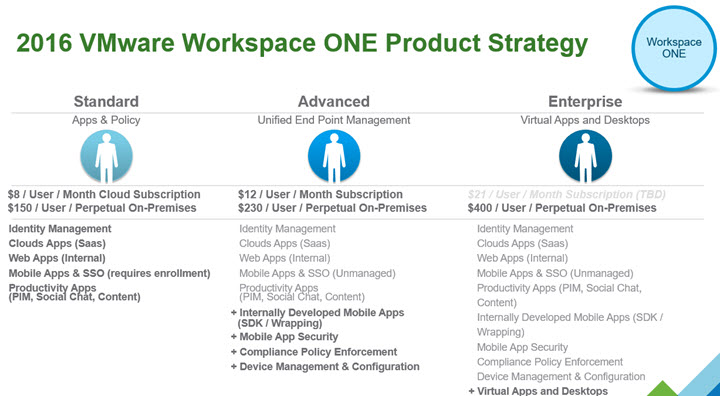 VMware App Volumes 3.0
New update for App Volumes. It's already 3rd version of the product allowing rapid deployments of applications, without the need of Thinapps. App volumes (previously Cloud Volumes) has been introduced just before (or during ) VMworld Barcelona 2014 and I've seen one of the first demos! Check it out. We were very impressed with the speed of assignement of hundreds of applications within seconds to the user. Thing which is impossible with traditional assignements via MSI or Thinapp.
What's new in VMware App Volumes 3.0?
Standard, Advanced and Enterprise Editions…… -:) Yes, new products were integrated, so the product portfolio can grow.
Standard – A new edition starting at only $60 per user that includes AppStacks, Writeable Volumes and integrated UEM
Advanced – Includes scalable enterprise management capabilities such as AppToggle, AppCapture with AppIsolation, and AppScaling for organizations with 1,000 or more seats.
Enterprise – Includes application monitoring in addition to the capabilities available in the Advanced edition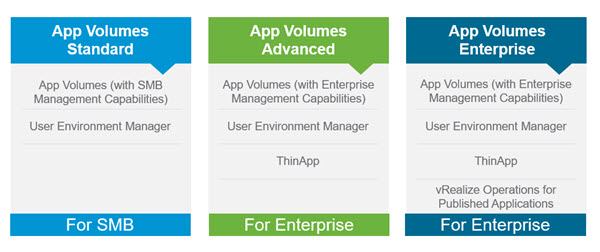 AppCapture and AppIsolation (ent. only)- captures and updates applications. Isolation with a command line interface that enables IT to distribute AppStack creation to different teams and merge AppStacks for simplified delivery and management. With support for AppIsolation, AppCapture also integrates with VMware ThinApp to enable IT to deliver native applications and VMware ThinApp applications in one consistent format through AppStacks.
AppScale with Multizones (ent.only) – availability across datacenters.
Per-User Entitlements (ent.only) – possibility to entitle single apps (works together with AppToggle).
AppToggle – per user entitlement and installation of applications within a single AppStack for maximum flexibility. Saves disk space by reducing the number of AppStacks that need to be managed.
AppVolume manager component allows application and lifecycle management.
App Volumes in brief:
Orchestrates the required infrastructure components, storage, Active Directory communications and if required hypervisor communications
Provides the interface to create and manage volumes
Manages assignments of volumes to user, groups and machines
Provides archival information on the usage of AppStacks and Writable volumes
New Unified Admin console…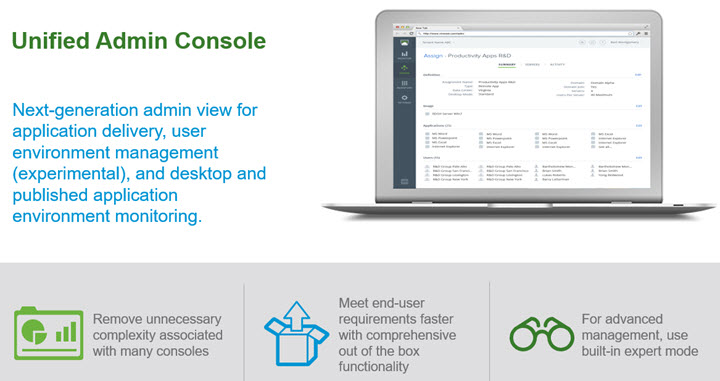 The presentation we have assisted did not get any further details concerning deployment options, for example how this solution will get deployed or how many VMs are in it. Previous release of Workspace, the v 2.1 was already packaged as single OVF file and had been covered on our website in this post.  VMware Workspace product as such had been announced back in 2013 and the 1.8 version has had 5 VMs to deploy! but since then VMware has already reduced this to  single VM.
VMware Announcements Today
VMware Workspace One Announced (this post)
Wrap up:
We'll definitely try to install and test the product in our lab, when it will became available. (Q1) For now keep an eye on the VMware documentation page where you most likely find the "upgrade" guide in case you're running one of the previous releases of Workspace. Don't forget to check the other post – VMware Horizon 7 Details – Instant Clones, Blast Extreme – as it's just hot-off-the keyboard….