VMware Workstation Free Update has been released. This is a Workstation 15.5.5 release which brings very awaited functionality by many IT admins. It is a possibility to run nested vSphere labs as well as Hyper-V labs on the same machine.
It is the first time that VMWare ESXi nested hypervisor can run alongside with Microsoft Hyper-V VMs. Until now, if you wanted to run both Hyper-V and VMWare ESXi nested hypervisor virtual machines (VMs) on the same computer, the Hyper-V Hypervisor must have been turned on and off. It was one or the other. So while it is the only feature added to this release, it is definitely a big one.
Since the introduction of Hyper-V, if you wanted to run Credential Guard and Device Guard, you could not run VMware Workstation and start your VMs. In fact, VMware and Microsoft together made an announcement that has jointly developed a project that adopts Microsoft Windows Hypervisor Platform (WHP) APIs.
During the last VMworld Barcelona, there has been a session where this feature was already demoed so we knew that it was coming, but I have thought that we might be able to get this new release quite soon, but we had to wait over 6 months for it to be delivered. Now released.
VMware, in this version of VMware Workstation, brings basically an ability to use the Hyper-V's features (VBS), it uses the Windows Hypervisor Platform API for it.
So now VMware Workstation VMs can co-exist on the same host at the same time, as well as other features from the Hyper-V platform.
VMware Workstation 15.5.5 – What's New?
From the release notes.
This release of VMware Workstation Pro is a free upgrade for all VMware Workstation 15 Pro users. It includes the following updates:
Windows 10 host VBS support:  VMware Workstation 15.5.5 now runs on Windows hosts with Hyper-V features (For example: virtualization based security) enabled.
What's the CPU Requirements?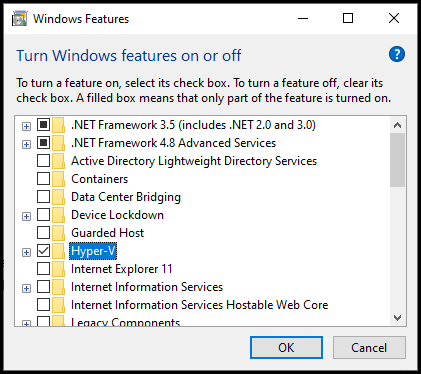 Yes, as you can imagine, not every CPU is suitable. The followings are the minimum requirement to run VMware Workstation on a Hyper-V enabled host: CPU Requirements:
Intel Sandy Bridge or a newer CPU
AMD Bulldozer or a newer CPU
Supported Host Operating Systems:
Windows 10 20H1 build 19041.264 or newer
New Guest OS Support in VMware Workstation 15.5.5
Windows 10 20H1
Ubuntu 20.04
Fedora 32
New Host Operation Systems support
Windows 10 20H1
Ubuntu 20.04
Other than that, VMware Workstation 15.5.5 Pro brings also performance improvements, bug fixes and security updates, as usually with a new release.
But, look what happened in the lab… -:(. Yes, my hardware isn't supported. I have a Xeon E5-2630L v3.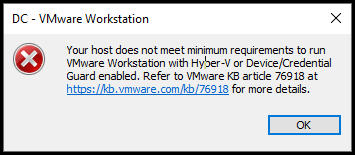 From the KB:
If VMware Workstation 15.5.5 or newer is run on a Windows host where Hyper-V and/or VBS is enabled, VMs will be launched using Windows Hypervisor Platform technology. VMs will fail to launch if the release version of this technology is not at a particular level, or if the Windows host hardware does not meet certain minimum requirements.
Processor Requirements for Host Systems

Intel Sandy Bridge or newer CPU AMD Bulldozer or newer CPU

Supported Host Operating Systems

Windows 10 20H1 build 19041.264 or newer
Resolution: Disable Hyper-V…
I guess it will be time to change my hardware in the future in order to be able to use this feature. Check out other vSphere 7.0 posts below.
*********************************************************************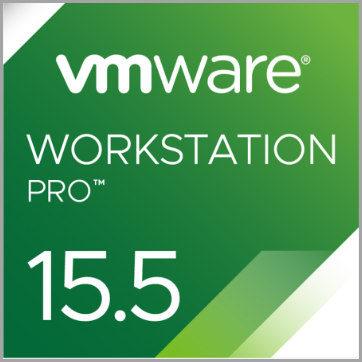 VMware Workstation 15.5 Pro and Upgrade
VMware Workstation Pro is designed for professionals that rely on virtual machines to get their job done.
Use Snapshots
Connect to remote servers
Share VMs on your LAN
Clone VMs – Full or Linked clones
Virtual Network Editor
*********************************************************************
FAQ from the blog post:
Source blog post here.
How does VMware Workstation work before version 15.5.5? 
VMware Workstation traditionally has used a Virtual Machine Monitor (VMM) which operates in a privileged mode requiring direct access to the CPU as well as access to the CPU's built in virtualization support (Intel's VT-x and AMD's AMD-V).  When a Windows host enables Virtualization Based Security ("VBS") features, Windows adds a hypervisor layer based on Hyper-V between the hardware and Windows.  Any attempt to run VMware's traditional VMM fails because being inside Hyper-V the VMM no longer has access to the hardware's virtualization support.
Introducing User Level Monitor
To fix this Hyper-V/Host VBS compatibility issue, VMware's platform team re-architected VMware's Hypervisor to use Microsoft's WHP APIs. This means changing our VMM to run at user level instead of in privileged mode, as well as modifying it to use the WHP APIs to manage the execution of a guest instead of using the underlying hardware directly.
What does this mean to you?
VMware Workstation/Player can now run when Hyper-V is enabled. You no longer have to choose between running VMware Workstation and Windows features like WSL, Device Guard and Credential Guard. When Hyper-V is enabled, ULM mode will automatically be used so you can run VMware Workstation normally. If you don't use Hyper-V at all, VMware Workstation is smart enough to detect this and the VMM will be used.
Note that this is valuable also for VMware Player. -:) However, the Player does not have all the bells and whistles. It's more "basic" and most importantly, it does not have snapshots…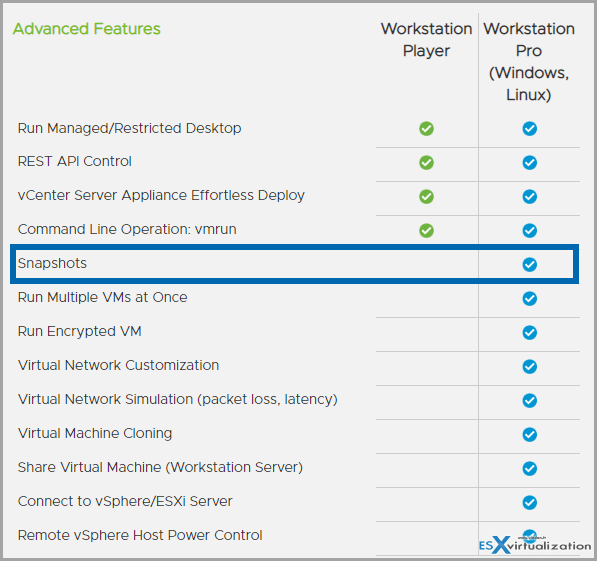 VMware Workstation is the best desktop virtualization software allowing you to use a single powerful desktop machine to run many different OS and still use that physical machine to handle your daily tasks. The only necessity is a lot of RAM and SSD storage capacity, but as the prices of SSDs are falling, one no longer has to rely on spinning media.
VMware Workstation and Fusion Software – Check it out:
More from ESX Virtualization
Stay tuned through RSS, and social media channels (Twitter, FB, YouTube)