Update: The next release is VMware vSphere 6.5 !! During the General session at VMworld Barcelona today, Tuesday 18th of October 2016, a new vSphere 6.5 has been announced by Pat Gelsinger. Check my vSphere 6.5 dedicated WordPress page. VMware labs released a free
VMware labs released a free vSphere 6.5 Web Client (or if you want vSphere HTML5 Web Client) is a free preview (Fling) of a vSphere client which is compatible HTML5 and Javascript. We're supposing that we'll find the finished product in vSphere 6.5, but we're not sure about that. Some news about the future release of vSphere are known already but nothing is sure just yet. The vSphere Web client product shall be rapidly following the same (fast) development cycles as the ESXi Host client.
We have seen that there was 4 or 5 different versions of ESXi host client released, and now the host client is present inside of the latest ESXi and vSphere 6.0 U2. Previously one had to install the vib manually, bu now the vib is part of the latest ESXi ISO. Do you know what VIB is?
The vSphere 6.5 web client is bundled as an OVA (840 MB in size) and when setting up (through CLI) you simply have to point to your vCenter server and connect via web based UI. The tool is limited in its first release and the deployment needs you to go to the CLI for the configuration. However VMware engineers are working hard to create a GUI for the configuration operations, but the first release just went out "from the oven", so be patient….
You can't do everything in this release. If you find a bug or having issues, don't hesitate to contact the team: Branislav Abadjimarinov, Laurent Delamare, Shraddha Marathe and Stoyan Petkov. There is a contact form on the VMware Labs page there.
Those following operations are working only in the v1.0 release:
VM Power Operations (common cases)
VM Edit Settings (simple CPU, Memory, Disk changes)
VM Console
VM and Host Summary pages
VM Migration (only to a Host)
Clone to Template/VM
Create VM on a Host (limited)
Additional monitoring views (Performance charts, Tasks, Events)
Global Views (Recent tasks, Alarms–view only)
System Requirements:
2 vCPU, 4 GB RAM, 14 GB
vCenter 6.0 installation (VCSA or Windows). The H5 client appliance will need 4 GB RAM, 2 vCPUs and the hard disk will grow up to 14 GB.
Recommended browsers – Chrome, Firefox, IE11. Others may work, with some functional or layout issues. Windows vCenter: Was tested with a vCenter on Windows Server 2012 R2, but should work with other versions as well. Please report any issues.
How to deploy the vSphere 6.5 Web client and how to configure?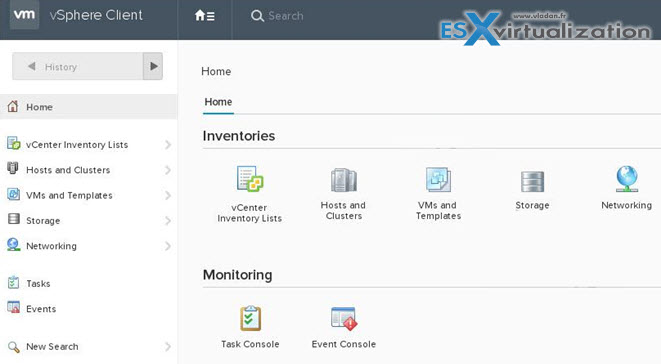 You'll need to be running vSphere 6.0. No other versions are supported. Check the PDF provided for the setting up, but it seems that the setting up against Windows based vCenter server is easier as they provide a .bat script file which does the configuration for you. You only need to run the .bat script on the Windows VM and then login via SSH to the Web client VM (Linux VM) via SSH and create few directories where those files need to be placed.
To open the UI of the web client:
https://IP_of_WebClient:9443/ui
You only need to run the .bat script on the Windows VM and then login via SSH to the Web client VM (Linux VM) via SSH and create few directories where those files need to be placed. They also call the new Web client as "vSphere H5 client". It's certainly because of the HTML5 and perhaps because of the non-disclosure for the upcoming vSphere release. We just guessing that….
They also want you to make sure that the NTP servers are configured correctly on both appliances (vCenter VM and Web Client VM). You'll find the steps how to do that in the PDF as well. If those NTP aren't in sync you might experience HTTP 400 or HTTP 401. Hence the particular attention on NTP on both products…
We're definitely excited about that and wishing going forward fast as All VMware community, including our readers are very in-patient to (finally) play with fast and responsive HTML5 only web client..-:). We'll be getting back on this when the client gets updated, with our reports. Stay tuned.
Source: VMware Labs
Check out the Client Deployment Instructions and Tips (PDF).