If you haven't heard yet, vSphere 8 brings a new way to mass manage host configuration – via vSphere Configuration Profiles. Instead of using Host profiles, the way forward you'll be using vSphere Configuration Profiles. But, there is a big but so don't get too excited yet.
The thing is that the vSphere Configuration Profiles feature is only available as a Tech Preview says it all. It is not ready. One of the facts is that it does not support vSphere Distributed Switch (vDS) and it does not support baselines. So, If the cluster is still using baseline-based life-cycle management, you must first convert the cluster to use image-based life-cycle management. Same for NSX, clusters with NSX won't be able to use this feature just yet.
When creating a new cluster you'll have to check the box saying "Manage all hosts in the cluster with images" instead of baselines (this feature has made its introduction in vSphere 7). You also have to make sure to check the box "Manage configuration at a cluster level".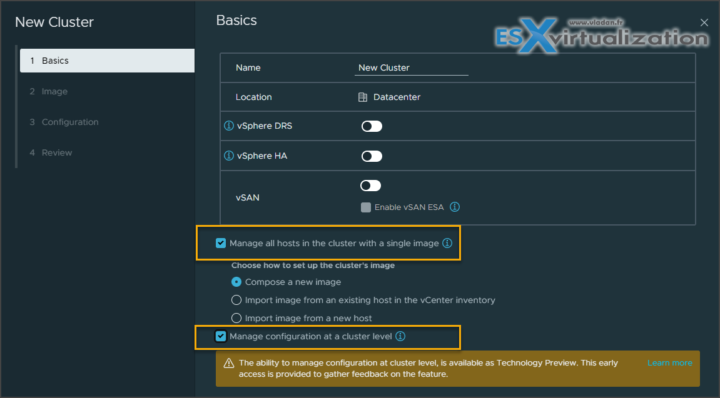 This gives you an opportunity to leverage the new vSphere Configuration Profiles. But remember the gotchas, if you have one of those within your environment, you can't simply use it in this release:
No baselines
No NSX
No VDS
Tech Preview !!!
What can you do with vSphere Configuration Profiles and how does it works?
At the cluster level, you can:
Set desired configuration at the cluster in form of a JSON document.
Check that host are compliant with the desired configuration.
If non-compliant, remediate hosts to bring them into compliance.
vSphere Configuration Profiles Requirements
vSphere Configuration Profiles needs:
That your cluster lifecycle is managed with vSphere Lifecycle Manager Images (vLCM), not baselines. (a transition might be needed here for existing environments?)
Hosts must be on versions ESXi 8.0 and above. (possible, but not for all environments as aging hardware often not compatible with latest version of vSphere)
This feature is available with an Enterprise Plus license. (for large enterprises only or customers with high needs)
If your environment is a traditional vSphere environment without NSX and without vDS, you can use it. But I would not, still. It's much better to wait, do a POC and test it, learn it. (If of course you have resources/hardware available).
Navigate to Cluster > Configure > Configuration. Click on Extract from Reference Host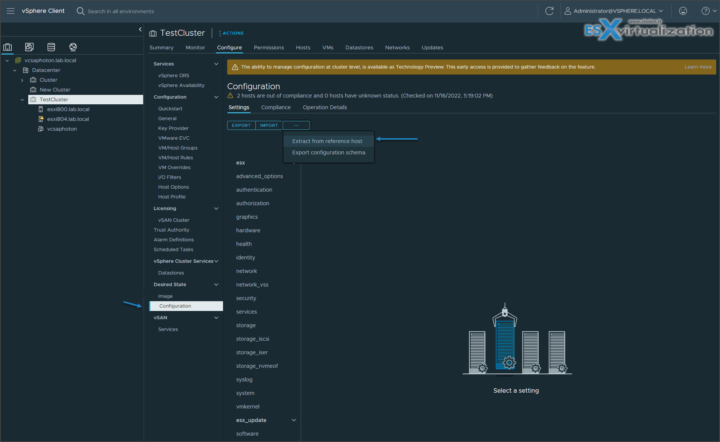 Pick your reference host.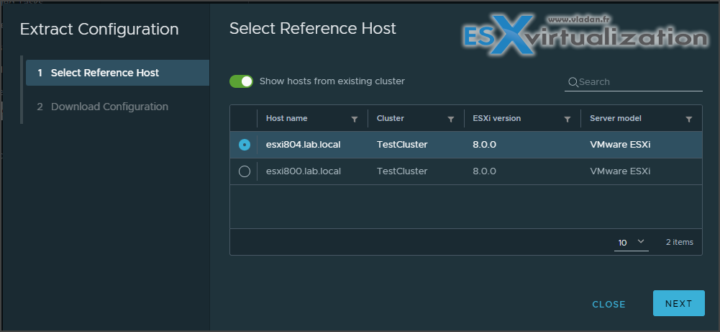 You'll get a JSON file for download.
Once you have that file, you can set the desired configuration within your cluster.
Goto Cluster > Configure > Desired State > Configuration > Settings > Import.
With a cluster that is homogenous, you can leverage the new JSON based centralized desired state configuration and use ti to maintain your configuration at the same level within all hosts within your cluster and prevent a modification drift.
Quote from VMware:
The configuration document is a JSON document that is backed by a schema, which makes it easily editable using any JSON editor tool. It is human-readable and is not unwieldy since it only captures the changes to the default configuration. Customers can choose to either create the JSON document from scratch; or simply extract the configuration from a reference host.
Wrap Up:
You are able to maintain clusters with desired configuration based on JSON file. You can verify that each of the hosts within a cluster is in compliance and if there is a non-compliant host, you can remediate the host to bring them into compliance.
More posts from ESX Virtualization:
Stay tuned through RSS, and social media channels (Twitter, FB, YouTube)