I have finally took the time and I went through all the videos present on the new vSphere Troubleshooting Training from TrainSignal. The whole course is long. As I already stated in my detailed article about what's in the course when the training went out, there is 30 high quality videos. The best way is to learn every day and watch 5-6 videos so like this you spread the learning process through few weeks. Because at the same time you can practice what the instructor shows. The best would be actually having 2 screens connected to your system. Which is actually my case since I'm using my laptop and as a second screen have a 21′ Mirai TFT. So I'm really comfortable to watch the videos on one screen and on the other I'm connected to my home lab.
Ok lets start with the review. If you working as a system administrator and you're considering to go the VMware's way in your company and consolidate your physical servers, you might be thinking to start with the lowest licensing package – vSphere Essentials which sells a bit over 600$  –  VMware vSphere 4.1 Essentials Kit for 3 hosts (Max 2 processors per host and 6 cores per processor) + Subscription for 1 year.
Or you might go for the more advanced package for SMB sector called vSphere Essentials Plus – VMware vSphere 4.1 Essentials Plus Kit for 3 hosts (Max 2 processors per host and 6 cores per processor) + Basic (12×5) 1 Year Support. With this package you'll get vMotion functionality and also VDR (VMware Data Recovery) backup solution bundled with.
Both solutions are great packages to start with and virtualize physical servers in your company. No need to present the efficiency, and maturity of VMware which is in the virtualization industry since the very beginning.
But you as an system admin, you'll certainly need to show some skills for Installing or managing such an infrastructure. Even if you don't take the path through the VMware certification process and want to learn your way, those videos are great help.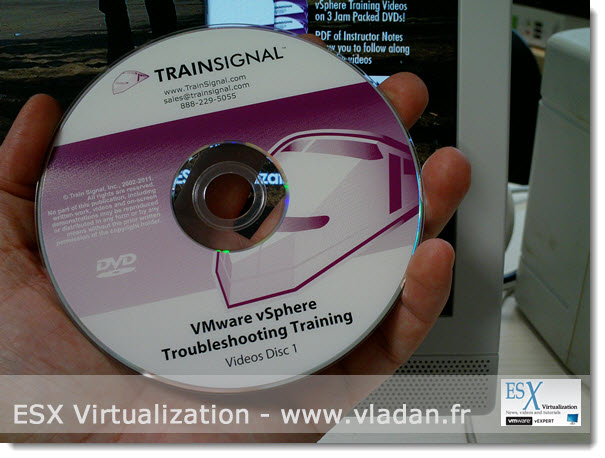 Those training videos should help anyone who needs to get more experience on the CLI tools which are necessary to manage ESXi hosts. Since the move from the ESX classic with the service console to the ESXi without the COS had been started long time ago, you better be ready to deploy, manage and troubleshoot your ESXi with vMA for example. And that's why the troubleshooting training is good choice for anyone which wants to know more about vMA, PowerCLI and others.
So there are great videos covering esxtop/resxtop commands for example to troubleshoot virtual networking.
In total there 2 DVDs with content videos and the third DVD is additional Content Disc, which contains iPod, MP3 and  VMW files to be able to learn while on the road…. Together with the package you'll get also an Online Access to those Training videos from anywhere with Internet access.
What you'll get:
– High quality videos – 13hrs : 49mins : 16secs. (Avi, iPOD, M4V, VMW….)
– 30 Chapters of Troubleshooting training.
– Instant Access to all Videos in Train Signal's My Online Training Section.
– MP3 files.
– Instructor Notes.
The whole training is actually build to start preparation process for an advanced certification from VMware called VCAP-DCA. VMware Certified Advanced Proffesional – Data Center Administrator. And if you have a look at the VCAP-DCA blueprint which is a guideline, the troubleshooting section is covered by this training course from Trainsignal.
David Davis, the instructor who created those courses took 3 months to build those courses. At the same time he was preparing for his VCAP-DCA exam and passed with success. He is preparing 2 more vSphere courses which will complete the training for VCAP-DCA.
You can see a video created by David where he explains more about the VCAP certifications:
Now It's impossible to cover the whole course in one article. I'm just gona cover what was in my case interesting and how it helped me with my preparation. Yes me too I'm slowly starting to prepare to pass the VCAP-DCA exam, even if I know that it's not an easy exam.
Very interesting section is the esxtop and resxtop video, where I learned how to use those commands ans the command switches.To troubleshoot successfully your virtual network infrastructure, you'll need to know how to use those commands.
There is many more CLI commands covered: esxcfg-nics; esxcfg-route; esxcfg-vswitch; esxcft-info; esxcfg-vswif; esxcfg-firewall; vicfg-dns; vicfg-ntp; vicfg-snmp………  I could see the troubleshooting the lost of network connectivity problem from console. Davide explains the possible ways to fix the problem.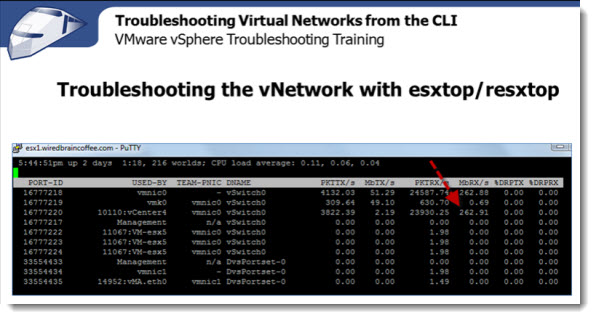 How to setup central depository for logs – Nice section is the one covering How To setup a destination for ESXi host's logs. As you might know, esxi4 do not have a default destination for storing log files. That's it's very important to setup central repository to store log files. David shows several ways to do it….using  vMA, Syslog, shared storage….
A chapter about troubleshooting connectivity i one of the crucial and one of the important chapters. Which parts of your VI are affected when vpxa or hostd are down or when do you need to restart them and which CLI commands you'll need to use to do the job. All this you can see in the course.
Chapter about VMFS – David returns to the roots of Storage. The terminology, the filesystem, the maximums, defragmentation, log files. What is PSA, SATP, PSP & ALUA…
How you can troubleshoot storage by looking at the logs. Where are those logs located and how do you access them. Looking at the advanced settings and what you can and what you can't change.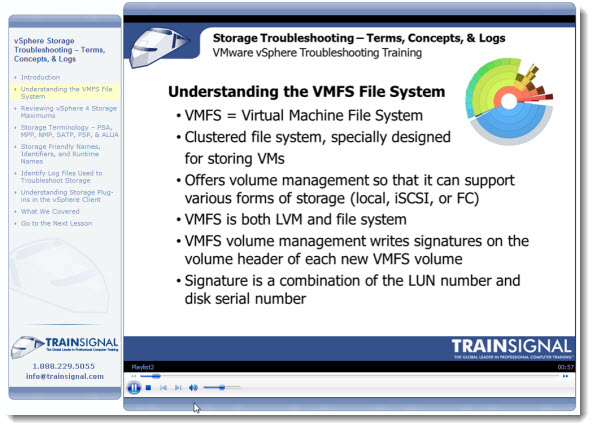 There is a whole lesson to troubleshoot storage via the CLI. It's the lesson 21. You'll learn all the necessary commands you'll need to know. How to use the LUN masking via the CLI and why to use them…. to optimize your array's performance. As you can see this course from TrainSignal sets the level of technical training quite high….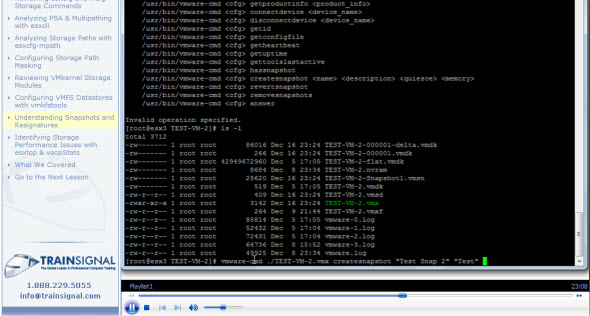 Identify the storage performance with esxtop and vscsiStats.
How to configure NFS or iSCSI from CLI?
Those topics are covered in lessons 22 and 23. David walks you through the commands and possible options you have. You can see all this as you were sitting next to him while he is teaching you all that.

High Availability troubleshooting – this is lesson 28.   David explains the common problems when it comes to configuration, and where the common errors are usually committed. He also recommends Frank's and Duncan's book – HA and DRS Deep Dive – which I blogged about in my recent post here.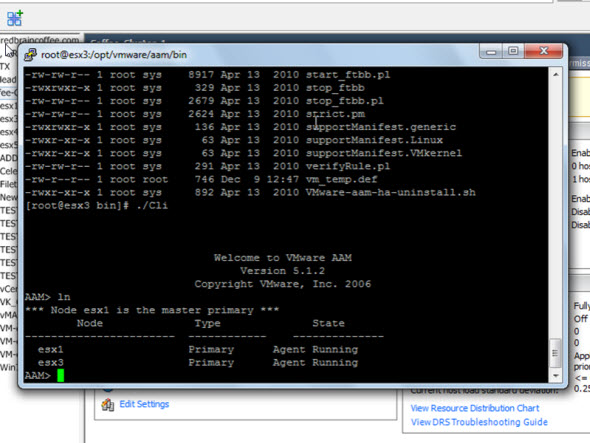 With the experiences from other vSphere courses and reviews I've done in the past I have the feeling that this vSphere course is much more.. how to say… deep dive…. More CLI tools in action etc…
You can watch some free videos on Trainsignal's website.