Zerto 8.5 went out recently after the announcement a couple of weeks back. We have covered the new features and functions in our detailed post here, but let's just recap the principal updates. Zerto's updates have been solid recently and the original replication software is now much better positioned as data protection for workloads in any location. You can test Zerto in two ways – download FREE trial or test online lab (without downloading anything).
Zerto 8.5 will have support for new data protection cloud offerings, support for new platforms, and platform updates. These platforms are Google Cloud, Oracle Cloud, and the next generation Azure VMware Solutions (AVS).
With Zerto, you can not only replicate your VMs to another location, but you also have a backup so you can restore full VMs or individual files. Back in the old days, you could only go back in time like 30 day, however since Zerto 7.5 things changed.
The 7.5 brought an Elastic Journal allowing to recover VMs from an older date, so you can recover backed up (or archived) VM from 20 years back if you need to. The elastic journal combines short and long-term retention into a continuous stream of recovery points with search and recovery across data, files, or VMs from any point in time.
With the different backup possibilities, you also have a Grandfather-Father-Son backup strategy.  The product has become a hybrid backup product allowing you to not only replicate your VMs without an overhead and with very low RTO but also keep your long-term backup at the different repository for years.
The 8.5 version has a redesigned workflow for file recovery allowing you to Instantly recover files or folders to production within minutes.
A screenshot from the lab shows the deployment of Zerto virtual replication appliance (VRA) on ESXi hosts. It's the VRA that does most of the heavy work to replicate VMs to another datacenter, another location. VRAs are very lightweight Linux-based virtual machines that replicate VMs between sites. These VRAs are installed on each host that has a protected virtual machine.  VRAs compress the data before sending over to other sites.
VRAs can see the writes executed by VMs on the host so they capture the stream and send those changes over the network (LAN or WAN) to the ZVM secondary site.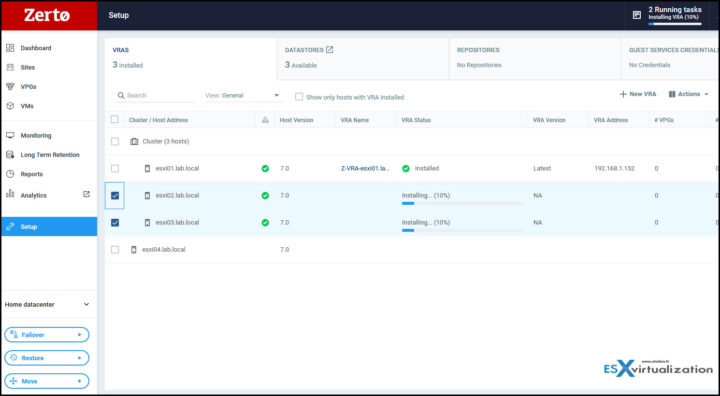 Zerto Has some advantages over other data protection vendors:
RPOs of seconds
No impact to production because it does not use snapshots like traditional backup programs.
Simple workflow for rapid RTOs on day-to-day recovery scenarios.
Failover, failback and testing are all automated
Zerto for Kubernetes Technical Preview
With Zerto 8.5 you can also protect Kubernetes workloads. (tech preview in 8.5).
Cloud-native applications running in containers and orchestrated by Kubernetes are quickly becoming the new normal for IT teams. Yet new standards present new challenges, particularly for maintaining availability, data protection, and disaster recovery. Traditional approaches to backup and DR can't keep pace with today's evolving DevOps landscape.
Zerto provides granularity and the possibility to replicate regardless of scale. You can replicate a single VM, a group of VMs, or an entire virtual application. The setup does not need any additional hardware, and you can still move VMs from one physical server or data store to another without interrupting the replication process.
Check Zerto's Website here and download a trial.
Direct links: download FREE trial or test online lab.
More on Zerto on ESX Virtualization Blog
More from ESX Virtualization
Stay tuned through RSS, and social media channels (Twitter, FB, YouTube)