Zerto is preparing a launch of its latest Zerto 8.5 New Data Protection Offering. You can register for Zerto Launch Event which will be Thursday, October 15th, 2020, from 12:00 PM – 3:30 PM EST. During the event, you will be able to attend several breakout and technical sessions, including a session called Zerto for Kubernetes (Tech preview).
Zerto 8.5 will have support for new data protection cloud offerings, support for new platforms, and platform updates. These platforms are Google Cloud, Oracle Cloud, and the next generation Azure VMware Solutions (AVS).
There will be a new cloud-native backup for Azure and AWS and other innovations from Zerto's Resilience Platform capabilities and innovation.
You'll assist also a Zerto's latest roadmap… Not to miss.
Check the Press Releases: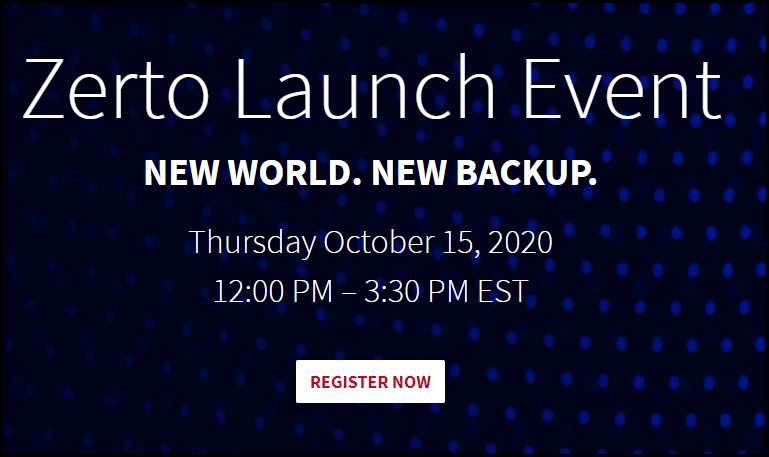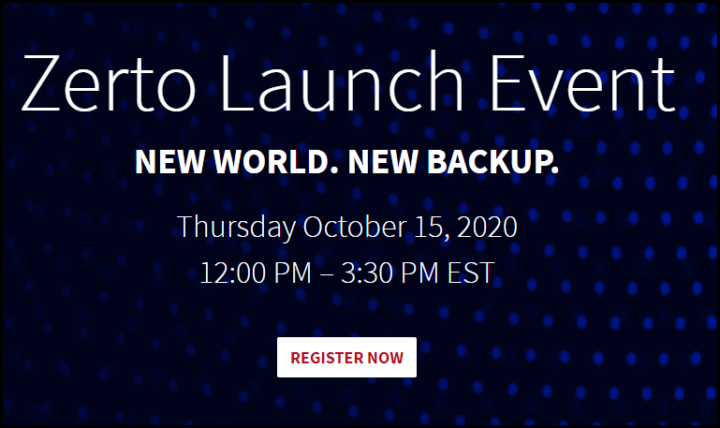 From the registration page:
Quote:
Product Keynote: Announcing a New Data Protection Offering and New Cloud Platforms

Join Gil Levonai, SVP of Products and Caroline Seymour, VP of Product Marketing as they share all the details on the exciting new data protection offering, support for new cloud platforms and platform updates with Zerto 8.5. Hear first-hand how Zerto delivers 50% TCO savings replacing traditional backup for all applications across on-premises and cloud.
Breakout sessions:
In-depth Technical look at Zerto's New Data Protection Offering
Zerto is extending its industry-leading platform with the introduction of a new data protection offering that delivers near-zero data loss or downtime. Why roll back 4 to 24 hours ago from snapshot-based backup when you can have immediate access to your files from seconds ago? Join Chris Duffy, Director of Product Management, as he shares in-depth the new powerful new features including:
Long-Term Retention to public cloud
Data protection workflows
Instant restore
Platform Lifecycle Automation
And more..
How to achieve 50% TCO savings with Zerto
Reimagining backup for modern IT doesn't have to involve breaking the bank. By converging backup and disaster recovery with Zerto, customers get better protection without the complexity and hidden costs of legacy backup solutions. This session will explain exactly how Zerto delivers real financial and business value at a lower TCO than you may expect—and does so without compromising on the fundamental technological benefits that competitors can't offer. You'll hear exactly where Zerto provides savings and how you can leverage our simple, scalable platform to improve IT efficiency, reduce data loss, and eliminate redundant backup point solutions.
Zerto for Kubernetes Technical Preview
Cloud-native applications running in containers and orchestrated by Kubernetes are quickly becoming the new normal for IT teams. Yet new standards present new challenges, particularly for maintaining availability, data protection, and disaster recovery. Traditional approaches to backup and DR can't keep pace with today's evolving DevOps landscape. Join Deepak Verma, Director of Product Strategy, and learn how Zerto is delivering resilience for next-gen applications through data protection as code: all the enterprise-class features of our platform, now purpose-built from the ground up for Kubernetes applications. Whether for on-premises K8s or in the cloud of your choice, you'll learn exactly how and why Zerto is delivering a new data protection to the containerized world.
Register Here
Zerto Launch Event which will be Thursday, October 15th, 2020, from 12:00 PM – 3:30 PM
***********
From the release notes:
New Backup to Microsoft Azure – You can now use Microsoft Azure as a scalable, cost-effective long-term retention target. Backups to Azure are sourced from the on-premises journal and includes:
Cost-effective and scalable Azure Blob storage
Integration with Azure Active Directory
Choice between hot or cool storage
Encrypted communications
New Backup to AWS: As an available long-term retention target site, backup to AWS delivers a cost-effective and scalable way to retain data for extensive periods of time to achieve compliance. Backups to AWS are sourced from the on-premises journal and includes:
Cost-effective and scalable AWS S3 Storage
Integration with Identity Access Management (IAM)
Choice between S3 protocols
Encrypted communications
New Instant File & Folder Restore: Instantly recover files or folders to production within minutes with a new workflow purpose-built for backup use cases that , delivers:
RPOs of seconds
No impact to production
Simple workflow for rapid RTOs on day-to-day recovery scenarios.
Data Compression for Long-Term Retention: Data reduction technology to reduce the impact of network bandwidth and storage resources by half.
Audit Trail Logging: Achieve compliance and data governance for all file restore operations .
New Backup Roles: Use backup-specific administration roles for backup-only recovery scenarios
More about Zerto on ESX Virtualization
Links:
More from ESX Virtualization
Stay tuned through RSS, and social media channels (Twitter, FB, YouTube)