One of our partners, Altaro, asked me to post about an upcoming webinar. Normally I avoid doing it but this time you might actually be interested in it's with "Hyper-V guy" – Ben Armstrong. I've had an occasion to chat with him a little bit during VeeamON US last year, on Microsoft's stand.
The webinar topic is containers, which IMHO, are the future. Containers are more lightweight than VMs.
It's not about passively watching only. You have a chance to get your question answered. Ask Me Anything, (AMA). Containers with Hyper-V Guy – Ask Me Anything (AMA) Webinar, check the details below.
Ben Armstrong AMA on Containers
Designed for the next generation of IT workloads, containers enable fast and reliable virtualization of individual applications. More lightweight than VMs, whilst delivering similar benefits, containers were historically confined to developers but are now an essential part of the modern-day IT professional toolbox. Are you utilizing containers as part of your virtualization strategy?
In this special AMA-style webinar on April 24th, you have the unique chance to ask your questions about containers directly to the co-creator of Hyper-V and Principal Program Manager at Microsoft, Ben Armstrong.
The discussion will include:
Industry adoption of containers
Containers and micro-services examples
Best practices for deployment
The future of containers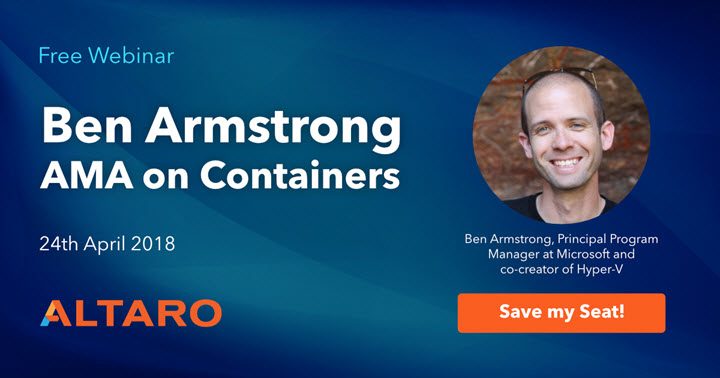 Save your seat at https://bit.ly/2HE8zMh
As you might spot on my blog, Altaro has a Backup and replication product for VMware vSphere and Microsoft Hyper-V. They're working hard on getting all the vSphere and Hyper-V Backup features to be implemented. They're a smaller company than other backup vendors, but they're not expensive, the product has some innovative features, so they're going their way.
They also have a solution for Managed Service Providers. Altaro VM Backup for MSPs provides backup services compatible with VMware vSphere 6.5 and Hyper-V 2016. This approach provides the MSP with a monthly recurring revenue stream without any investment and it is the exact opposite to IT projects that tend to be one-time transactions.
Latest Alaro release supports CDP (continuous data protection). When CDP is enabled, VMs can be backed up as frequently as every 5 minutes. Note that the CDP still uses hypervisor snapshots in this case.
They also have Grandfather-Father-Son Archiving (GFS) for Local Backups where admins can choose to archive local backup versions in addition to their continuous and daily backups instead of deleting them. Now you can configure three separate backup cycles to store three new backup versions every week, every month and every year. Retain Weekly, Monthly and Yearly backup versions outside of the retention policy.
You might want to check some of the posts we wrote about Altaro:
More from ESX Virtualization
Subscribe to RSS, and social media channels (Twitter, FB, YouTube)