If you're not user of VMware Thinapp you might be interested in following application called Evalaze which is a virtualization packager, like Thinapp. But On the other hand, Evalaze offers free (limited) version. Thinapp Alternative Called Evalaze can virtualize unlimited number of applications, but not all the functions are active in the free version.
I stumbled through this Thinapp alternative recently and thought that I share this with my readers. It's a very simple to use Thinapp alternative. 
The product works basically the same way as VMware Thinapp. If you haven't used Thinapp or other virtualization packager before, it's fairly simple. We could define this process as a three phases process:
Prescan – First, the virtualization packager scan the system before you install your application. During this time the virtualization packager gets snapshot of your system, registry, and different points of you system in order to be able to do a compare after postscan.
Install your application – this phase you are able to install your application and assure that it works as it should be.
Postscan – this is where the application packager scans the system after the application has been installed. It compares the prescan and postscan and extracts the delta data. Another part of this part is the build phase where an executable file is built.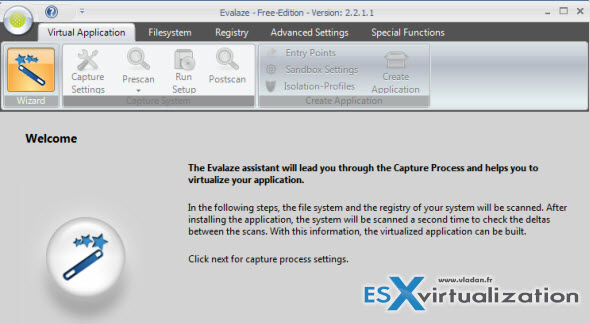 The difference between the Free and Paid version of Evalaze can be found here. Basically the free version does not allows you to use any of the advanced functions, and also you can only virtualize your application through the built-in assistant. 
What's advantages of virtualized applications?
It's quite obvious as you don't need to go through the install process on your system. Simply copy the single executable to a folder on your hard drive and place a shortcut to your desktop. In addition, virtualized applications runs in a sandbox environment, where they don't change any files/folders of the system where they run, and Evalaze Free edition has the option before you build the executable. See below.

The number of virtual applications you create is not limited in free version, but you're fairly limited in what you can do (almost nothing… ), but that's fair.
The free edition can be good for homelab use as VMware only provides paid version of Thinapp. Evalaze has also short video showing the differences between paid and free versions.
Source Site: Evalaze