Readers of our blog know about StarWind software and particularly about their free solutions for virtualization. One of the free tools StarWind is maintaining is StarWind V2V Converter which is a multi-conversion utility allowing you to convert between public and private clouds and between hypervisors platforms.
After VMware's decision to discontinue VMware vCenter Server Converter a few days ago, StarWind V2V Converter becomes one of the favorite tools to convert VMs between VMware, Microsoft, Azure, or Amazon AWS platforms. StarWind V2V Converter is compatible with major hypervisors like Microsoft Hyper-V, VMware ESXi, Citrix XenServer, and KVM.
In this post we'll detail the different options the tool is capable of, for free. But before we do, I'd like to invoke cloud costs that might in some cases become the main reason to migrate some of your workloads back to your datacenter or to another cloud.
When you expect the cloud expenditures to be USD 60K per year + the cost of Express Route connection added a few years later, ok. But if your cloud costs are like USD 900K with only about 5% of the workload migrated to the cloud, you should start asking yourself some questions. And if those costs are even double with 10% of workloads migrated, you better start to reverse what you have started…. Cloud is not free.
Migrate Workloads with StarWind V2V Converter
V2V Converter allows converting VMs directly from one hypervisor server to another without creating an extra VM disk copy. You can easily migrate your vital host VM images between different hypervisor servers without any data loss or corruption.
You can either convert a virtual machine or a file. (individual disk).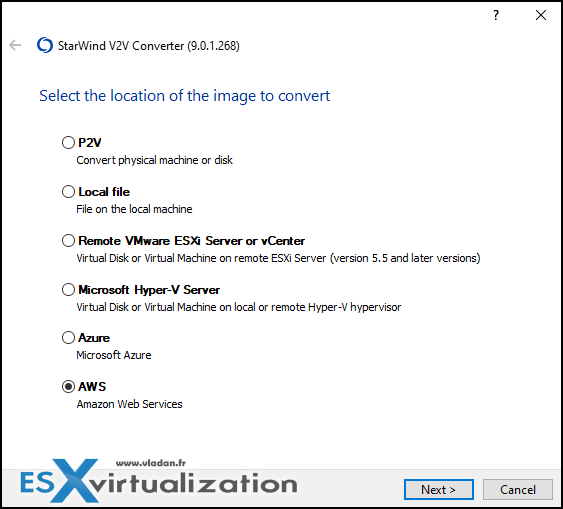 StarWind V2V Converter Features
Virtual To Virtual (V2V) and VM image files converting
converting VM from Hyper-V to VMware ESXi (.vhdx to .vmdk)
Converting VM from VMware ESXi to Hyper-V (.vmdk to .vhdx)
Converting Image File from Hyper-V to VMware ESXi Format
Converting Image File from VMware ESXi to Hyper-V Format
Converting Local File to Local File
Physical to Virtual (P2V)
It allows converting physical disks or volumes into a variety of formats: VHD/VHDX, VMDK, QCOW, and IMG/RAW. Simply start StarWind V2V Converter on a physical machine and convert it into a virtual one located on a remote server. Data consistency is preserved throughout the migration.
Physical to Cloud (P2C)
Convert Physical Machine to Hyper-V VM
Convert Physical Machine to VMware ESXi VM
Convert Physical Machine to Microsoft Azure VM
Convert Physical Machine to AWS VM
Virtual to Cloud (V2C) and Cloud to Cloud (C2C)
Converting VM from Microsoft Azure to AWS
Converting VM from AWS to Microsoft Azure
Converting VM from Hyper-V to AWS
Converting VM from Hyper-V to Microsoft Azure
Converting VM from VMware ESXi to Microsoft Azure
Converting VM from VMware ESXi to AWS
Version 9 (build 266) Features added:
New implementation of VHD/VHDX container operations for better portability and compatibility.
Azure: added support for Generation 2 Virtual Machines.
Added support for converting 4kn disks to VHDX format.
Fix for command-line mode: in some cases, the utility was not setting a correct exit code. Now, it returns an exit code for all scenarios.
Added processing of Hyper-V virtual disks with checkpoints.
Added support for operations with virtual disk files located on SMB shares.
Fixed creation of VHDX virtual disks with a size greater than 64TB. There is still a known issue with the P2V scenario for machines with disks larger than 64TB, which will be fixed in later updates.
Other Interesting Features such as Windows Repair mode
What is Windows Repair mode? It allows Windows Repair Mode is able to proceed during P2V or V2V. StarWind V2V Converter / P2V Migrator makes VM and virtual disk migration between different hardware sets easier by booting the migrated VM in Windows Repair Mode. Also, this utility enables conversion of a physical machine into a virtual one. In both cases, the VM automatically adapts to the new hardware environment, avoiding any compatibility problems.
Supported Disk Formats
VMDK, VHD/VHDX, QCOW2, and StarWind-native IMG. It functions both ways, converting from and to any VM format, thus having better functionality than similar converters.
If you don't know about QCOW2, then qcow is a file format for disk image files used by QEMU, a hosted virtual machine monitor. It stands for "QEMU Copy On Write" and uses a disk storage optimization strategy that delays the allocation of storage until it is actually needed. Files in qcow format can contain a variety of disk images that are generally associated with specific guest operating systems.
Free Download: StarWind V2V Converter
More posts about StarWind on ESX Virtualization:
More posts from ESX Virtualization:
Stay tuned through RSS, and social media channels (Twitter, FB, YouTube)