Hello readers. Today we'll deploy VMware VCSA 6.7 U1 in VMware Workstation. We have done a similar video for vSphere 6.5 and we had a few questions from readers about accessing the appliance after configuration so we decided to do a new video which details the process. Additionally, we do the deployment in a very easy manner.
Note that this post is for people who are learning VMware technology, who are new to VMware, who are not certified VMware admins. If that's your case, probably you already know your way -;).
Why would you want to deploy VMware vCenter Server Appliance (VCSA) in VMware workstation? Simply for learning purposes and especially if you don't have hardware where you can install VMware ESXi on bare metal.
In fact, yes, depending on how you deploy and which options you chose during the deployment process, you might (or might not) have network connectivity. That's why we decided to use DHCP as a deployment option where you get an IP address from your DHCP server or router.
Also, some readers might have not been patient enough and tried to connect to the VCSA too early. I'll show some elements to check whether it's the case for you, and you don't have network connectivity, to make sure you follow the right steps.
I'll show you the steps, which works, but there are some requirements. You'll need to have DHCP on your network. In fact, the easiest way to deploy VMware VCSA 6.7 U1 in VMware Workstation, is to use DHCP. You can always change those network settings into static IP later.
How To deploy VMware VCSA 6.7 U1 in VMware Workstation – The Steps:
Step 1. Make sure your LAN has a router or DNS server which has DHCP server/service active.
Step 2: Download the latest VMware VCSA ISO from VMware and mount it by right-clicking the ISO > Mount.
Step 3: Open VMware Workstation and do File > Open > Navigate to a subfolder called "vcsa" and open the OVF file.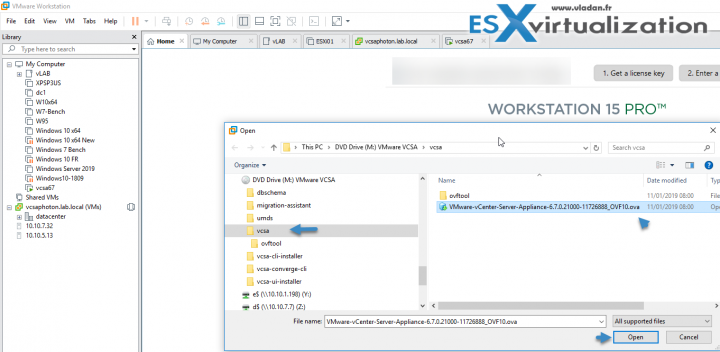 Step 4: Accept the EULA > click next and name the VM and choose the location on your hard drive. Leave the default "Tiny vCenter Server with Embedded PSC" selected and click Next.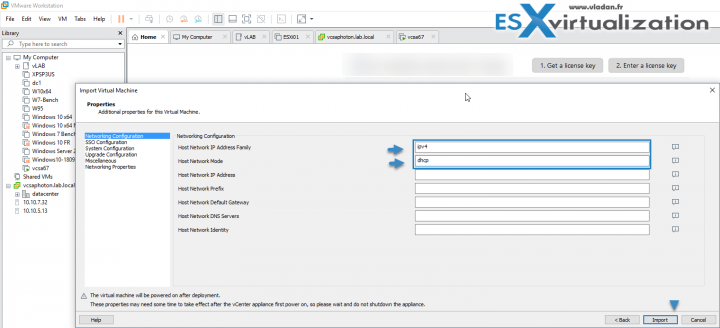 Step 4: Click the Import button to start the process…
Video showing the whole process. Watch in HD and full screen. The video is accelerated at some parts otherwise the whole deployment process took about 17-18 minutes in the lab. This might vary depending on your desktop workstation, selected options etc.
As being said, the post is for users who do not have the hardware to install ESXi and learning VMware technologies. Otherwise, it is much more convenient and performant to deploy VMware VCSA on a physical ESXi and access the system remotely. But for this, you'll need two machines or one laptop and one desktop/server.
As I mentioned, be patient while the system configures in the background. There are many things going on. The DCUI restarts several times, RPMs get installed… all this takes time. And if you don't see https but only http at the beginning of the configuration process, it means that you're still too early to connect.
VMware vCenter
VMware vCenter server is a central piece of software which allows central management of the whole infrastructure. From a single console, you can do pretty much everything. vCenter server can be installed on Windows, but also deployed as a virtual appliance (hence the name vCenter server appliance – VCSA) – It is a pre-configured VM. with a Photon OS (Linux) which is a very fast booting Linux distribution.
VMware Learning: VCP6.7-DCV 2019 VMware Certification Exam Officially Announced
Links:
Copy of VMware Workstation – If you don't have a copy of VMware workstation and preparing for VMware certification or learning VMware technology I highly recommend to have a full copy. It's an investment which you won't regret.
Copy of VMware VCSA – You'll be able to get a 60 days trial at VMware (click the link "Download Free Trials" at the bottom of the page).
More from ESX Virtualization
Stay tuned through RSS, and social media channels (Twitter, FB, YouTube)