StarWind Storage Gateway for Wasabi is used with Veeam Backup and Replication to bring down the cost of cloud storage. The replication between on-prem and cloud storage is automatical so the copy of the backup you're storing On site is automatically replicated to the Wasabi cloud.
StarWind Storage Gateway for Wasabi is a great way to save on cloud storage as with Wasabi, you have unlimited free egress. (it means you don't pay for data you download). As such the cloud storage for fulfilling the 3-2-1 Backup rule will be cheaper at the end.
With Veeam, all backups are first written to your local/primary storage network so you can recover fast in case of necessity. The remote repo at Wasabi is only for disasters like ransomware. And it's best to keep the costs down when having a DR plan. But the most important is to have DR plan with separation of location, media, and technology.
Wasabi provides storage capabilities S3-compliant with a speed up to 6x faster than Amazon S3. Wasabi is 80% cheaper and 6x faster than Amazon S3, with 100% data immutability protection and no data egress fees.
I'd highly to encourage you to check StarWind's blog post where they did a cost and performance test on different cloud storage providers, including Wasabi. The results are interesting and show Wasabi as a winner in cloud cost.
Here is a screenshot from their post comparing the cost of storage, and storage with egress.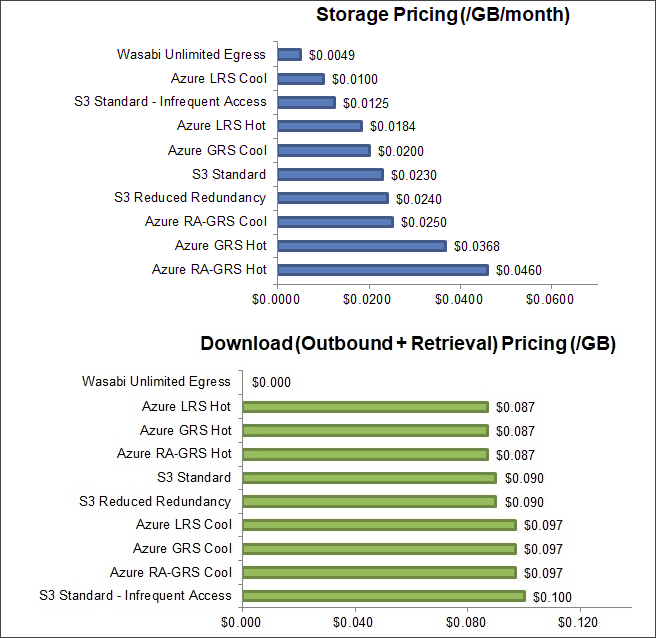 The only disadvantage, if I can say that, is the fact that you have to use 3 different solutions to achieve this. You have Veeam, StarWind and Wasabi. But that's certainly a small inconvenience compared to what it brings.
What do I need?
Let's break it for more convenience.
Part 1: Hypervisors
I assume that everyone has already installed their hypervisor.
Part 2: Veeam Configuration
Download Veeam Backup and Replication 30 Days Trial at Veeam website.
Nothing easier than to install Veeam Backup software. When it comes to the configuration of VTL, it might be new for you, but it's not something which is difficult.
You can start from scratch if you don't have any backup software (I doubt it), or you can integrate StarWind and Wasabi into existing Veeam backup infrastructure. At first, you'll install Veeam Backup software. Easy to do. All you need is a Windows machine.
You can install StarWind VTL on the same machine, but it's recommended to use a separate system. We have done this installation a way back, for AWS, but for Wasabi it's the same. You can check the post here.
You can also follow the official Veeam How-To Here (for Azure).
You'll need to get an HP driver for Windows so you can install the HP StoreEver Drivers on your system.
Go to the Veeam Backup server, open the console, select Tape Infrastructure. (down left).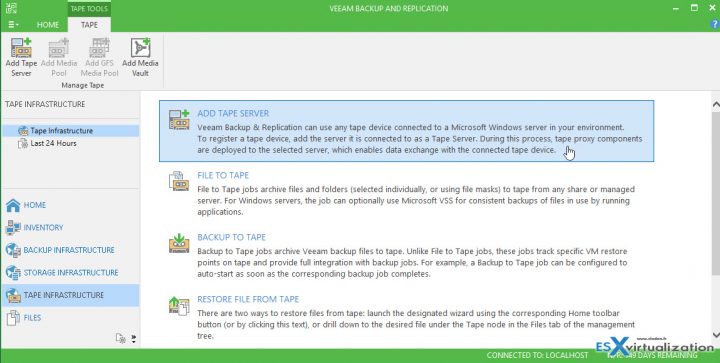 Follow the assistant and hit Finish.
Once done, you can create your first backup to tape by selecting Tape Job > Backups which will launch an assistant of the creation of a backup to tape job.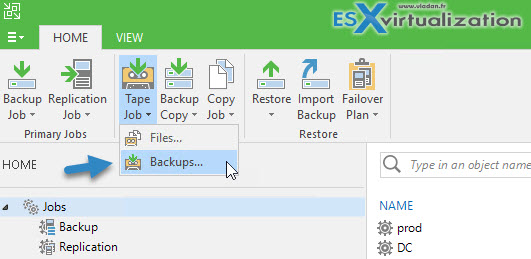 You'll be prompted to create a GFS media pool.
The GFS media pool is the one you should use…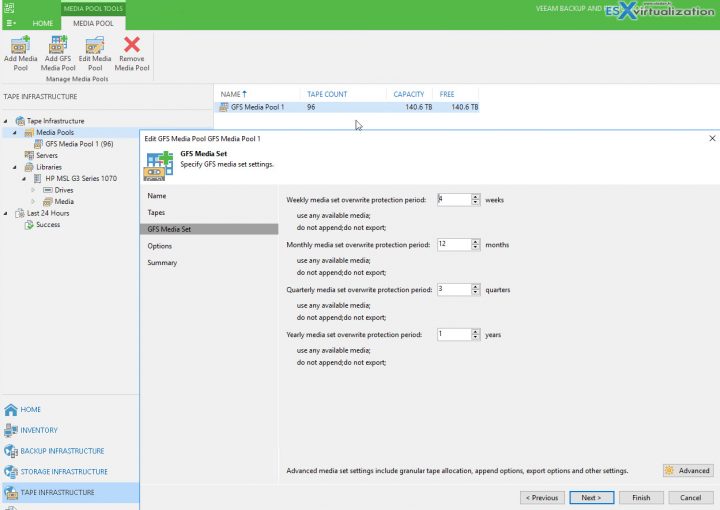 After, the process is exactly the same as with a physical tape library. You must create a media pool which is basically a group of tapes you're using. The job creation wizards continue and propose also to use encryption to encrypt your backups.

Find the whole step-by-step How to configure Veeam with Wasabi here at Wasabi Blog.
Part 3: StarWind Installation
Download StarWind Storage Gateway for Wasabi at StarWind website
Add new Server with its IP address and port number
Add new VTL Device
From the VTL menu, click Cloud Replication
Make sure to leave the Installation option checked.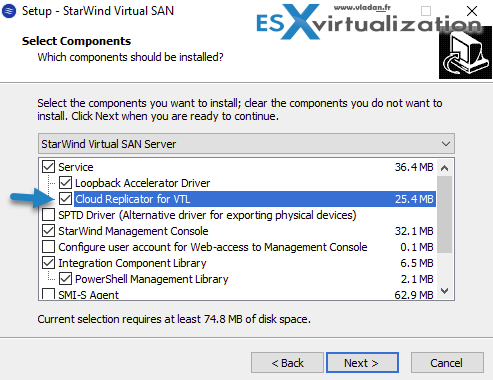 Add VTL device, And then Add Cloud Replication.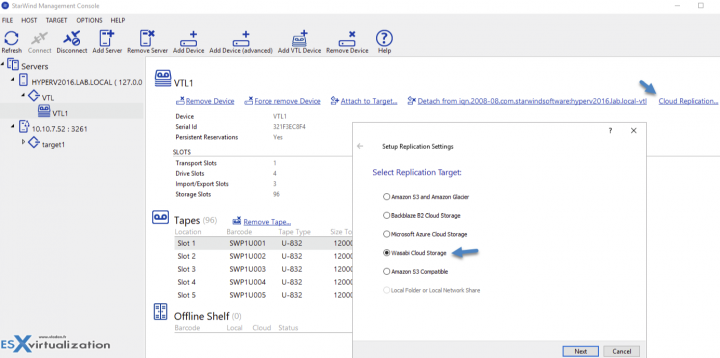 And then enter the Access key, Secret access key, Bucket name, and Region.
Note: You'll have to create Bucket and Keys at Wasabi First.
There is a great webinar from StarWind on Youtube here (demo starts at 19′).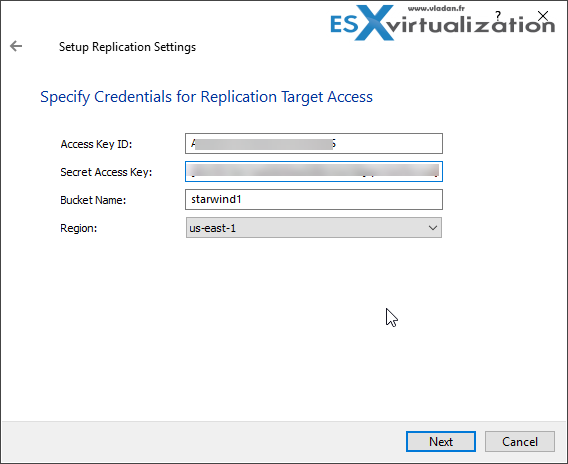 The Gateway enables you to comply with regulatory requirements by automating offsite replication and vaulting. Once data is offloaded to the cloud, it becomes immutable and protected from being accidentally overwritten.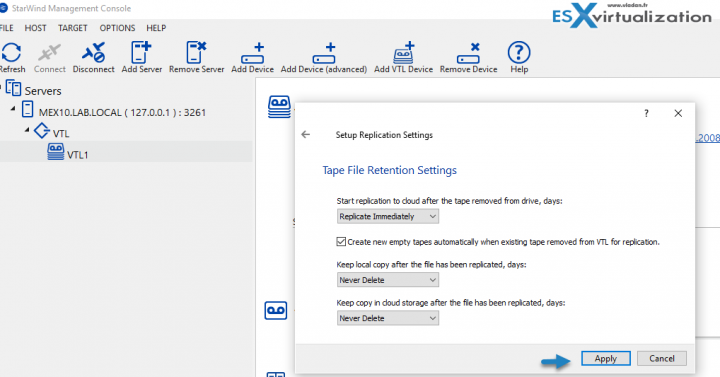 Part 4: Wasabi config
At Wasabi Create a storage bucket and Create Keys.
Note: You can try Wasabi for 30 days at no cost (no credit card required).
This is what I'm testing with this blog post right now anyway…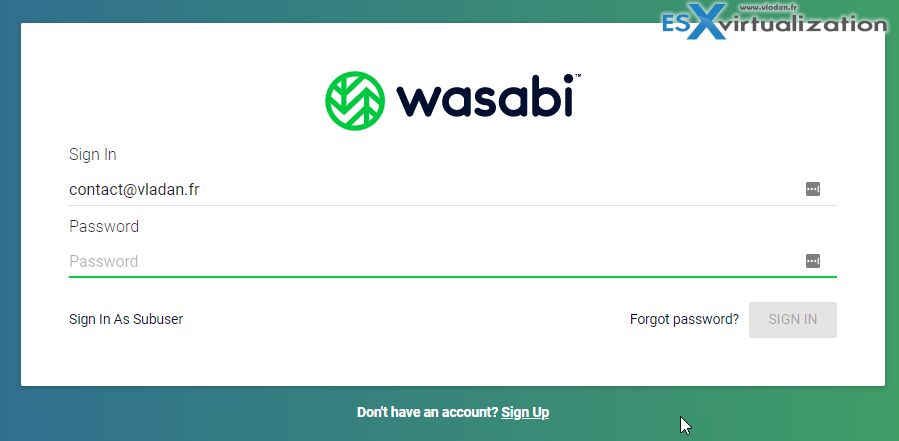 There is a great webinar from StarWind on Youtube here (demo starts at 19′).
Basically, you need to create a new bucket and a new key. Example screenshot from StarWind.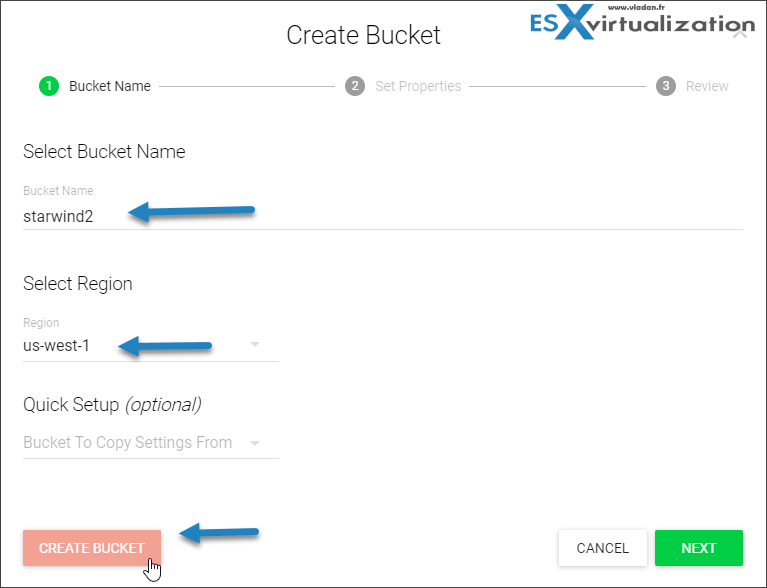 Next, create a new access key. You'll need the access key and its secret. The secret only shows when you're within the assistant. Don't forget to write it down or do a copy paste to a Notepad window.

When you have the access key and its secret, simply enter those details into the StarWind's VTL config in Part 3.
Veeam continues to backup your infrastructure. There is no need to change your configuration. The architecture of Veeam, StarWind and Wasabi look like this.
The StarWind and Wasabi architecture from StarWind.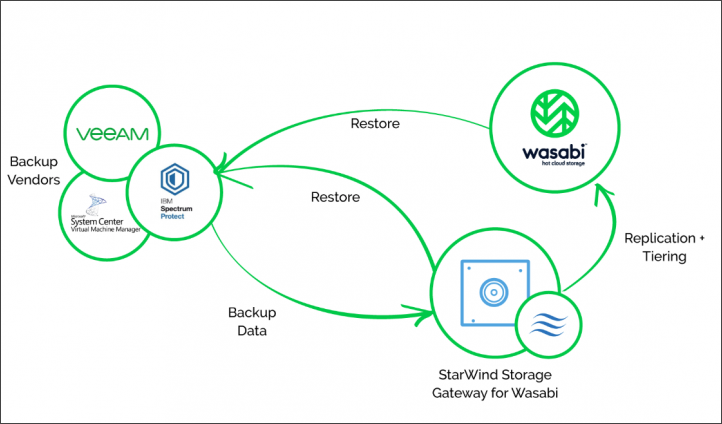 Key benefits of StarWind Storage Gateway for Wasabi:
Simplicity: seamless integration into existing backup infrastructure. Companies don't need to change their current backup and archival processes.
Reliability: automated backup process and secure storing in the cloud. Once uploaded to the cloud, the data becomes immutable to ransomware and malicious or erroneous actions.
Recovery: fast disaster recovery. Restore processes become a matter of a few clicks.
Scalability: extra storage space is added on demand. IT managers don't need to provision storage to grow into it.
Cost: instantly accessible hybrid storage pool at a really low bargain price. The solution requires minimal investment and becomes even more cost-efficient as a company grows.
Quote from Wasabi's website:
Wasabi's Unlimited Egress pricing plan offers the cloud storage industry's lowest total price of $.0049 per GB/month ($4.99 per TB/month) + unlimited free egress + no charge for API calls so you don't pay to access your data.
VTL simplifies integrating cloud storage tiers into the existing backup infrastructure. With VTL you can really do the 3-2-1 rule and have a copy of your production data off-site, in the cloud. If you're only using on on-premises physical storage or tape storage, this is not perfect as those tapes they must be moved off site manually. Also, physical VTL's do have hardware problems, from time to time. The solution does not last forever.
Links:
Final words
The cloud storage is appealing, but the cost is not. With StarWind and Wasabi, you'll get the lowest possible cost for storing your backups. A perfect low-cost solution for sending backup copy to the cloud or have a there a remote repository for occasional backups.
More about StarWind from ESX Virtualization:
Stay tuned through RSS, and social media channels (Twitter, FB, YouTube)