Nakivo continues to update its product, Nakivo Backup and Replication, on a regular basis. This time it is version 9.4 of Nakivo which was released. We have already reported about Nakivo physical server backup allowing you to backup your physical computers/servers. In 9.4 release you'll be able to recover quickly from those backups by starting them as VMs. You'll be able to do that on VMware vSphere infrastructure.
This is interesting as most businesses have not only virtual but also physical infrastructure. These can be some critical desktops/laptops or servers which need to be backed up. In case you "lose" one of those, you can quickly recover the whole system as a virtual machine (VM) on your existing vSphere infrastructure. Nakivo has its feature called Flash VM Boot which allows start VM from backup.
We see more and more vendors adding the possibility to backup directly to Amazon S3. You are able to send backups and backup copies of VMs and physical servers directly to Amazon S3 buckets. You need to execute one full backup, and then incremental backups only. There is a built-in data compression that can optimize the storage space and speed up recovery.
Restores can be performed from a compressed backup without the need of decompressing it first. You can restore individual files and folders, Use Flash VM Boot to quickly recover compressed VM and server backups. You can also restore objects for Microsoft Exchange, Active Directory, and SQL Server.
Nakivo Backup and Replication 9.4 New Features
Skip deleted data and/or unused blocks
Skip deleted data and unused blocks during the backup and replication process to save storage space. The options can be enabled when creating backup and replication jobs.
Backup to Amazon S3
Use Amazon S3 buckets for storing and recovering backups and backup copies of virtual and physical machines.
Cross-Platform Flash Boot for Physical Machines

Instantly boot VMware VMs from physical machine backups without actually recovering the virtual disks. Supported destination – VMware VMs.
Users & Roles
Create custom roles, give them a unique set of permissions, and assign them to local or Active Directory users. Manage users and their roles from one place in the product.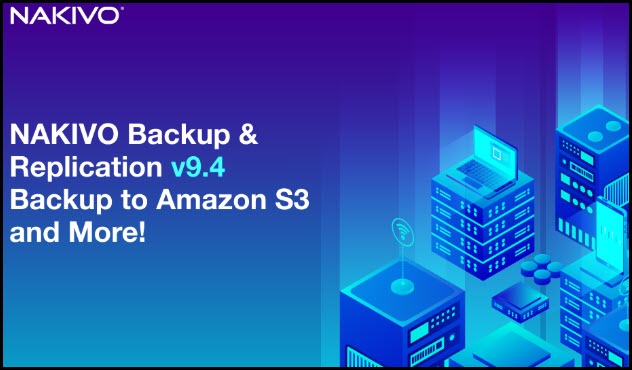 Active Directory Object Recovery to Original Location
Recover Active Directory objects to their original/custom location or export them to a folder using the Object Recovery Wizard for Microsoft AD Server. Objects supported for recovery: organizational units, groups, users, computers, contacts, volumes, printers.
Microsoft Exchange Object Recovery to Original Location
Recover Microsoft Exchange objects to their original location or export them to a custom location using the Object Recovery Wizard for Microsoft Exchange. Objects supported for recovery: mailbox folders, messages, calendars, contacts.
Improvements
Synology DSM 6.2 support
Change Transporter load while a backup job is running
Backup of fault-tolerant VMware VMs
Support of multiple target NICs and Primary IP for Amazon EC2 replica failover and failback  jobs
Allow selecting Transporters and transport load for VMware failback jobs and VMware failback actions of Site Recovery jobs
Free to Promo to Free again License
O365 licensing update. See Licensing
Nakivo continues to develop and improve their product. More and more features are added on regular basis. With Nakivo we almost sure that every new release is out like every 2-3 months interval which is quite outstanding. Nakivo is still a very young data protection company but with their dynamic updates and improvements they simply have their place among others historically larger vendors of backup and data protection products.
I wonder what might be the next step. Will Nakivo release a monitoring solution for virtual infrastructure? Who knows? Stay tuned for more….
More posts about Nakivo on ESX Virtualization
More from ESX Virtualization
Stay tuned through RSS, and social media channels (Twitter, FB, YouTube)